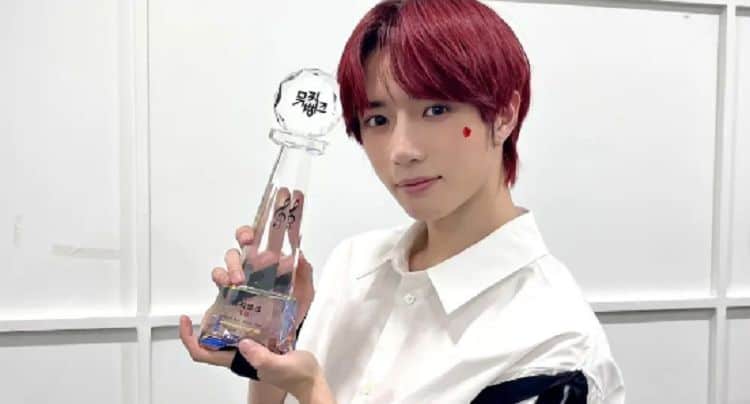 If you live in the United States, you may not be very familiar with the name Beomgyu. However, as K-Pop becomes increasingly popular all over the world, that won't be the case for much longer. Beomgyu is a member of the group Tomorrow X Together (TXT) and the group has become very popular all over the world. Known for its fresh sound and exciting energy, TXT got its start in 2019 and it didn't take long for them to rise to popularity. In addition to music, TXT also launched an online variety show called Smash. Villa. Along the way, Beomgyu has become a star in his own right and his journey is nowhere near finished. Keep reading for 10 things you didn't know about Beomgyu.
1. His Dad Introduced Him to Music
Beomgyu doesn't appear to come from a family with a background and music, but music always played an important role in his household. In fact, it was his father who first introduced him to music and it didn't take Beomgyu long to realize that he wanted to try making music of his own.
2. He Likes to Think About the Past
There are lots of people who believe the past is in the past and the future is the only thing they should focus on. However, that isn't how Beomgyu feels. In an interview with Paper Magazine, he said, "I think a lot about the past because I have a lot of happy memories. When I go back to those times, I can feel those emotions again. I get kind of consumed by them".
3. His Fan Page Has Over 1 Million Followers
Social media has allowed people to keep up with their favorite celebrities easier than ever before. As a result, it's no surprise that Tomorrow X Together has several fan pages across the internet. However, Beomgyu has his own fan page on Instagram and the profile has more than 1.2 million followers.
4. He's An ABBA Fan
Although he was born and raised in South Korea, American music has also had an influence on Beomgyu. Some of the American music he grew up listening to was way before his time, but that didn't stop him from calling in love with it. ABBA was one of his favorite groups when he was younger and the song "Dancing Queen" brings back fond memories.
5. He Has 5-Star Feet
If you thought that Beomgyu's musical talents were the only thing that people love about him, you might want to think again. According to Wikifeet, an online database of celebrity feet, there are also a lot of people who really love Beomgyu's feet. They have earned more than a 5-star rating.
6. He Loves Playing the Guitar
Many people are aware of Beomgyu's singing and dancing skills, but they may not know that he's also a guitarist who has been playing for several years. His dad taught him the basics and eventually joined a band. Once he got the hang of it, he realized that music was what he wanted to do.
7. He Likes Going Star Gazing
Have you ever looked up at the sky during a clear night and admired the stars? That's something Beomgyu does on a regular basis. He told Paper Magazine, "I do look up at the night sky a lot and it gives me a lot of comfort. Looking up at the stars makes me think. It gives me a lot of joy. During the daytime, I look up at the sky and I think things like, 'Are there stars up there shining right now?'"
8. He Doesn't Mind Opening Up to His Fans
Being in the spotlight isn't always easy, but it's something that Beomgyu has learned to embrace. Beomgyu isn't afraid to open up about who he is to the public. Whether that be in interviews, through his music, or when he is in video streams. As his career grows, so will the number of people who want to know about him.
9. He Speaks Three Languages
Learning languages isn't easy, but Beomgyu has it down. According to K Popping, Beomgyu speaks English, Korean, and Japanese. Being able to speak multiple languages is one of those things that always come in handy, but this is particularly true for people who work in international industries such as music.
10. He's Not Into Social Media
As someone who is part of a huge K-Pop group, most people would probably assume that Beomgyu is active on social media. However, that doesn't appear to be the case. From what we can tell, he doesn't have a verified social media account on any platform.
Tell us what's wrong with this post? How could we improve it? :)
Let us improve this post!