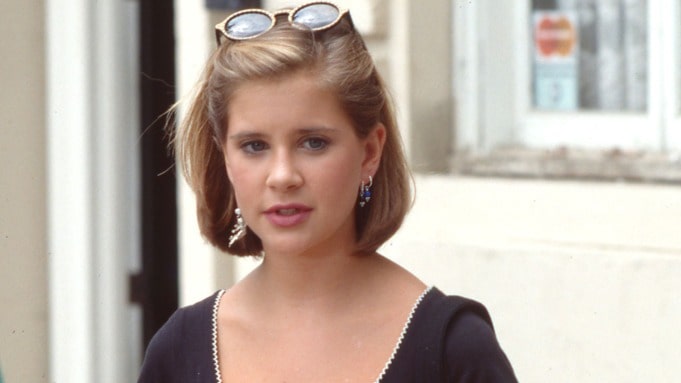 Growing up in the 80s and the 90s meant growing up with what can only be described as wholesome television. There was the entire TGIF generation (proud of that one) and there were those of us who will tell you that while there are some amazing shows on television right now, nothing compares to growing up with 80s and 90s television. The show "Life Goes On," was one of those shows. It was one we began watching religiously in 1989 and didn't stop until the final show aired in 1993. Literally, because we had no choice. If we did not watch it when it aired, we did not watch it at all. There wasn't a streaming service to be found. TiVo and DVR didn't exist. On Demand wasn't yet a thing. The internet wasn't even a thing. Did we even have computers at home at that point? Kellie Martin is the kind of woman who was a major star in her time, and she was part of the "Life Goes On," cast. Now she's back for the reboot, and we want to know more about her.
1. She is a California Girl
Born and raised in Riverside, she's a woman who grew up with her mom and dad. Her mom was a teacher in SoCal, and her father was a buyer and an executive at a retail chain. She had a relatively normal childhood, despite the fact that she began acting when she was only 7.
2. Her Aunt Helped Her Career
Her own aunt is the one who landed Kellie Martin her first role as an actress when she was seven. Her aunt was a nanny for a man whose name you might recognize. His name is Michael Landon. You might know him better as Father Ingalls from "Little House on the Prairie," though. Her aunt was his nanny, and she was able to use that connection to land her niece a job. Pretty cool story if you ask us.
3. She is Ivy League
She might have been a child actress who continued her career, but she did not forget to do the things that are important to her. She's always been intelligent, and she made it a point in her own life to go to college. She did not just attend any old college, however. She was accepted into the prestigious Yale University, where she graduated with a degree in art history of all things.
4. She is Married
She's been married a long time, too. She got married back in 1999 to a man by the name of Keith Christian. They wed on May 15, 1999, and they went on to welcome two little girls of their own over the course of their marriage thus far.
5. She Owns a Business
What we love about Kellie and her business, though, is that she's not just any old business owner. She's got the coolest business imaginable. She owns a toy store. What, do you ask, could be more amazing and more filled with joy than being the owner of a toy store? We aren't sure, but we imagine that this is something she is often happy to do in her own life.
6. She is a Celebrity Doppelganger-ish
We say ish because she's not just one celebrity lookalike. She's two. If Sarah Michelle Gellar and Candance Cameron Bure could combine their respective DNA, Kellie Martin would undoubtedly be the result of their mix. She bears an uncanny resemblance to the two beautiful actresses.
7. She May Reprise Her Role
The new reboot to "Life Goes On," has been rumored to happen now for a few months, and rumors say she is in. She's going to reprise her role as Becca Thatcher, except she won't be a teen any longer. She's going to come back as a doctor who fulfilled her dream of doing big things in life. She'll end up back in her hometown and we imagine drama will ensue from that point forward.
8. She Was Nominated for an Emmy
She is most proud of the fact that as a teenager, she was nominated for an Emmy Award for her role as Thatcher. That role was not something she thought would do for her what it did for her, but her pride in that will never cease. She might not have won the best actress award, but being a teenage nominee alongside the many talented women on television at that time was more than an honor.
9. She's Private
She is a former child star who had a great career but eventually chose to do her own thing and lead a much more private life than the one she led as a child. She raises her kids, spends time with her husband, and runs her business. She likes to keep her life out of the public eye, and she's all the much better for it this many years later.
10. She has Major Fans
One thing that we can say about this young woman is that she is a woman who has a lot of fans. She has carried them with her throughout her career, and they love her. We'd call it a cult following, and we'd venture a guess that we are not wrong about it.
Tell us what's wrong with this post? How could we improve it? :)
Let us improve this post!