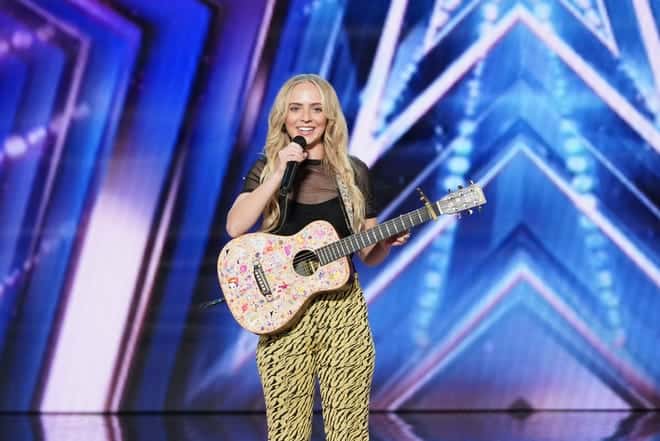 The internet is great for a lot of things, but we all know how dark of a place it can be. Being able to hide behind a screen gives people the courage to say things they'd never have the courage to say in real life. Madilyn Bailey knows this first hand. As a popular YouTuber, she has dealt with countless hate comments, and she's decided to use her creativity to turn them into something good. Madilyn wrote a song using nothing but hate comments, and she performed it for her audition of America's Got Talent. The judges gave her a yes to move to the next round, and there are a lot of people who are excited to see how the rest of the competition plays out for her. Here are 10 things you didn't know about Madilyn Bailey.
1. She's From Wisconsin
Madilyn was born and raised in a small town in Wisconsin called Boyceville. As you can probably guess, Wisconsin isn't the best place to be when trying to start a career in the music industry, so Madilyn decided to move out to the West Coast. She has lived in Los Angeles for nearly a decade.
2. She's A Brand Ambassador
YouTube isn't the only place where Madilyn has built a large following. She also has a big audience on Instagram where she has 809,000 followers. Thanks to her online popularity, she has gotten the chance to work with several brands to help market their products. She is currently an ambassador for an electric toothbrush called hum by Colgate. There will probably be even more sponsorship opportunities in the future now that she's on America's Got Talent.
3. She's Married
Madilyn doesn't just get to do what she loves, she gets to do it with someone she loves right by her side. Madilyn has been married to James Benrud since 2014. The couple does not appear to have any children. Her husband also has a large following on Instagram with over 17,000 followers.
4. She Suffers From Dyslexia
Being diagnosed with dyslexia can be difficult news for a lot of people to process. Although having dyslexia can present some unique challenges, Madilyn has chosen to see the bright side. She told Learning Success Blog, "While there are obvious disadvantages with having a Dyslexia, there are also advantages that results in being a more creative and unique"
5. She's Already Released Lots Of Music
One of the cool things about America's Got Talent is that it welcomes people who are at various stages of their careers. While some people on the show are just getting started, others have been doing their thing for years. Madilyn is in the second group. She has already released one album and two EPs. Some of her songs have even been used in TV shows.
6. She's A Gamer
Singing and writing songs isn't the only thing Madilyn likes to do. In her free time, she also enjoys playing video games. She has an account on Twitch where she streams her gameplay occasionally. Because of her popularity on YouTube, she has also gotten support from the gaming community.
7. She Was A CNA
Madilyn's journey towards becoming a social media star and a musician hasn't been an easy one. Before she really started pursuing her music career, she worked as a certified nursing assistant (CNA). The job may not have been what she really wanted to do, but it helped her stay afloat while she figured things out.
8. She Has Some Acting Experience
America's Got Talent may be the first time Madilyn has done a TV competition show, but it's not her first time being on TV. According to her IMDB page, Madilyn was in a TV show in 2015 called That Movie Look. We didn't find any information to suggest that she plans to do more acting.
9. She's Signed To A Record Label
Not only has Madilyn already released some music, but she also already has a record deal. She signed to France-based label PlayOn in 2015. Between this and the fact that she's already released music and has a large online following, some contestants may feel a little intimidated.
10. She Enjoys Spending Time Outdoors
Just because Madilyn spends a lot of her time on the internet doesn't mean that she doesn't like to get out of the house. She enjoys getting outdoors and exploring her surroundings. She likes to do things like go hiking and walking. As a resident of southern California, it also goes without saying that Madilyn spends a lot of time enjoying the beautiful beaches.