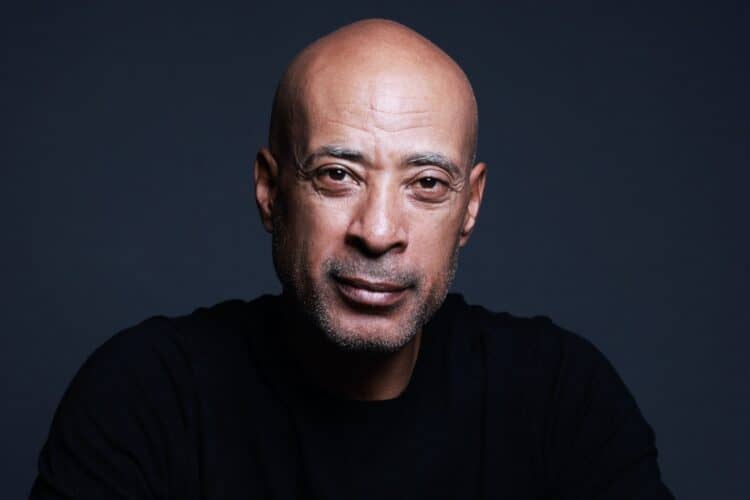 Hailing from the "City of Brotherly Love" the son of two visual artists. Benmio gravitated towards acting at a young age. Philadelphia was a great place to begin his artistic journey. As a proud member of the first graduating class of Philadelphia High School for Creative and Performing Arts, his training took him to New York City by way of Syracuse. He earned his equity card Off-Broadway at LaMama Theater in an innovative production of Sam Shepard's "The Tooth of Crime." Paul Robeson said that "Artists are the gatekeepers of truth." That's definitely his mission whether on set or on stage — using his craft to truthfully inhabit the characters he plays. Film and television work includes roles on FOX's "9-1-1," ABC's "This Is Us," Amazon's "Bosch," CBS's "Criminal Minds. Here are 10 things you didn't know about him:
He was once accepted to Ringling Brothers Clown College
Although he did not go to the school he did use his clowning and mime skills early in his career. Benmio stated, " It's funny, every now and then I wonder to myself what would it be like if I had gone through with it and actually became a clown. Me and my high school buddy Tony Luke used to have this mime routine we did… I based some of my make up on the old time clowns I had seen growing up and going to the circus. We were so good that one of the local advertising agencies in Philly booked us to do a pitch presentation for Melita coffee makers. So when Ringling Brothers came to town looking for candidates we auditioned and I got in! Then came the big realization that in order to go I'd have to leave my high school early and travel to Florida… I'd even have to miss my high school graduation with my classmates. So I backed out. But it's all good… Things work out the way they're supposed to and I ended up at Syracuse University which was great!"
He was classmates with Writer Director Aaron Sorkin and Actress Vanessa Williams at Syracuse University
"It's amazing we were all in dance tights together. Seriously though we shared a lot of the same classes. You know, based on his writing career you'd never guess that Aaron Sorkin was originally a song and dance man. But writing seemed to be his natural number one. I can't recall the name of his first play he wrote while a student at Syracuse but it was long before "A Few Good Men." Of course, Vanessa Williams being a triple threat helped take her to the top. Beauty, brains and talent.
Benmio worked in animation as a voice director
He worked on the Emmy nominated MTV "Downtown" and MTV's "Daria" including voice directing the Daria movie. "I hadn't worked in animation at all before I was tapped to work MTV's "Downtown" only live action. But they were looking for a director who could elicit good performances from newcomers, non-actors and/or real people. I had a great time leaning the ropes in animation. And we did some fine work even garnering an Emmy nomination for Best Animated Program in the same company as The Simpsons. Then working on "Daria" was more icing on the cake.
His first film as a director was a short entitled "Retribution" and premiered on Showtime
It starred a young Wendell Pierce (The Wire, Suits, Jack Ryan). "Writing, directing and producing "Retribution" was an amazing experience. I did it at the tail end of my studies at NYU Film. With a mere 4000' of 16mm film and $4000 bucks we managed to not only make a great film on a shoestring budget but also garner awards and capture the attention of Showtime." It was hard making films back then and costly. This was long before digital came into the picture. But I was lucky to have help. Warrington and Reginald Hudlin's Black Filmmaker Foundation had a talent bank of actors and crew that was a life saver. And I edited my first rough cut myself on NYU equipment. Later I had help from Helene Hahn at Disney and Sandra Evers Manley then at the Hollywood NAACP to put the finishing touches on the film.
Beyond his theatre studies he trained as a ballet dancer and had scholarships with two dance companies
"I'm not sure how it happened that I fell into dance. I think we had to take a couple classes with our theater studies in High School. But I enjoyed it so much that I ended up having an equal amount of dance to drama… Probably more when you factor in the ballet scholarships. It was awesome learning the language of dance – having that vocabulary and muscle memory. I'm not the most verbal person , so it was great having an extra avenue of self expression to explore. Although it's been an eternity since I've done any dancing it's still in my body."
All that dance training paid off… In high school he once won "The Great American Leg Search" sponsored by a local television station in Philadelphia
"This will really date myself. The Great American Leg Search was one of the craziest and silliest competitions ever. The judges were the actress entertainer Susan Anton and comedian David Brenner back when they were both headlining various venues and casinos. But as a high schooler what did I have to lose by coming out on a Saturday morning. It was fun to be the winner. I can't remember all of the prizes but one of them was a cool sound Sound Design sound system that I rocked all through college."
He is Jewish and had his Bar Mitzvah at downtown Philadelphia's historic Congregation Rodeph Shalom Synagogue
"Being black and going to Hebrew School at an all white synagogue was an interesting experience. The first day of class the teacher told my classmates that I "wasn't any different" than any of them. Of course, I knew what she meant. But I'd definitely disagree. Navigating race was a challenge. But I had great times there in youth group. And synagogue is where I got my first taste of performing."
He earned his Actors Equity union card in an Off-Broadway run of an innovative production of Sam Shepard's "The Tooth of Crime" at LaMama Theatre.
"It was an amazing blessing to be tapped for that show. Working with the likes of Ray Wise and Jody Long (now the President of the LA chapter of Screen Actors Guild) I learned so much. It was the first time a Syracuse University student travelled to New York with a show. I'm eternally grateful to have worked with Director George Ferencz and LaMama's Ellen Stuart on such an acclaimed production of Sam Shepard's "The Tooth of Crime." Sadly these legends have passed on – George, Ellen… Sam Shepard too."
His first speaking role on a television show was on "Designing Women."
"Oh where to begin? The wonderful kind funny giant talent that was Meshach Taylor. I'll keep it short because I could go on and on about Meshach – any and all of his friends could. I was his stand-in and stunt double on the Mannequin movies when they shot in Philly. We became lifelong friends. And I had the great privilege to live with him and his family for a short time when I first went out to LA. He took me around and showed me the ropes. Meshach was an exceptional person and a great friend to all who knew him. I'm glad I got to spend time in his universe. It opened my eyes to lots of things both in life and in the business."
How's this for real life almost meeting the movies…?
Growing up in Philly he and his family had a landlord named Gary Heidnik who later would become an infamous kidnapper killer. Heidnik lived in the unit directly above them. Luckily they moved from Heidnik's West Philadelphia apartment unit and into their safe forever home in the Fernrock section of town 4 years before his first kidnapping. And it was only 3 years after the family moved to Fernrock that Heidnik had shot another tenant in the face who lived in his same West Philly building. Gary Heidnik was one of seven real-life murderers upon whom author Thomas Harris based the "Buffalo Bill" villain of his 1988 novel The Silence of the Lambs.
"What can I say? I think we dodged a big bullet on that one. A lot of bad things happened when we lived in his West Philly unit. He actually lived in the apartment above us. Our apartment got ransacked and robbed. We believed that he had something to do with it because the front door hadn't been broken. It was like someone had the key. He was a sketchy dude. I'm glad we got out of there when we did. Because it wasn't long afterwards that his reign of terror was in full effect. I'm thankful that none of us became real life characters in his story. That's not the way I want to be in a movie."
Tell us what's wrong with this post? How could we improve it? :)
Let us improve this post!