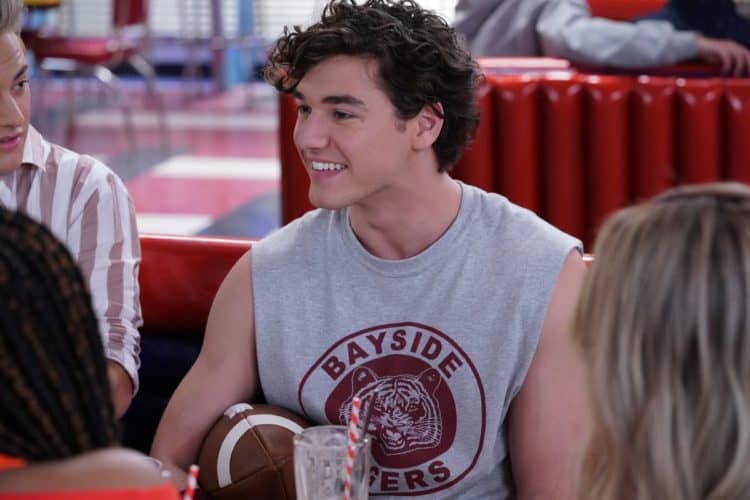 It's been more than 30 years since Zack Morris and his friends walked the halls of Bayside High, and now there's a new generation of students in town. NBC's streaming service, Peacock, has recently launched a Saved by the Bell reboot and Belmont Cameli is one of the show's stars. In the series, Belmont plays Jamie Spano, Jessie Spano's son. Although Saved by the Bell is one of Belmont's first TV appearances, he handles himself with the confidence and poise of an experienced actor. Nothing in the entertainment industry is every guaranteed , but the future is looking very bright for Belmont. Keep reading for 10 things you didn't know about Belmont Cameli.
1. He's An Illinois Native
Belmont was born and raised in Naperville, IL and he is very proud of his midwestern roots. Although he has nothing but love for his hometown, it's not the best area to start or pursue a professional acting career. He eventually decided to relocate to Los Angeles where he lives today.
2. He Was A Football Player
Like his character in Saved by the Bell, Belmont was also a football player in high school. During an interview with The Chicago Tribune, "I was a wide receiver. Jamie plays quarterback, but he's pretty lackluster. I was also kind of a lousy quarterback. They would let me play JV on Saturday mornings, and my big claim to fame was that I threw a touchdown on accident. I missed the receiver I was aiming for so bad that I hit another one, but we still scored."
3. He's Family Oriented
Having a strong support system always makes everything easier, and Belmont is very lucky to have found that in his family. He has a very close relationship with his mother and and his two siblings. Sadly, his father, Joseph, passed away unexpectedly in November of 2016.
4. He's A Model
If Belmont seems like a natural in front of the camera that's because he is. In addition his acting experience, he's also had a very successful modeling career. At one point, he even modeled for Abercrombie & Fitch. Not only was modeling a way to him to express himself, but it also helped him meet people in the entertainment industry and get his name out there.
5. He Was In An Episode Of Empire
Belmont may not have many acting credits, but he's already gotten the chance to be a part of some cool projects. His very first on screen appearance came in 2018 in an episode of the popular series Empire. The role may not have been a big one, but it was a great way for Belmont to get his foot in the door.
6. He's Always Been Serious About His Education
Belmont and Jamie may have football in common, but one thing they don't have in common is their approach towards school. Jamie is a stereotypical TV athlete who doesn't really take his education seriously. Belmont, on the other hand, has always been very focused on his school work.
7. His First Name Isn't Belmont
Even though he goes by the name Belmont professionally, it appears that that may not be his first name. According to his father's obituary, Belmont's first name is actually Philip, but Belmont may be his middle name. During an interview with What To Wear, "Belmont is a family name, actually. My grandfather was Belmondo, and when and the rest of the family came over from Italy, he Americanized his name to Belmont."
8. He Went To School To Study Business
After high school, Belmont began following a traditional path. He enrolled in college and was majoring in business. Eventually, he realized that a career in business simply wasn't what he wanted for his future. He decided to transfer to a local community college to take classes while he focused on getting into the entertainment industry.
9. He Hadn't Seen Saved By The Bell Before Auditioning For The Show
We weren't able to find information on Belmont's exact age, but we do know that he's too young to have been around for the original Saved by the Bell. Even though the show aired reruns for several years, Belmont had never really seen the series until he auditioned for the role of Jamie.
10. He's A Donald Glover Fan
Everybody has someone in their field who they look up to, and for Belmont Cameli that person is Donald Glover. He told What To Wear, "I would love to emulate is Donald Glover. He is somebody who is transcendent in his art. It takes all formats. He did Community, which was a phenomenal comedy sitcom, and there is his music and standup. It's something I would like to do with my career, which is to have a diverse approach to the arts."