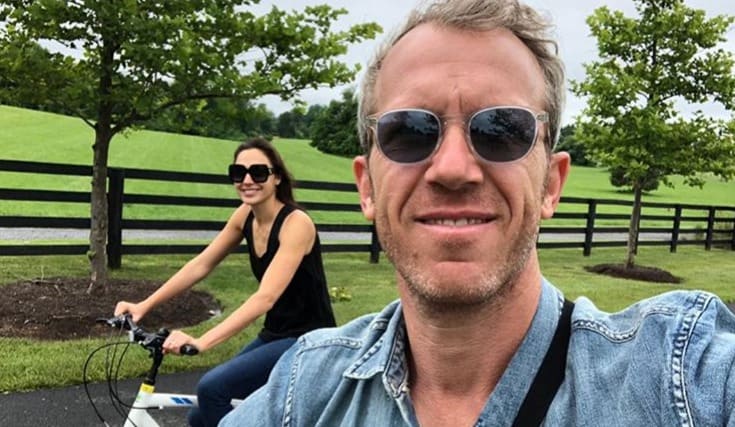 In 2008, Israeli beauty Gal Gadot broke the hearts of millions of men around the world when she married businessman, Yaron Versano. Prior to the marriage, little was known of the elusive Versano, but in the proceeding years, we've come to know a lot more about the man who won Wonder Woman's hand. If you're still in any doubt about who exactly Yaron Versano is, now's your chance to find out more.
1. He was born in Amsterdam
The Dutch born business magnate was born to Jewish parents in Amsterdam on July 23, 1975. He spent his formative years in the city before leaving the Netherlands in the 1990's for a place at the New York Institute of Technology. After graduating from the University in 2000, he left America and settled in Tel Aviv, Israel.
2. He's a real estate mogul
After relocating to Israel, Versano joined forces with his brother Guy to sow the seeds of what would go on to become a multi-million- dollar real estate empire. The ambitious (and clearly talented) pair quickly developed their real estate company into one of the leading businesses in its field, securing a portfolio of properties around Tel Aviv and the surrounding areas that would put other realtors to shame.
3. He pulled off a NIS 100-million deal
Versano and Guy secured their biggest success to date in 2015, when they pulled off a hugely lucrative deal with Russian billionaire, Roman Abramovich. The deal saw Abramovich (ranked as the 107th wealthiest person in the world by Forbes part with a massive NIS 100 million (approximately $27,965,255) for the Versano owned Versano Hotel, one of the most exclusive and luxurious properties in the fashionable Neve Tzedek district of south Tel Aviv. The arrangement saw Abramovich buy both the landmark hotel and its surrounding 1,500 square meter lot, which included a parking area zoned for residential development. According to reports, Abramovich, a strong supporter and frequent visitor of Israel, bought the hotel with the aim of converting it into his home during his many trips to Tel Aviv.
4. Gadot is his inspiration
While Versano may have been the orchestrator of its sale, Gadot played a significant role in developing his vision for the Versano Hotel after its initial acquisition. While the pair were travelling back and forth between Israel and the US during the shooting of Fast Four, they found themselves hopping between hotels on a regular basis. Tiring of their ever- changing living arrangements, Gadot discovered long- term apartments in a hotel in Los Angeles; inspired by the arrangement, Versano would later take the idea and apply it, with great success, to his own hotel.
5. He met Gadot at a Yoga party
Gadot had already achieved some success as a beauty pageant model (claiming the crown in the Miss Israel pageant of 2004, and participating in the Miss Universe competition of 2004) and TV actress (credits included the role of Miriam "Merry" Elkayam in the 2007 feature Bubot) by the time of her first meeting with Versano in 2006. The pair met through a mutual friend at a yoga party in the Israeli desert, and sparks instantly flew, with Gadot revealing to Glamour: "We met nearly 10 years ago through mutual friends at this very strange party in the Israeli desert. It was all about yoga, chakras, and eating healthy–we didn't exactly find ourselves there, but we found each other."
6. He gets serious, fast
By the time of his second date with Gadot, Versano had already decided he was in for the long haul. The much younger Gadot was at first unsure if she felt the same: – "I think I did (know he was the one), but I was too young to get it", she revealed to Glamour:"He did! He's 10 years older than me. He told me on our second date he was serious and wasn't going to wait more than two years to ask me to marry him. Fast-forward two years; he proposed. We were married in 2008".
7. He's a devoted father
In November 2011, Gadot gave birth to the couple's first child, Alma. In March 2017, three became four when second daughter Maya was born. Devoted family man Versano has shown himself to be as successful in parenting as he is in business, and has actively encouraged and supported Gadot as she juggles the demands of motherhood with a film career. When Gadot expressed fears about the impact her constant travelling as an actress might have on their children's well-being, Versano's words helped alleviate her concerns. "(He said) Gal, think about what kind of a role model you want to be," she recounted. "If you want to show Alma that she can follow her dreams, that's what you should do, and we will figure out the logistics."
8. He talked Gadot out of quitting acting
The businessman has proved himself an incredibly supportive partner to Gadot over the years, helping her overcome the frequent challenges and rejections of the entertainment industry. In her early years in the business, Gadot tried out for multiple roles but struggled to get a firm footing in the door. Until she started to see success with the Fast & Furious franchise, she even considered giving up on acting completely, reportedly telling her husband "God, Yaron, maybe I should quit." Fortunately, Versano managed to dissuade his discouraged wife from abandoning her ambitions; spurred by his encouragements, Gadot continued to audition until eventually, the offers started rolling on.
9. He's public with his affections
Gadot is clearly always at the forefront of her husband's mind, a fact he's more than willing to share with the couple's thousands of social media followers. In March 2018, Versano felt compelled to mark International Women's Day by posting the loving Instagram message "I'm so lucky to be married to a strong independent woman. She is my partner my friend my lover. I learn from her on a daily basis, she empowers me and helps me become a better version of myself." Gadot clearly feels the same, responding in kind with a message of her own: – "I'm so grateful to have such an incredible partner in this journey of life. You're our rock, our compass, my superman".
10. He found his perfect match in Gadot
What's apparent from leaning more about Versano and Gadot's relationship is that theirs is an equal partnership, with both offering the support and encouragement the other needs to achieve the best in themselves. Gadot clearly thing the same: "I think that Yaron and I make a really good team," she told Bustle. "I understand his career and he understands mine. We help each other progress in all areas of life. We're both very career driven."
Tell us what's wrong with this post? How could we improve it? :)
Let us improve this post!