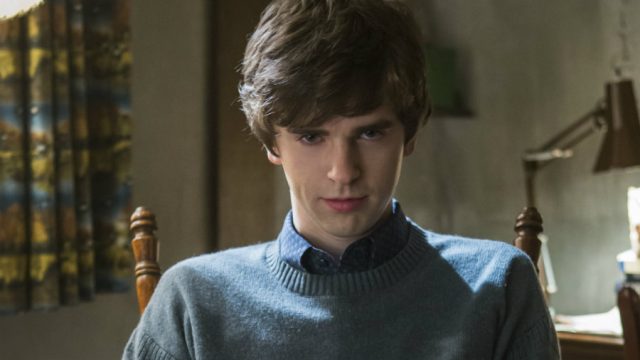 Bates Motel returns for its fifth and final season tonight on A&E. Bates Motel is currently in season 5 and fans are expecting big things from both the premiere and entire season. We've been teased about how Norman Bates will be interacting with his mother and Vera Farmiga has confirmed that there will be plenty of surprises this season. One surprise will be the appearance of Rihanna who is set to play Marion Crane, the woman who screams in the shower in the original Alfred Hitchock movie Psycho. Crane was perceived as a main character despite only being in the movie for a brief stint.
Bates, who is played by Freddie Highmore, is said to be more of a "man" this season. His character has grown up but in terms what that will mean for his actions, we'll have to find out. Speaking of Freddie Highmore we decided to dive a little further into the actor.
Here are 5 things you might not know about Freddie Highmore:
Started Young
Before pursuing an acting career in movies and TV, Highmore starred in TV commercials at just the age of seven. Highmore, as you may remember became famous after he starred in Finding Neverland with Johnny Depp and for playing Charlie in Charlie and the Chocolate Factory.
Freddie Highmore Net Worth
Highmore currently has a net worth of $4 million. The bulk of that has been from his movie and television career.
His parents are in the business
His mother is a talent agent and his father is an actor. His mother's clients include Imelda Staunton and Daniel Radcliffe. He grew up with a younger brother named Albert. So yeah, you could say that Highmore had a nice head start in Hollywood. Not sure if he's friends with Radcliffe.
Writer on Bates Motel and More
He wrote the fourth season episode titled "Unfaithful," and will write and direct one episode of the fifth and final season of the series. In August 2014, it was reported that Highmore and Bates Motel executive producer Kerry Ehrin had written a comedy pilot script that was purchased by NBC. However, the project was not picked up to series.
Starred in a music video
In 2015, he starred in the Libertines' music video for their single "You're My Waterloo", alongside actress Marama Corlett