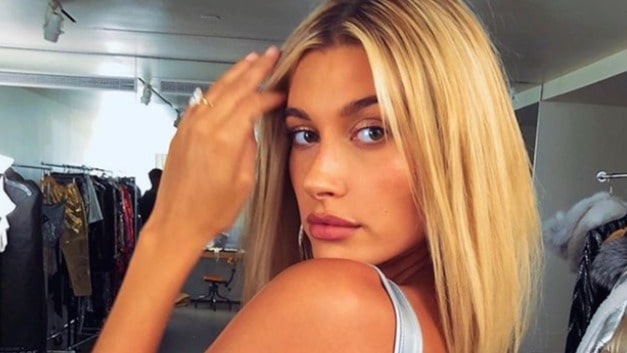 Hailey Baldwin is an actress and model who was born in Arizona on November 22, 1996. She began her career in 2014 and she is represented by IMG Models modeling agency. In terms of her acting career, she is still trying to establish herself, and her work is limited to hosting and appearing in music videos at this time. Baldwin is probably better known as the wife of pop sensation Justin Bieber. Marrying the singer has shot her into the limelight and is now helping her to progress in her career. As she is relatively new to the entertainment industry, there are still lots of things that people do not know about her. Here are 20 interesting facts about Hailey Baldwin that you probably didn't know.
1. She is From a Very Famous Family
Hailey Baldwin is not the only talented person in her family. Her parents are Stephen and Kennya Baldwin, says Celebuzz. Stephen Baldwin is a famous movie actor and the brother of actor Alec Baldwin, Hailey's uncle. Hailey also has a famous cousin, Ireland Baldwin, who is the daughter of Alec Baldwin and Kim Basinger. Like Hailey, Ireland is a model and an actress. Hailey's other two paternal uncles, William and Daniel, are both also actors. Her family is so famous that they go collectively by the name of the Baldwin Family, and people already know who they are as individuals. Hailey has also had some famous aunts through marriage to her uncles. Alec Baldwin was married to actress Kim Basinger, while her uncle William is married to singer and actress Chynna Phillips.
2. She Was Home Schooled
Although Hailey Baldwin started kindergarten and elementary school like any other child of her age, the decision was made to homeschool her when she was eight. Billboard says that this was because her family was worried about the impact being from a famous family was having on Hailey and her education. They decided that if she received her education at home, it would allow her to have a more private life and take away some of the attention that comes with being from a famous family. Her mother took responsibility for schooling her, so the pair spent a lot of time together when Hailey was a child. Hailey and her mother remain close.
3. She Wanted to Become a Ballerina
Now a successful model who is also dabbling in acting, the catwalk was not Hailey Baldwin's first choice of career, says ET Canada. Her dream was to become a prima ballerina. She trained in ballet and other forms of dance at the American Ballet Theatre School. Unfortunately, a foot injury forced her to quit. Now, she can hardly bear to watch people dance because she misses it so much.
4. Stephen Baldwin Introduced His Daughter to Justin Bieber
Hailey Baldwin first met Justin Bieber back in 2009, says Z 100 iHeart. They were introduced by Hailey's father, Stephen Baldwin when he took her backstage at the Today Show. Little did he know at the time that he was introducing his future son-in-law to his daughter. A teen at the time, Hailey had a huge crush on Justin and she was a big fan of his music.
5. She Was Proposed to on a Beach
Hailey Baldwin and Justin Bieber were involved in a love triangle with Selena Gomez for many years before they finally got their relationship together, says Nicki Swift. Bieber flitted between Gomez and Baldwin for years before deciding to stick with Baldwin. The couple got back together in the early summer of 2018 and Bieber proposed in July 2018. He proposed in front of a crowd on Baker's Bay, but he got his entourage to make sure onlookers had put their phones away first.
6. She Got Married on a Whim
According to Nicki Swift, Hailey Baldwin married Justin Bieber on a whim, and the couple didn't even tell anyone before they did it. They had only been engaged for two months when they married at a New York City courthouse. The couple is planning to host another ceremony for the benefit of their friends and family in the future. It is possible that they may host this at Bieber's Ontario estate or at the couple's home in Beverley Hills.
7. She Likes to Customize Her Clothes
Hailey Baldwin has her own sense of style, says Celebuzz. She likes to customize her own clothes using methods such as ripping and distressing. For example, she makes shorts out of jeans and customizes her denim clothing. However, she has admitted that she has had some disasters when trying to customize her clothes and has totally ruined a dress.
8. She Is Close to the Kardashians/ Jenners
Billboard says that Hailey Baldwin is close friends with the Kardashian/Jenner family. She is often snapped attending events or hanging out with various members of the Kardashian/ Jenner clan. She is particularly close to Kendall Jenner, who is a fellow model and one of her best friends. Baldwin is also close to Kylie, as the two women are the same age.
9. She Has Lots of Tattoos
Baldwin is a fan of tattoos and has many herself. It is believed that she has as many as 18, but most are small tattoos in discreet places that you might not notice. She and Kendall Jenner have matching tattoos. Both women have a small broken heart tattooed on the inside of their middle fingers. One tattoo is white, and the other is red.
10. Cheeseburger and Fries is Her 'Cheat Meal'
As an actress and model, staying fit and healthy is important to Hailey Baldwin. This means that she tries to eat a healthy and balanced diet. She doesn't eat much meat and she fills up on lots of vegetables with fish instead. She also avoids eating too much dairy as it makes her feel better. However, she does treat herself to some unhealthy food occasionally. Baldwin has said that her favorite cheat meal is cheeseburger and fries.
11. She is an Aspiring Designer
Due to her line of work, fashion is important to Hailey Baldwin. Although she is best-known for her catwalk appearances and her advertising campaigns, there are other aspects of the fashion industry that interest her. She is an aspiring fashion designer, says Hello Magazine, and she has already designed a top for the American brand Brandy Melville USA.
12. She is a Christian
Hailey Baldwin is a Christian and her faith is an important part of her life, says The South Africa. This is something that she shares with her husband, Justin Bieber, as he was also raised a Christian. The couple often goes to church together on Sundays. Baldwin has gone on record about her religion, saying that she believes that being in touch with your spirituality is important. She has also said that God is an inspiration to her and that she believes Christianity has a positive impact on her life.
13. She Was in a Documentary with Her Family
Baldwin was in a television documentary with her family in 2005 when she was aged just nine. The documentary, titled 'Livin' It: Unusual Suspects' featured Baldwin, her older sister Alaia, and her parents.
14. She Does Her Own Makeup but Uses a Hair Stylist
Baldwin almost always does her own makeup, even when she is on a modeling job. In fact, she loves doing makeup so much that she would become a makeup artist if she wasn't a model and actress, says Z 100 iHeart. However, she likes to have her hair done professionally and visits a hair colorist approximately once a month to maintain her blond highlights. She is naturally a brunette, so keeping on top of her highlights is essential to avoid her roots showing through.
15. Hailey Baldwin Has a Huge Social Media Following
Hailey Baldwin is an active user of social media and posts updates about herself regularly. She has gained a huge following on both Twitter and on Instagram. Her Twitter has 1.34 million followers. She has already changed her Twitter handle to @haileybieber to reflect her married name, which is Hailey Rhode Bieber. Baldwin made her first post on her Instagram account in August 2011. She has also changed her name on this social media site since marrying Justin Bieber in 2018. Baldwin uses this account to post photos of herself attending events, working, and enjoying her free time with her husband and friends.
16. She Has a Personal Net Worth of $3 Million
According to CheatSheet, Hailey Baldwin has an estimated personal net worth of $3 million. She has accrued this wealth through modeling contracts and television work. Her personal net worth is significantly lower than that of her husband, as Justin Bieber has an estimated personal net worth of $265 million.
17. She Loves Musical Theatre
Baldwin has described herself as a musical theatre nerd, says The Talko. Although she appears like a cool girl, she has some fairly mundane interests. She has said that she loves to spend time at the theatre and she enjoyed the seven years she spent training in musical theatre arts. One of her favorite things to do is to go to Broadway musicals.
18. She Tries to Distance Herself from the Baldwin Family Name
In some ways, being a member of the famous Baldwin family has its advantages. It could certainly give you a boost if you were interested in a career in the entertainment industry as everybody already knows who you are. However, Hailey Baldwin has actually spent most of her life trying to distance herself from the Baldwin name. She says that she wants to become an independent woman who can achieve things on her own without needing to use the family name. Her lack of interest in using the Baldwin name as not stopped her from following in the footsteps of her father and uncles.
19. Boxing is One of Her Favorite Hobbies
Fitness is important to Baldwin, and she trains to help her keep her figure trim. One of her favorite activities that keep her fit is boxing, says Cosmopolitan. She has said that she is massively into boxing, so she likes to step into the boxing ring as often as possible. Baldwin first took up boxing several years ago, and she has likened it to dancing in terms of using coordination. She credits boxing with her being in the best shape she has ever been in at the moment.
20. Baldwin and Bieber Have Been Stalked
When you are in the limelight, you attract fans. This can be both a blessing and a curse, as Baldwin and Bieber have discovered. The Talko has described how the couple has been stalked, both at their home and while out and about. The couple moved into a new $8.5 million mansion in Beverley Hills in April 2019. Within a fortnight of moving in, a female fan was arrested outside their home. The same stalker had been arrested just three weeks previously for intruding in Justin's hotel room at Laguna Beach.
Tell us what's wrong with this post? How could we improve it? :)
Let us improve this post!