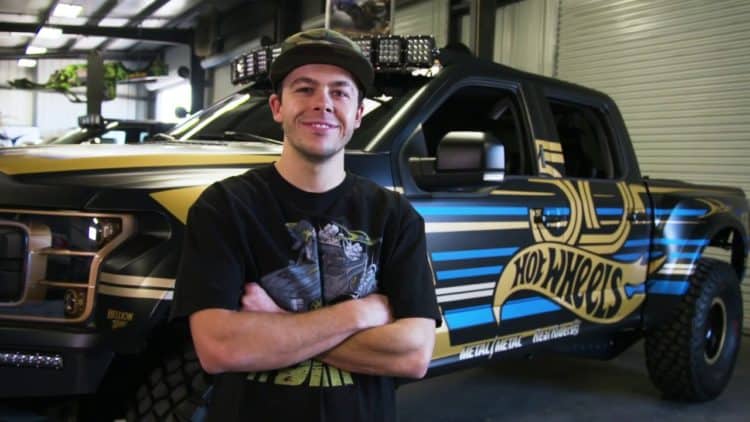 If you are into motorsports or you are an automobile tuning enthusiast, then the name Brad DeBerti should ring a bell. DeBerti is synonymous with the auto-show, Twin Turbos, which airs on the Discovery Channel. The show consists a dad and son duo that has made a name for themselves in the racing arena. There is scarce information on Brad DeBerti, and the situation is so, due to his low mainstream appearance. However, if you have seen the younger DeBerti in action, then you would be pardoned if you want to know more about him. To quench your curiosity, here are ten things that you did not know about Brad DeBerti.
1. He Started Quite Young
When it comes to talent, most get a hint of it while young. The same applies to Brad, who began his venture into the world of competitive auto sports and modifications while still young. His father was already an established name in the sector; hence he provided the right mentorship that the young DeBerti needed to establish his first enthusiasm. We describe him as a true protégé in the automobile tuning sector.
2. His Father Is His Influence
When growing up, most of us look at our elders as our centers of influence. A critical figure in Brad DeBerti's entry onto the world of automobiles is his father, Doug DeBerti. As earlier mentioned, his father had already made a name for himself in the automotive world. He has an award-winning garage that stocks parts and is also the modification center of race cars and other vehicles. The over 25-years old business is the environment where Brad grew up and cultured him into the path of icon-ship he is headed to at the moment.
3. Relationship With His Father
It is a well-known fact that the younger DeBerti followed closely in the footsteps of his father. One thing that you can deduce from the interaction of the two, especially from their show, is that they are close to each other. It is not far from the truth as Brad regards his father highly and owes his career behind the racecar wheels to the senior DeBerti. His dad also came through as his coach during his formative years when hitting the asphalt, where he went on to win various championships. Their close relationship resulted in the automotive tuning show, Twin Turbos, which is a hit with motorsport lovers.
4. Twin Turbos
Still hinging on the close father-son combo, we have the game-changing auto show, Twin Turbos. The show focuses on the antiques at their shop where they deal in the creation of custom cars and trucks, according to Fatherly. Aside from their antics in their shop, it also looks at the aspirations of Brad as he prepares to join the world of stock cars racing as a NASCAR driver. The show is a must-watch if you are into motorsports.
5. The Infamous Accident
Motorsports is very competitive with an edge of danger that makes it an adrenaline-inducing activity. Accidents are common when hitting the asphalt and may, at times, result in severe consequences. Brad DeBerti happens to be a statistic on the racing incidents, sometime back in 2016 when his truck overturned seven times. He got injured and was on the sidelines for some time. As evident from the show, he recovered from the mishap, and he is ready to hit the asphalt once again in full throttle.
6. DeBerti's Wins
Brad's success behind the wheel is evident courtesy of his championships in a few years since he went pro. As from the family-owned website, DeBerti, he is the recipient of the 2016 SEMA Young Guns Award. He got the recognition of being the youngest custom car builder when he was only 22-years of age. The work was on a '17 Ford Raptor, evident from SEMA's site. Other awards to his name are the Lucas Oil Offroad Championships and the 2017 NASCAR Rookie of the Year. Looking at his accomplishments, it a clear fact that Brad DeBerti has a bright road ahead on his racing career.
7. Venture Into NASCAR
Stock car racing is one of the core attractions in the motorsport world, a notable company being NASCAR. Looking at Brad's experience behind the wheel, it came as no surprise when he jumped over to the stock car racing sector. The spell has been decent, garnering him an award for the rookie of the year. It is high time we see the junior DeBerti competing against established names in NASCAR.
8. Joey Logano Has His Back
Aside from his father, he also has another mentor in the auto-sporting world. The mentor is none other than Joey 'sliced bread' Logano. Logano is a respected name in the NASCAR circuits where he has bagged several awards due to his performance on the oval track. Among his accomplishments is the 2018 Monster Energy NASCAR Cup Series Championship winner and also the youngest driver to win a nationwide series. He has a lot of similarities to Brad, such as having the push in auto-sports since they were young and also getting into the professional scene while young. He is a striking figure to guide Brad through the stock car racing arena.
9. Social Media Presence
Brad DeBerti is active on social media with handles on modern handles such as Instagram and Twitter. He uses the platforms for marketing purposes and also to showcase his work on their garage, boasting of his custom car-building skills. He has over 300,000 followers on Instagram, which is a decent number, and they keep on with his posts on auto-sports.
10. Brad's Hobbies
His hobbies are predictable; in the racing and fabrication. Being his cup of tea since he was young, even describing himself as born in a car with a welder, he has grown in an environment surrounded by vehicles. He demonstrates his prowess in his hobbies on his social media pages.
Conclusion
Brad DeBerti is a figure to watch out for in the competitive automotive industry. Above are some facts about him you might not have known. Catch him on the NASCAR circuits to have a glimpse of his prowess when burning the wheels on asphalt.We describe him
Tell us what's wrong with this post? How could we improve it? :)
Let us improve this post!