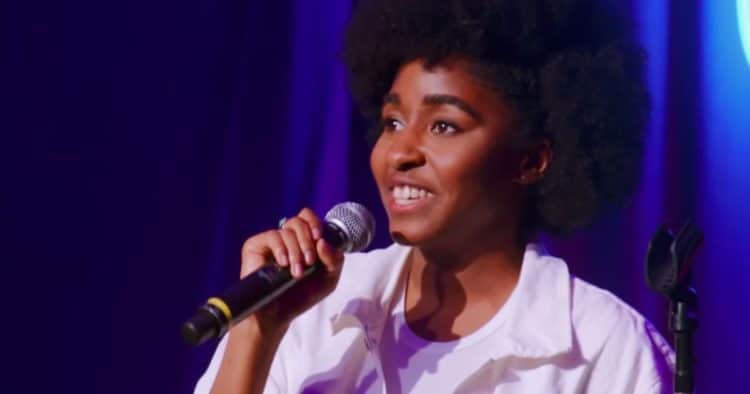 2020 has been a rocky year for almost everybody, but Ayo Edebiri is finishing strong. She was cast to voice Missy Foreman-Greenwald in the animated series Big Mouth after the previous voice actress, Jenny Slate, decided to step down. Not only is this a huge opportunity for Ayo and her career, but it's also a chance for the character to have a new beginning. Although she is a relative newcomer to the entertainment industry, Ayo is more than ready to rise to the occasion. Based on what we've seen from her so far, there's a very good chance we're going to be seeing (and hearing) a lot of her in the years to come. Keep reading to learn 10 things you didn't know about Ayo Edebiri.
1. She's A Boston Native
Ayo was born and raised in Boston to parents who immigrated to the United States. She always loved to entertain and make people laugh. After moving to New York for college, Ayo was introduced to the local comedy scene and she realized that making people laugh could be a viable career path for her.
2. She Was Raised In A Very Religious Family
Ayo was raised in a conservative Pentacostal household although it's unclear if she is still religious today. She told Forbes, "I grew up very Pentecostal. I think there's some sort of puritanical self-flagellation that I am very good at doing and probably will continue to be good at for the rest of my life."
3. She Went To College To Be A Teacher
Can you imagine how hilarious it would be to have Ayo Edebiri as a teacher? That was almost a real thing. She attended New York University where she studied to become a teacher. After graduating, however, she quickly realized that wasn't what she wanted to do.
4. She's A Stand-Up Comedian
Being in a comedy series is somewhat of a natural profession for Ayo's career. She has been making a name for herself in the comedy community for the last several years. She has done stand-up shows all over New York City and she's build a solid fan base. Maybe one day we'll be seeing her on Netflix with her own special.
5. She Loves The Outdoors
Even though she has lived in cities for her entire life, Ayo still loves being outdoors and appreciating the beauty of nature. Whens he isn't busy with work, you can usually find her enjoying the great outdoors. She loves to do things like go hiking and hang out at the beach.
6. She's A Screenwriter
Ayo has already shown that she is a woman of many talents. On top of being funny and now becoming a voice actress, she's also done some cool things off camera. She is a talented writer who wrote an episode of the TV series Sunnyside. She was also the story editor for several episodes.
7. She Has A Podcast
If after learning about Ayo you want to hear more from her, the good news is that she has a podcast. She is the co-host of the podcast Iconography which releases new episodes every week. According to the show's description, "Ayo Edebiri and Olivia Craighead are joined by guests to take deep dives into the lives and careers of the celebrities they stan. Plus Ayo and Olivia talk celebrity news, culture, and more."
8. She Watches A Lot Of TV
Lots of people who work in the entertainment industry don't like to watch TV in their free time because it reminds them too much of work. Ayo isn't most people, however. In a tweet she said, "i love watching 100 hours of movies and tv a day. it's good for my brain and isn't affecting me at all. yes i DID have a dream last night where i sat in my bed and watched a documentary on my laptop about Brad Pitt featuring interviews from his celebrity friends, why do you ask?"
9. Big Mouth Is Her First Voice Role
Being cast in Big Mouth is a huge accomplishment for Ayo, especially because it's her very first voice acting gig. Usually, it can take people years to get an opportunity on a show as big as Big Mouth but Ayo has definitely come out the gate swinging and she doesn't plan on disappointing.
10. She Has An Autoharp
Have you ever purchased something completely random that you have absolutely no use for? If the answer is yes, you're in good company. Like many people, Ayo has been buying lots of bizarre things during the pandemic, one of which was an autoharp. She told Vulture, "When I had my breakdown, week two, I bought an autoharp in eBay. It came to my house, I tried to tune it, I gave up. It's been sitting. It's been sitting in its case."