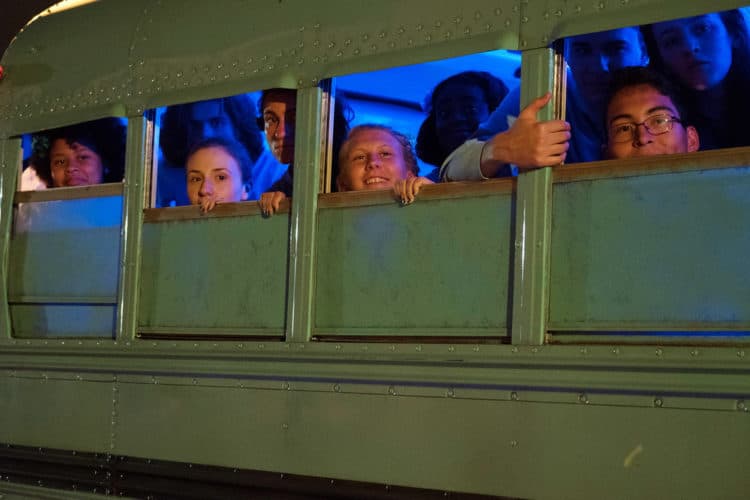 It's good that actor Adam Stephenson likes to watch horror flicks because lately the Louisiana native has been cast in several psychological dramas.
Fellow horror fans can watch Stephenson as he plays Mark Cantoff in USA's newest limited series, "The Purge." The 10-part series debuted Sept. 4 and runs Tuesdays at 10 p.m. EST.
The Purge on TV
The TV series is based on the popular Purge film franchise, which started in 2013, and is created by the same man behind the films, James DeMonaco. The series takes place 10 years after the first Purge.
"What's fun about the TV series, is in the movies you just have 90 minutes and a centralized story around one family, dealing with the Purge night or how a couple crosses each other's paths in a 'Crash' kind of way," he said during a telephone interview. "But in a TV series like this to tell one night of the Purge over 10 hours in TV, you can really see how the different socioeconomic groups, the different diverse groups, and different ages deal with The Purge."
Stephenson said he likes getting to explore his character.
"I like that Mark is ambitious and a little naïve," he said. "What I can say is that I'm in a unique position on Purge night because I'm out in the house, but I'm not in the Purge world."
He said the series allows viewers to really delve deeper into the "psychology of this hypothetical world."
Horror fan
Stephenson seems to be on a horror-role roll as he is coming off Audience channel's "Mr. Mercedes," about a serial killer and based on Stephen King's books.
"I do like the horror genre. I've been lucky recently to be able to work in it," he said. "Now and the whole way through Halloween I'll start doing my horror film binge."
That means rewatching both versions of "It," as well as "The Conjuring" series.
"I love psychological thrillers; I'm not really big on slasher for slasher sake," he said.
That's why, he said, he was attracted to "Mr. Mercedes," as well as "The Purge."
"'The Purge' asks 'What would we as a society if this were an option?' which is better than gore just for gore sake," he said.
Accidental actor
Stephenson jokingly calls himself an "accidental actor."
"I really didn't have any aspirations to do that," he said.
Instead, armed with a degree in secondary education English from Louisiana State University, Stephenson had hopes of being a teacher. However, after he and his wife moved to Chicago, he had a hard time finding a full-time teaching position but had been substitute teaching. That's when he saw an ad looking for extras for "Public Enemies," which was released in 2009 and starred Johnny Depp.
"I thought, 'Yeah, that'd be a fun way to make a buck, let's check that out,'" he recalled, "And six months later, I had worked more as a background actor on TV shows and films than I had been a substitute teacher."
He started to take classes, got into Second City Conservatory in Chicago, then an agent, "and I just started pursuing it."
Only 10 episodes
As for the new series, Stephenson said he likes that he knows there's a limited run."There's no cliffhanger, it's nice knowing when you're done, you're done," he said.
Tell us what's wrong with this post? How could we improve it? :)
Let us improve this post!