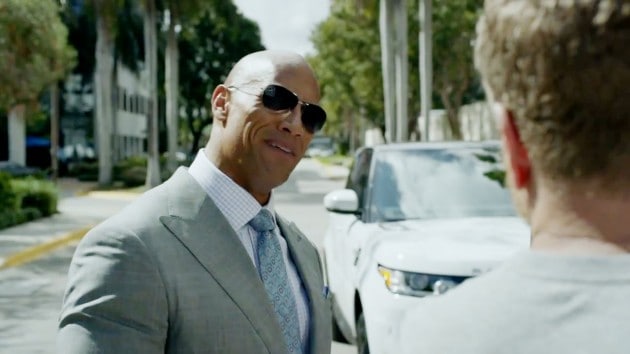 The summer is almost over folks, and with it, we've reached the penultimate episode of the freshman HBO comedy Ballers. The show is coming off not the greatest episode of this season, but the penultimate installment proved to have much more depth, strength, and fun to it. Furthermore, it cemented Spencer's status as the most sympathetic character on the show, which is good because The Rock is their moneymaker.
This week on Ballers: Spencer brings information about Reggie to Vernon, which causes Vernon to lose it right before his big contract. Ricky continues to struggle in his domestic situation. Charles begins his comeback attempt, but he may be in for a long road. Spencer tries to make amends with a man he "took out" of the game. Joe contemplates Anderson Financial's role in his future.
Last week's episode coupled with this one was a lot of set up. There was a lot of plot being pushed through rather quickly (as often happens with a half hour comedy) in order to get to the end. This, of course, makes me that much more excited for the ending. This week's episode was definitely stronger than the last. While last week demonstrated some (okay, everyone's) character flaws, this week's episode set them up for some serious growth. When you want a show to be sustainable, you have to grow your characters, and Ballers proved that they can do it.
Obviously, the biggest evidence of growth so far is in Spencer. Johnson, of course, has had by far the most screen time, so it makes sense. Starting last week, when Spencer finally went to the doctor and got his diagnosis, and he put his personal feelings aside to get Vernon's pictures, Spencer has shown the most growth of anyone. It really cemented itself this week, when he took Dan Balsamo (The Walking Dead's Michael Cudlitz) to the Marlins game with his son, simply to try and make amends. The first pitch thing was pretty great (and Giancarlo Stanton might be my favorite cameo thus far).
Of course, Spencer has shown immense growth, but other characters are setting the stage for their growth to take place. I'm not sure Joe is going to grow anytime soon (as evidenced by the previews for next week's finale), but let's talk about the rest of them for a minute. Charles is going to be a father, and is attempting an NFL comeback. Ricky is doing everything he can to take responsibility for his life and move forward. Vernon has even come to the harsh realization that Reggie is a humongous rear end. In these moments, there isn't so much EVIDENCE of growth, but rather a large opportunity for these men to follow Spencer's lead.
"Head-On" was an episode that worked really well. Aside from the theme of growth and evolution from past problems and personas, it just painted its characters really well. For example: I have found Omar Benson Miller's Charles to be charming but a little goofy thus far. He's doing a fantastic job, but I didn't care for the direction of the character necessarily (other than thinking it was hilarious). This week's episode took the charming and goofy Charles that Balllers has established and inserted him into a more realistic and adult situation. Charles spent the entire episode beging pretty serious, but it felt right in line with his character. Ricky didn't have as much screen time this week, but same basic concept: they used his charming one-liners and determination to win Bella back in perfect harmony.
As always, here are some of my favorite quotes/moments from the episode:
– "So that's your move? Pull out your d**k?" – Jason, in regards to Reggie's approach with women
– I'm so glad they cleared up that commercial thing. I was very confused. Also, LOVE Michael Cudlitz
– "Nut up and go see the man." – The brain trauma doctor
– I love the use of Mark Schlereth in this show. Gives it a real sports feel and ties everything together.
– "Every time I walk through the door, I'll be thinkin' of you. And bananas."- Ricky, eloquently expressing his feelings to Bella
– The botched first pitch that knocked the guy down was a great physical comedy moment. And the cheers afterward? Awesome.
This week's Ballers provided a cohesive, smart episode that set up for what should be a very interesting finale. I've really enjoyed covering this show, and each episode makes me love it a little more. Shout-out to Chris for covering this for me last week! Can't wait to discuss the finale with everyone!
What did you guys think? Did you enjoy this penultimate installment? Let us know in the comments!
The Season 1 finale of Ballers will air Sunday, August 23rd, at 10/9c on HBO.
[Photo via HBO]
Tell us what's wrong with this post? How could we improve it? :)
Let us improve this post!