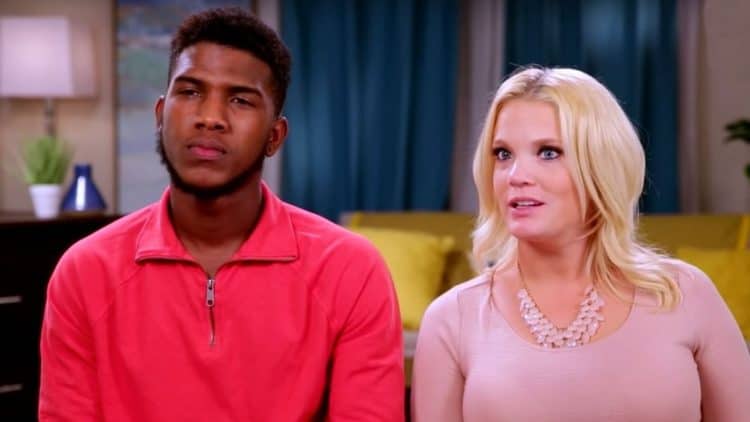 Some television shows have so much drama that we end up tuning in to catch up with the juicy details of the lives of the cast. "90 Day Fiancé" is one show that has unending drama and one of the couples that we are ever eager to watch has to be Ashley Martson and Jay Smith. Now that they have been cast into the limelight, you want to know more about them. Let's focus on Ashley Martson today with these ten facts.
1. She met Jay Smith in a club
Cyndi Lauper knew as early as 1983 that girls just want to have fun when she released the song. Ashley Martson was having fun with her girlfriends at a club in Jamaica where they had flown for a wedding. Sometimes, we find love in the oddest places because it is in that club that Jay Smith and Ashley Martson met. When Ashley returned home, Jay Smith tracked her down using her social media, and after six months, they were engaged, according to People.
2. She has filed for divorce twice
Once you settle down with someone and get used to waking up beside them, leaving them is difficult no matter how bad the relationship has turned out to be. In January 2019, after only eight months of marriage to Jay Smith, Ashley was ready called it quits, so she went ahead to file for divorce. However, she changed her mind after two weeks and withdrew the paperwork, perhaps hoping to make it work. Unfortunately, Ashley's hopes for a better marriage were not to be because she filed for divorce again as reported on E! News.
3. She earns $15,000 from "90 Day Fiancé."
There is this belief that being on television instantly makes you famous and rich, but according to Cheat Sheet, that is not the case with "90 Day Fiancé." Allegedly, the cast gets only $1,000 per episode and if they appear on "Tell All," then they make an extra $2,500. The show's production budget is low, considering that they paid one family $100 for cleaning expenses after they filmed and left dirt in the house.
4. She has lupus
Being healthy is one of the few pleasures of life that even money cannot buy. Unfortunately, Ashley does not have the luxury of a healthy life, and it seems like her health keeps deteriorating. Ashley has lupus, a disease in which the immune system attacks the body causing the patient to have damaged tissues. In December 2018, she had to spend her Christmas in hospital. Ashley told US Weekly Magazine, that if she could ask Santa for anything, it would have to be good health. In January 2019, Ashley collapsed in her home and on being admitted in the hospital, she was told she suffered from kidney failure due to lupus and had to begin dialysis.
5. She has two children
Ashley Martson enjoys the joy of motherhood with her two children, a boy, and a girl. According to Heavy.com, her daughter is the older of the two, and she could be around nine. Her name is Roxy and Ashley admits that when she became a mother she learned what unconditional love is. Her son was born premature, and Ashley does not like posting pictures of her children on social media. She also does not allow them to be filmed.
6. She cannot have more children
Nowadays, women decide not to have children. In the past, it was almost mandatory for a woman to get married and have children failure to which you will be the talk of the town. Still, even today, parents will put pressure on their adult children to give them grandchildren. However, we all know children are a blessing, and it is not our efforts that determine if and when we have them. Ashley Martson may already have two children, but she can no longer get more. At 26, she had to undergo a hysterectomy when cancerous cells showed up in her body.
7. She was raped as a teenager
Starcasm details out how Ashely was kidnapped and violated by Sean Gallagher in 2005. Ashley was walking to work when Sean attacked her, trying to rob her. Ashley did not have any money, and Sean forced her into his car. After driving around, he parked the vehicle, zip-tied her so tight that her hands turned blue, raped, and threatened to kill her so she would not report him. Ashley, however, managed to chew through the zip-ties before Sean could carry out his threat. It is only after three years that the police were able to catch him, although he was already in jail serving a robbery sentence.
8. Her ex-fiancé abused her
Love is blind, and it makes us see people for who we want them to be and not for who they are. Ashley fell in love with her ex-fiancé, and all was perfect until he physically abused her. Ashely shared a photo in which she has a black eye, and she revealed that her ex-fiancé beat her up badly. Following the incident, Ashley had to file a Protection from Abuse (PFA) order, and the man went to jail.
9. The men in her life have been unfaithful
If there is one thing that can break any romantic relationship, call it infidelity. You try your best to be the ideal partner, but someone decides to seek solace somewhere else, and it is devastating. Ashley has been engaged twice, and both times the men have cheated on her. Jay Smith even had the nerve to start using a dating app three days after their marriage. It is, therefore, no surprise he ended up cheating on her as reported on Screen Rant.
10. Her estranged husband is a serial cheater
You cannot change a person; it is up to them to realize that their behavior is only going to make them suffer in the long run. Ashley has tried making her marriage with Jay Smith work because that is what you do when you genuinely love a person; you never give up on them. Unfortunately, it seems like Jay Smith was never meant to be tied down by marriage. He may be using Ashley to satisfy his financial greed, according to the Hollywood Gossip. Jay could not keep it in his pants; he had the guts to have sex with a girl in the bathroom of a barbershop and to invite an 18-year old girl to Ashley's home.