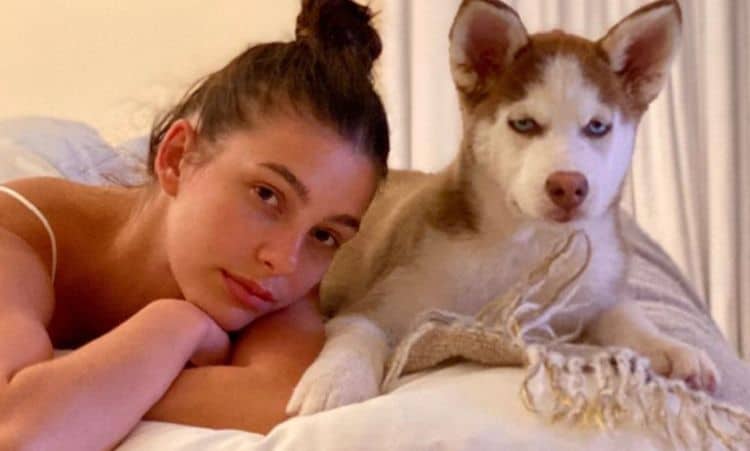 Born on June 16, 1997, Camila Morrone was born in Buenos Aires, Argentina, but currently lives in Los Angeles where she had been pursuing a career in modeling, but has lately been working on trying to get her acting career off the ground. This 20 year old beauty hails from a famous family with her mother, Lucila Solo is an actress, and her father, Maximo Morrone, is a model. Morrone has been becoming a more popular name in social media due to her connection with two big names in the industry, Al Pacino and Leonardo DiCaprio, which you will find out how she is tied to each as you continue to read. If you have heard the name Camila Morrone, you might also recognize it from the remake of a classic film, Death Wish, but here are 10 things you don't know about Camila Morrone.
1. Is a model turned actor
Morrone's career started out gracing the pages of magazines, modeling for IMG modeling agency, she's been seen in a variety of publications, including ads for Victoria Secret's Pink, Sports Illustrated, and many others. She has since then turned her focus to acting. She doesn't have a lot of experience under her belt yet, but so far she has been proving that she just might have the family's acting gene and we're just waiting to see how far she goes.
2. Has one younger sibling
There is another Morrone sibling in the family, and it's a boy. Camila Morrone is the oldest of two. She has a younger brother named Sky, and although not much is found about him, if he is anything like his family, it probably won't be too surprising that we start hearing his name associated with the modeling or acting business, or both.
https://www.instagram.com/p/Bl_i9MqBM5W/?hl=en&taken-by=camimorrone
3. Models for Urban Outfitters
Urban Outfitters saw the face and beautiful body they knew would be a good fit for their magazine and it was Morrone. There's no wonder why she was succeeding at modeling, and she has done a number of photo shoots for the popular magazine, featuring the 5 foot 9 Morrone in pictures that look straight out of Victoria's Secret.
4. Her face has graced Vogue
Not all models can say their faces have been seen on the cover off a major magazine, like Vogue. Vogue is one of the most coveted covers for a model and Morrone has already nailed that with ease. She was the face of Turkey's Vogue for September 2016 and modeled some fashionable fall wear in the edition.
5. It may not be a big role, but it's a chance to work with Bruce Willis
Marrone accepted a role in the remake of the classic film, Death Wish. She's playing the role as Jordan Kersey, Paul and Joanna's daughter, and won't require her to learn a whole lot of lines, but what's important is that she shows the industry what she can do to help keep her moving up to bigger roles. What's the bonus in taking this role? She gets to work with the famed Bruce Willis.
https://www.instagram.com/p/Bkl8veljKrN/?hl=en&taken-by=camimorrone
6. Is rumored to be dating Leonardo DiCaprio
Leonardo DiCaprio is one of the biggest leading men and one of the most sought after actors in Hollywood. He is probably best remembered for his leading role in the iconic movie, Titanic, the movie that plunged him into stardom. At 43 years old now, DiCaprio is also known for dating younger women, and now it looks like we can add Morrone to the list of young women he's dated. Although the relationship was kept under wraps for several months, it appears to now be pretty official, after the two have been spotted together in public, walking arm-in-arm, and Marrone openly offering DiCaprio kisses as they walked.
7. Spent New Year's with DiCaprio and "Spider-Man"
What a way to ring in the New Year, then to spend it with two big Hollywood hunks, Leonardo DiCaprio and Spider-Man, well, Tobey McGuire! Morrone took a trip to Aspen with DiCaprio and McGuire, and McGuire's two kids. Pictures were postesd on Marrone's social media account of her and DiCaprio hitting the slopes and enjoying a little winter vaca before heading home on a privately owned jet.
8. Comes from a famous family
Not only are Morrone's mother and father actors, which is where she probably gets the acting bug, but her step father is one of the most famous actors of all-time, Al Pacino, and just happens to be good friends with her new beau, DiCaprio. Pacino and DiCaprio have been close friends for about 10 years, which means that Morrone has probably already been close to DiCaprio as a family friend for the past decade. But she's all grown up now, and DiCaprio obviously doesn't see her as just a little kid anymore. Who knows, maybe one day DiCaprio will be more than a friend to Pacino. Maybe one day we'll hear Pacino has a new step son-in-law.
9. Posted a pic of her "food baby" on her Instagram
Morrone has gained a lot of attention on her Instagram account and has accumulated over 983,000 followers, but one specific post really got her fans roaring when she posted a pic of herself pushing her stomach out like she was pregnant and staring lovingly at it as if it were a baby pooch. She tells her fans to find someone who looks at them like she looks at her "food baby." The post instantly garnished 38,000 likes, and lots of comments to go with them.
10. Helped Ellen DeGeneres celebrate her 60th
Here's another name everyone knows; Ellen DeGeneres'. Morrone is also associated with this hilarious comedian and talk show host, we know because she was seen leaving DeGeneres' 60th birthday celebration with none other than, yes, DiCaprio. Her social circle seems to be growing larger and larger the older she gets, but when your step father is Al Pacino and your beau is Leonardo DiCaprio, I guess it's only normal to rub elbows with the most elite in Hollywood.
Bonus: Her net worth
Although Morrone's career is just starting, she is already said to be racking up quite a bit of worth, primarily due to all the modeling and endorsements that she receives. It's been said that she gets about $50k for every ad or endorsement that she does, and currently has a net worth of about $1 million. It hasn't been discovered what her movie salaries are yet, but her net worth is surely going to climb as she gets more exposure.