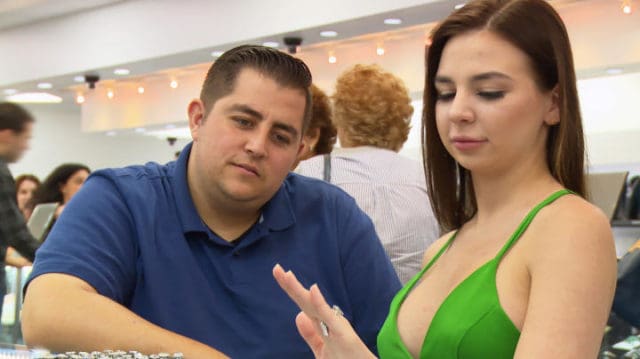 The title of 90 Day Fiance refers to the K-1 visa, which is a 90-day visa that is issued to the non-American fiances of Americans. As a result, it should come as no surprise to learn that said reality TV show is focused on such relationships, which face a wide range of challenges that include but are not limited to cultural barriers, language barriers, and the inherent tensions in a relationship maintained over both vast distances and vast differences. However, while the first season seemed to have chosen couples with a real chance of success, the subsequent seasons have been much more sensationalistic in nature. Suffice to say that the results have been concerning to say the least.
Why Is 90 Day Fiance Bad for TV?
For those who are curious, the first season consisted of four couples, who were Pao and Russ, Kirlyam and Alan, Aya and Louis, and Aziza and Mike. Of these four couples, the one that seems to have fared the worst is Pao and Russ, who remain together in 2017 but live in separate cities. However, this seems to be nothing but a normal example of a strained relationship with none of the usual stereotypes attached to American and non-American relationships, seeing as how the Colombian Pao was a fashion designer in her home land before she made a successful transition to a model as well as a personal trainer in the United States. For comparison, the other three couples are still together as of 2017, with Kirlyam and Alan even having reported that they were expecting their first child.
In contrast, while there are still couples with a real chance of success when it comes to their relationship in the subsequent seasons, there are also couples who have been chosen for maximum sensationalism. For example, Season 2 featured an American woman in her 50s and a Tunisian man in his 20s, both of whom had lied to the other about their personal lives. Unsurprisingly, the two have since divorced, which is an outcome that anyone who had watched the episode could have predicted based on how the man was complaining about the woman's smell as well as how the woman threatened the man in order to have sex before the marriage.
Likewise, Season 3 featured an American man in his 60s and a Filipino woman who hadn't even reached the age of 20 at the time, which was all the more questionable because all four of the man's children were older than his new wife, who just happened to have been from the same city in the Philippines as his previous wife who had divorced him when their children had still been children. Finally, Season 4 had an American man who contacted a Russian woman after seeing her photos on Facebook while the Russian woman straight-up admitted that she was interested in nothing but his money; an American woman who seems to hate Moroccan culture and a Moroccan man who seems to loathe the supposed love of his life; and another American woman and a Nigerian man who broke up because it turned out that the Nigerian man had been seeing another woman.
Summed up, it is not difficult to see why90 Day Fiance still possesses plenty of fans. It is far from being the first reality TV show to make a profit by showing the less impressive side of human nature, but it cannot be denied that it is nonetheless another step on the way down. Furthermore, an accusation can be made that it perpetuates the nastiest stereotypes of American and non-American relationships, which admittedly have some basis in truth, by choosing the most blatantly doomed-to-failure relationships that it can find for the purpose of delivering sensationalism to those who want it.