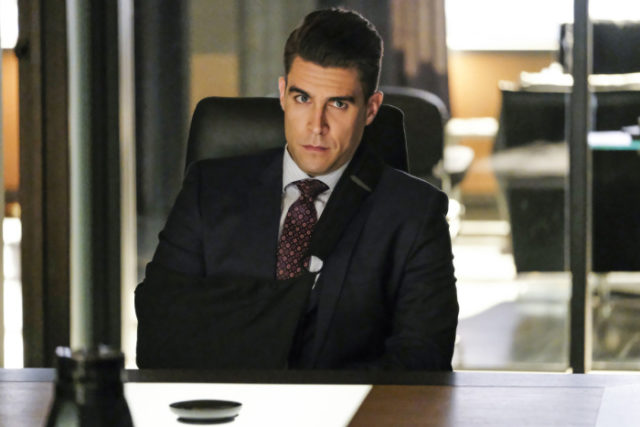 Over the past couple of weeks, Arrow has delivered two of its very best episodes of the season with "Checkmate" and "Kapiushon." Tonight's all-new hour, "Disbanded," doesn't exactly reach the dramatic heights of its two predecessors, but it's still an incredibly solid installment of Arrow, one that really works well whenever Diggle and Oliver share the screen together. David Ramsey and Stephen Amell deliver fantastic performances throughout "Disbanded," and they do their absolute best to make sure every exchange between the best friends and teammates possesses emotional honesty. However, as good as the two of them are as actors during this episode, they can stop the events that are happening onscreen from feeling a little too rushed and under-cooked.
My only real problem with "Disbanded" is the pacing of the episode, particularly the pacing of Oliver's journey, as he goes from being dead-eyed and hopeless to delivering inspiring speeches to the reunited team in less than 40 minutes. Now, the Arrow writers smartly show that Oliver has not fully returned to his former self; he won't put the Green Arrow suit on when he goes out with the team to stop the Bratva near the end of the episode, and his reasoning for doing so has nothing to do with the "shoot on sight" order that the SCPD is supposed to follow. Oliver clearly no longer believes in himself as a hero, and it will seemingly take a long time before he can regain that confidence and strength, the fortitude he must have in order to truly be the beacon of hope that his city so desperately needs.
However, it still seems a little too fast and convenient that Oliver would reassemble the team as quickly as he does, that he would be willing to put his friends in harm's way again after enduring nearly a week of torture in which Chase constantly reminded him of the loved ones that he failed. Despite how moving and downright powerful each of Diggle's speeches to Oliver are, I just can't buy into the fact that he would buckle that easily and bring back Team Arrow that soon; Oliver appeared to be way too traumatized to do anything like that at the beginning of "Disbanded." Plus, Oliver is also way too stubborn of a person to almost instantly buy into Diggle's words of redemption and justice. Think of all the stupid actions that Oliver has taken because of his stubbornness: disbanding the team wouldn't even crack the top five.
With all that being said, though, it's still great to see Arrow shine a spotlight on the Oliver/Diggle friendship, which is one of the two most important relationships on the series. As I mentioned in my review of last week's episode, Oliver would never be able to pull himself out his darkness and despair without the help of Dig and Felicity, who not only know Oliver better than anyone else but also inspire him more than anyone else. Again, by the end of "Disbanded," Oliver hasn't fully recovered from the trauma of Chase's actions; he still bears very real and very raw emotional scars. However, thanks to Diggle, Oliver begins to see the light at the end of the tunnel, a path towards redemption that only exists with the compassion, encouragement, and support of his fellow team members. That's why "Disbanded" serves as a nice companion to this season's earlier installment, "A Matter of Trust," which featured Oliver encouraging Diggle to break free of his pain and sorrow and find a way to repent for his sins (a moment that Diggle references in tonight's episode). This time around, the roles are reversed, as Diggle comes to Oliver's emotional aid, and you can bet that, just like Diggle has struggled with forgiving himself for killing Andy throughout this season, Oliver will continue to battle his inner demons for the remainder of Season 5.
Maybe Felicity will be the one to help Oliver deal with those feelings of self-doubt and self-hatred when Arrow returns on April 26, but she's not around to deliver any words of hope or love in tonight's episode. Instead, Felicity provides assistance to Oliver and the team in a different, perhaps even more important way, as she and Curtis work together and use Helix's resources to obtain clear, non-pixelated footage of Adrian Chase showing his face as Prometheus. With this video clip, the team is able to turn the tables on Chase for once this season, as they expose his true identity to the SCPD, and even though he escapes from the Marshals that had been protecting him by viciously murdering them both (there's five episodes left in the season–of course, Chase was going to get away), it's clear that Chase feels rattled now that he no longer has the upper hand. It will be very interesting to see just how dangerous and desperate Chase will be now that he's on the run and can no longer freely move in and out of City Hall; with five episodes remaining in Season 5, I'm sure we haven't seen the worst of what he can do yet.
And Chase may not be Team Arrow's only concern as we move forward into the final hours of Season 5. By the end of "Disbanded," Anatoly is returning to Russia, doubtful that he'll be able to maintain control of the Bratva without the street drug that he was planning to manufacture; however, many of his men, members of the brotherhood, remain in Star City with the knowledge that Oliver Queen is now an enemy to the Bratva and revenge on him and Team Arrow as their main objective. Then, of course, there's Helix, which seems to be more friend than foe at the moment, but a hacking organization with that much power and ambition has to become a problem sooner rather than later. Add in the fact that their shady deeds keep pushing Felicity to embrace her darker side, and I guarantee that Oliver will want to shut them down in some way within the next couple of episodes.
In order to finally beat Prometheus and any of this season's other major threats, Oliver will need to be the best version of himself that he can be, not just when it comes to his physicality and fighting prowess but also, perhaps even more importantly, his mental and emotional states. With Diggle's help throughout "Disbanded," Oliver is beginning to piece himself together and remake himself into a new man, not a monster; to reference Oliver's opening monologue that kick-starts every new episode, he's finally becoming someone else instead of something else.
Other thoughts:
This week's flashbacks actually made me pretty emotional, as we see just how far Anatoly has fallen since Oliver left Russia five years ago and witness the disintegration of their friendship to the point that it's plausible that one of them will shoot and kill the other. Since his introduction back in Season 2, Anatoly has always been one of Arrow's best supporting players, and the focus he has gotten throughout Season 5 has only enriched his character even more. I doubt we'll see anymore of him in the present day given everything else that's going on this season (I'm sure he'll still be in the flashbacks), and that's okay because "Disbanded" serves as a strong, if somewhat tragic, conclusion to his and Oliver's journey together.
Snarky Adrian Chase is my favorite Adrian Chase, and I'm still trying to decide which line of his I like better: "You actually tried something. Consider me impressed" to Oliver or "How's that husband of yours?" to Curtis.
Oliver can punch Diggle in the face, and they almost immediately make up afterwards. That's how you know they're best friends. Real talk, though, it bears repeating that the scenes between the two of them tonight are amazing, especially the one in which Oliver tells Dig that he doesn't know what kind of man he is, and Diggle responds by pointing out that he knows exactly who Oliver is, the good, the bad, and the ugly.
Oliver and Felicity don't have many scenes together tonight, but the short exchange between the two of them, when he tells her that she's the one thing that Chase couldn't plan for, stands out as a strong emotional moment in an episode that's full of them.
How funny are Dinah and Rene when they debate which of the two of them would be the new Diggle? Both of them have been such great additions to Team Arrow this season.
Also, Rene is banned from City Hall by Quentin because he threatened to "bust a cap" in Chase's a**. Of course he did.
Felicity is worried that Helix might have a little too in-depth of a folder on her. "The world doesn't need to know how often I am at the wine shop."
What did everyone else think about this week's episode of Arrow, and how are you feeling about Season 5 as a whole as we head into this final mini-hiatus? Comment below and let me know.
[Photo credit: Bettina Strauss/The CW]
Arrow Season 5 Episode 18 Review: "Disbanded"
Summary
Oliver brings the Bratva to Star City in an effort to take down Chase for good in an awkwardly paced but still solid episode of Arrow.