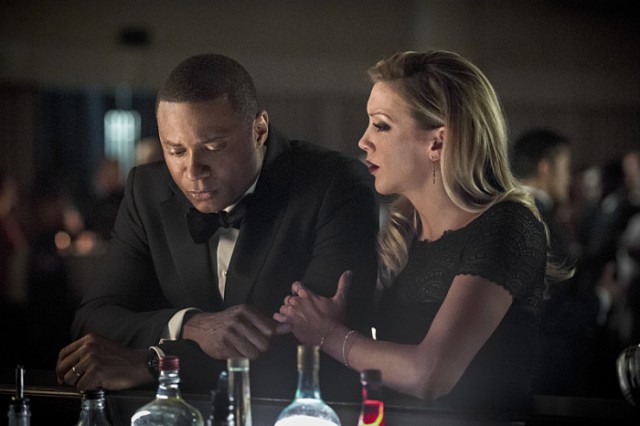 This week's Arrow marked the directorial debut of James Bamford (the show's excellent stunt coordinator), as helmed one of the strongest episodes of Season 4 so far, an hour that saw Diggle discovering that his brother, Andy, is actually alive but corrupted. Meanwhile, Thea continues to struggle with her post-Lazarus Pit bloodlust.
Since the beginning of the series, Diggle has always been Arrow's warrior; he knows what to do and acts as a strong support system when his allies are struggling. Every once in a while, we have seen his character display vulnerability underneath that hardened exterior, and this week, as Diggle dealt with Andy being alive after all this time, David Ramsey delivered one of his finest performances ever.
In particular, the scene between Diggle and Laurel, who can relate in a few ways to what he is going through, was one of the most powerful scenes of "Brotherhood"; she provided him with the type of support that only few members of the team really could have given. Even though we got some of the greatest action scenes ever on the show, which is what Bamford does best, it was all the emotionally-charged moments that made "Brotherhood" so strong.
For the first time in while, seeing Oliver and Diggle disagree was something that was enjoyable to watch because they swapped roles this time around, where Ollie got to be the voice of reason for Diggle, encouraging him to give Andy the benefit of the doubt. That doesn't mean that moving forward, Diggle has to be soft on his brother, because this isn't an easy situation that he has landed in, but at least he will give his brother a chance, even if all hope for him seems lost. While the title of the episode is "Brotherhood," the theme went beyond that and touched upon family as a whole, especially with Team Green Arrow. Unlike last season, this version of the team feels like a strong unit, a family of sorts. While there's still room for some improvement from last year, this works so much better.
The big twist with Thea somehow not being affected by Damien's powers and actually being able to cause him damage was a neat surprise. It seems that Thea's bloodlust, which was dealt with really well from a story standpoint this week, is somehow something that can be used as a weapon against Season 4's big bad. It will be interesting to see how she and Malcolm work together to utilize her and Damien's strange connection in an effort to control her bloodlust and take him down.
Speaking of cracking Damien's shield, Oliver makes some great decisions in "Brotherhood" and starts to turn the game around on Damien's sorry butt. What is so great with Oliver's arc of running for mayor is that it challenges Oliver to now really establish the "Oliver Queen" persona to the public. Even though it seems a little silly that someone like Damien can't tell that Oliver and the Green Arrow are the same person, it's just a moment where you have to suspend your disbelief. It was just genuinely fun to see the good guys get a little victory here.
Along with some great writing, Bamford's directorial debut just makes me want to see his next episode already. This is someone that I hope will be directing more episodes this season, not just because he can provide some great action-packed material, but also make emotional arcs just as powerful. As we wait for the big crossover event with the fellow CW/DC shows, "Brotherhood" was as solid of an hour as the Season 4 premiere and "Haunted." Storylines moved forward in many great directions, and this Diggle-centric episode only made me love his character even more.
Arrow returns with new episodes on Wednesday, Dec.2, at 8/7c on The CW with Part 2 of the upcoming crossover with The Flash and DC's Legends of Tomorrow, titled "Legends of Yesterday."
[Photo credit: Cate Cameron/The CW]