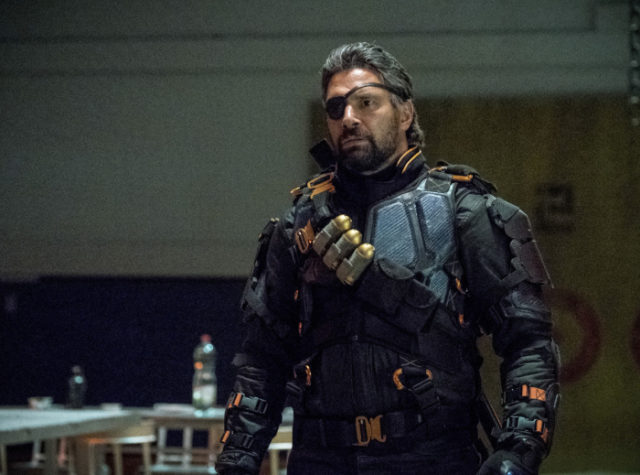 After providing us with last week's Felicity-centric episode, Arrow dedicates the majority of "Deathstroke Returns" to two of the show's supporting players: the aforementioned Deathstroke, aka Slade Wilson, and Dinah Drake, who are both dealing with the reemergence of loved ones from their past. For Slade, this week's episode is all about finding his son, Joe, who has recently started going by the name Kane, and he enlists Oliver's help in this mission. Meanwhile, Dinah receives a major shock when Vigilante removes his mask, after she takes him down with her Canary Cry, revealing himself to be her former boyfriend and partner, Vincent.
Despite how surprising that reveal of Vincent is to Dinah, though, it doesn't have the same impact on us as viewers. Ultimately, "Deathstroke Returns" is simultaneously exciting and predictable; it's an hour that features some solid action, strong character moments, and important twists and turns, but everything also feels somewhat inevitable. Perhaps that's because the episode centers so directly on Slade and Dinah, and so once the main storylines of "Deathstroke Returns" are revealed, there are only so many directions that they can go in. For instance, every Arrow viewer out there has to know that the show wouldn't put Oliver and Slade on this mission together to find Slade's son only to kill him off; similarly, once the show revealed Vigilante's identity and connected it so personally to Dinah, did anyone really think they were going to arrest him or have him die?
Unlike Season 6's previous episodes, this week's Arrow lacks that "wow" factor. It doesn't have Oliver handing over the mantle of Green Arrow to Dig or Oliver presenting Felicity with the key to his apartment or the introduction of Michael Emerson's Cayden James, who is working alongside Black Siren. "Deathstroke Returns" hits the pause button on a lot of this season's action to tell smaller, more personal stories, and for the most part, it is successful, particularly with how it interweaves Slade's struggles with fatherhood with Oliver's similar worries. While I can understand why certain Arrow fans aren't happy with this rehabilitation of Slade, his re-introduction has worked incredibly well for me because, in addition to Quentin, it gives Oliver another father figure that he can interact with and learn from, which is so important to have in Season 6 as he tries to be good father to William on his own. (Side note: I can't tell you how happy it makes me that both Felicity and Diggle are so skeptical of Slade and so protective of Oliver–it makes complete sense because they never knew the warmer, friendlier Slade that Oliver once knew.)
Even though Slade's mission to find his son ends with him being heartbroken by the news that Joe has actually become the leader of the Jackals, "Deathstroke Returns" is about the journey he and Oliver take to get there, and the fact that both men want the best for each other. They want one another to be able to have good, strong relationships with their sons, which is why Slade drugs Oliver and sends him away and also why Oliver comes back to help Slade during the final moments of the episode. In many ways, this new bond that been forged between the old friends, this bond of fatherhood, is an even stronger relationship than what the two of them had together on Lian Yu; it's more mature and selfless, and it's about something bigger than just surviving–it's about truly living.
While it appears doubtful that Slade will actually get a second chance with Joe (given the fact that his son has essentially kidnapped him), Dinah still believes that she could have a future with Vincent, despite how twisted and broken the Vigilante persona has made him. As we discover in this week's episode, the dark matter that Dinah was exposed to, which gave her the Canary Cry, also affected Vincent and gifted him with healing abilities. That is why he was able to survive that initial gunshot to the head, and it's also why he lives through another bullet to the brain in "Deathstroke Returns."
However, what's more important than the reveal that Vincent is a meta is what he tells Dinah his mission is now, that being a cop wasn't enough–he can only truly cleanse evil from the world as Vigilante. Even though that way of thinking is clearly distorted, Dinah allows Vincent to escape because she still has hope that the man she loves is somewhere inside of him, and that hope only grows when she opens the gift of artwork that Vincent leaves for her near the end of the hour.
Similar to Diggle's drug use, Dinah's belief in Vincent is a secret that I hope doesn't fracture Team Arrow too much. The Arrow writers (along with The Flash writers) have hopefully learned throughout the years that team members withholding secrets from one another is a cheap, ineffective way of creating drama, and I want to believe that Dinah's connection with Vincent will lead to something more dramatically satisfying than simply the rest of the team getting pissed off at her. No matter what the future holds for this storyline, though, it's fantastic to see Arrow supplying Dinah with a story that is hers and hers alone.
Additionally, given the similarities between what Dinah and Dig are currently going through, maybe the writers can find an organic way to link their stories together because every scene between the two of them throughout both Season 5 and Season 6 has been so fulfilling . The friendship that has developed between Diggle and Dinah has quickly become one of my favorite parts of Arrow, and I want to see more of it explored throughout the rest of the season.
Despite its predictable nature, "Deathstroke Returns" is still a solid hour of television that packs enough emotion and action throughout it to make it a worthy watch. Currently, it's the weakest episode of Arrow Season 6, but that just shows how strong of a season we've gotten from Arrow so far. After the highs of Season 5, I never expected Season 6 to be as intriguing and emotional as it has been, and I can't wait to see how the writers push this season's story forward as we get closer to the epic Crisis on Earth-X crossover and the mid-season finale.
Other thoughts:
Agent Watson is making it known that she suspects every single member of Team Arrow. Throughout "Deathstroke Returns," she interrogates Diggle, Felicity, and Rene, and she has quite the loaded conversation with Dinah near the end of the episode, in which she all but outright accuses her of being the Black Canary. Watson will be taking one of Team Arrow's members down sooner or later. The only question is who will it be.
I absolutely loved the fight choreography and sheer intensity of the sequences in which Deathstroke is killing members of the Jackals. What I didn't love as much was the use of slow motion, which messed with the rhythm of the action and made certain moments feel a little cartoony.
I was honestly surprised how effective Slade's flashback scenes with young Joe are throughout "Deathstroke Returns," and I give a lot of that credit to Manu Bennett's terrific performance. He brings such a wonderful vulnerability to Slade in those scenes that isn't seen anywhere else in the episode.
There's some awesome small but important scenes throughout this episode. I particularly enjoyed Felicity being the voice of reason (as she always is) and not only convincing Oliver to go with Slade but encouraging him to tell William about it. As mentioned above, I also loved Felicity and Diggle's conversation about Slade and about how Oliver has more honor than him. Another standout moment was Oliver and William's phone call near the end of the hour, which is what motivates Oliver to follow Slade to the Jackals' location and try and rescue him.
However, the best small moment by far in "Deathstroke Returns" is Slade and Oliver's exchange about Felicity after she helps them track the Jackals' location. "She's brilliant," Slade says. "How did you get her?" "I ask myself that every day," Oliver responds.
"It's not optimism, Felicity. It's faith." Guys, can we just take a moment to talk about how great Diggle and Felicity's friendship is, and how neither of them ever doubts the other? It makes me so damn happy.
"I saw you on news once. You punched man with camera." "I sure did."
What did everyone else think about this week's episode of Arrow? Comment below and let me know.
[Photo credit: Cate Cameron/The CW]
Arrow Season 6 Episode 5 Review: "Deathstroke Returns"
Summary
Oliver helps Slade track down his son, and Dinah reunites with someone from her past in a predictable episode of Arrow.