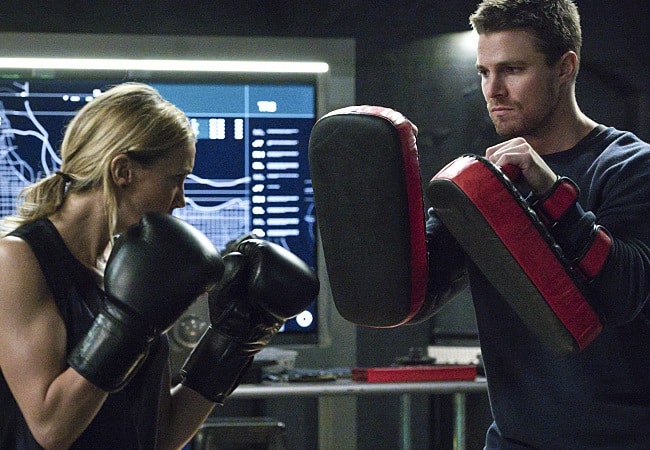 This week's Arrow featured Felicity struggling with the major life change that she is in and it's easier said than done, while Team Green Arrow deals with the arrival of Shadowspire which brings us the best flashbacks of Season 4.
While she is featured heavily on a regular basis, the focus that Felicity had this time was refreshing and compelling. It also had a comedic beat with Felicity seeing herself the way she was back in college who kept getting wittier and wittier for every second she was there. The teaser for this episode was hinting at Felicity having issues with whether or not she could continue to stay on the team. Obviously there was no way it would have ended with her just dropping out, but I was at least expecting Felicity to still have that struggle at the end of this episode. Instead it felt like they just wrapped up bigger parts of the problem and everything will quickly start to go back to normal.
However, I need to give the writers more credits and believe that this is far from over because Felicity will probably still be struggling in the coming episodes. On a positive note though, she finally got her code name at last — Overwatch! For those that may not know: the name is the title of Marc Guggenheim's (Co-Creator and Executive Producer of Arrow) novel that he wrote last year. Overall, I was mostly good with Felicity's story in this episode, except for Oliver's promise of doing all he can to get her to walk again. As I said last week, this change should be permanent in order to give Felicity a big challenge in her life and it will also help with the aspect of there being stakes this season.
Shadowspire is an organization that I'm not too familiar with, but this episode really fleshed out the show's version of that group, including in this week's flashbacks. That's right: the flashbacks were actually interesting to watch for the second time this season, only because it didn't have to do with Oliver and the things happening on the island. I liked the banter between the two Diggle brothers in the flashbacks, than I do in the present. The big "OMG" moment that Diggle met Oliver's flashback-enemy Reiter was something I didn't know how to respond to, but they may follow up on that.
However, despite the solid flow that "A.W.O.L." had, there is one major issue that needs to be discussed — the death of Amanda Waller. It's insanely difficult to not point fingers at the Warner Bros. Pictures Executives, with Suicide Squad coming out this August with the great Viola Davis portraying Waller in the DC Extended Universe. Arrow's Waller was a hit or miss whenever she would guest, but she was someone that I would never want to give up on. Maybe it wasn't the movie people that were forcing the show-runners to kill her off, but regardless: this is a death that bugs me so much.
It feels like a huge cheat as a viewer that this show even introduced the Suicide Squad, ARGUS and Waller to begin with as it was just taken away from the fans. Is it really the best decision to just execute these elements because of a movie? Since they had already introduced so many of these factors, long before the film got announced, I wish the Powers that Be would have been allowed to just continue using what they had established instead of being forced to get rid of them all. But what is done is done, but it definitely hurt the quality of the episode. Aside from the death, seeing Team Green Arrow Vs Shadowspire had, as always, great action scenes.
Overall, "A.W.O.L." had its ups as well as downs, especially with Waller's death, but they did a good job with Felicity's emotional struggles and it was good to have an episode where we got a little break from Damien (as much as I love him). The one thing I wish had been longer was the sparring scene between Oliver and Laurel, but at least they had a good talk so that's something. It will be interesting to see how this situation with Andy crashing at Dig's place because I still feel that he is 100% a wildcard.
Arrow airs on Wednesday nights, 8/7c on The CW.
[Photo: Liane Hentscher/ The CW]
Arrow Season 4 Episode 11 Review:
Summary
Felicity struggles with the huge change in her life while Team Green Arrow has to deal with Shadowspire in this week's solid episode of Arrow.