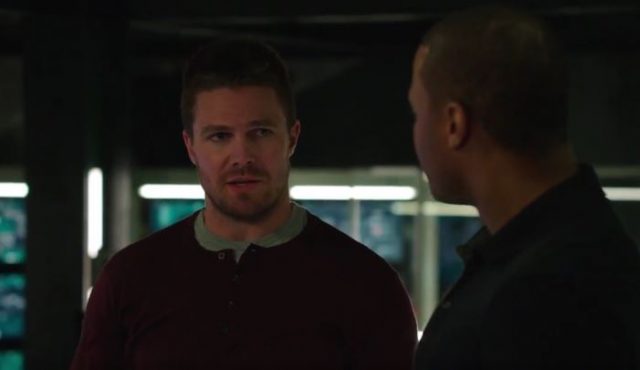 It looks like Genesis will finally come to fruition in tonight's episode of Arrow, even as Oliver and Diggle do their best to take down Damien Darhk. So what does their plan involve? According to the sneak peek below, the two of them will try to figure out some way to combat Darhk's magic, which will require Oliver to confront his memories from the island.
In this week's all-new hour of Arrow, titled "Genesis," Oliver and Diggle not only go after Darhk himself but also his cronies, including Andy, who Diggle finds himself in a shootout with in the video below. It's clear that Diggle will come face-to-face with his traitorous brother tonight, but will he be able to keep his anger in check and not do something that he'll regret? We'll have to wait and see.
Meanwhile, Thea is traveling out of Star City for a weekend getaway with Alex, but as the preview states, things don't go as she expected. Let's just hope that Alex isn't working for Darhk in the same way that Thea's lame, DJ boyfriend from last season was working for Ra's. No one needs a rehashing of that particular plot, and I'm hopeful that the Arrow writers are aware of that.
Arrow airs Wednesdays at 8 p.m. on The CW. Check out the sneak peek of "Genesis" below:
DIGGLE IS CONSUMED WITH GUILT AND SEEKS REVENGE — As Oliver (Stephen Amell) and Felicity (Emily Bett Rickards) look for a magical solution to defeat Darhk (guest star Neal McDonough), a vengeance-driven Diggle (David Ramsey) gets a lead on Andy's (guest star Eugene Byrd) whereabouts and heads off to confront his brother. Meanwhile, Alex (guest star Parker Young) takes Thea (Willa Holland) on a vacation that quickly turns into a nightmare. Gregory Smith directed the episode written by Oscar Balderrama & Emilio Ortega Aldrich.
[Photo via YouTube]