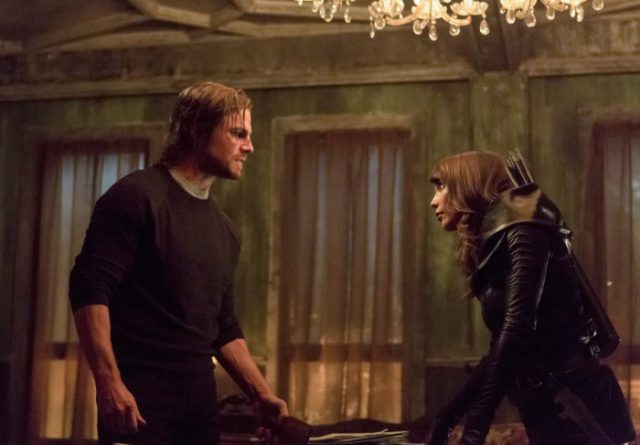 Since Laurel's death last season on Arrow, Oliver has struggled to find a way to honor his loved one's legacy. To Oliver, Laurel was a friend, lover, and, at many times, an inspiration, but as the Black Canary, she was something more, as she served as a heroic example to the people of Star City, a model that citizens could look up to if they wanted to care for and protect their city. As Felicity and the rest of the team make perfectly clear early on in "Second Chances," no one will ever be good enough to replace Laurel for Oliver; the connection they had was deeper and more powerful than just being team members. However, as Diggle explains to Oliver, Laurel never asked him to find a replacement, someone that would totally fill the void of her loss, but she did encourage him to bring someone onto the team that could take up her mantle and honor what she had done, someone who could be an inspiration to not just Oliver but to Star City as a whole.
With the discovery of Tina Boland (aka Dinah Drake), it appears that Oliver has finally found someone worthy of the Black Canary title, and it's not simply because Dinah's name and abilities remind him of Laurel. It's because he recognizes that she has the same desire to do good that Laurel had, that thirst for justice that spawns from horrific trauma. For Laurel, it was witnessing the death of her sister, Sara, while for Dinah, it was enduring torture and watching the murder of her partner and boyfriend. After these losses, both women sought to prove themselves as heroes, wiping crime from the streets so that no one else would have to endure the pain that they did, but Laurel always had a team, a support system, by her side. When Oliver sees Dinah working alone, he's reminded of his early days as The Hood and of how his darkness and loneliness blinded him to the truth of what real justice actually is. For Oliver, it was only through Diggle and Felicity that he was able to become the hero he is today, and he believes that with Team Arrow by her side Dinah can reach her full potential as well and be the heroic Black Canary that Laurel was before her.
Near the end of "Second Chances," Oliver calls Dinah his "second chance," but that's not entirely true. Sure, Dinah represents an opportunity for Oliver to keep Laurel's legacy alive and return the Black Canary mantle to Team Arrow, but she alone doesn't serve as a second chance for him. Oliver is essentially incapable of forgiving himself for his past sins, but where he finds real hope and solace is through his connections with other people, as these relationships shape both him and others into better, stronger people.
From Diggle to Felicity to Laurel to even someone like Wild Dog, all the members of Team Arrow, past and present, have helped Oliver evolve into the man he is today. It's not just the actions of the Green Arrow that serve as his form of redemption but the contributions of the team as a whole. As he explains to Dinah, he's still working on how to deal with the pain of trauma but "it helps to not be alone." Oliver's second chances are all the people who have let him into their lives and hearts since he returned from the island, all the people that have loved and trusted him enough to join this campaign for justice in Star City; Dinah's just the newest one.
But before there was a Team Arrow, Oliver was a single vigilante, seeking vengeance on those who had committed crimes, and in "Second Chances," we get more insight than ever before into how exactly Oliver became The Hood. Although we haven't seen the full extent of her training with Oliver, the episode's final flashback scenes clearly indicate that Talia al Ghul's teachings more than anything else, more than Slade Wilson's influence or ARGUS's missions, are what created the merciless Oliver Queen that we meet in Arrow's pilot. In fact, Talia is even the one that first suggests that Oliver become the hooded guardian of Star City, telling him that the only way that he can combat the monster within himself is to give it an identity of its own, which will allow him to live his life as Oliver Queen.
Talia's advice isn't too different from the words that Oliver speaks to Dinah, as "Second Chances" constantly reminds us that these people did not become heroes because it's what they always dreamed of doing. No, people like Oliver and Dinah and even Laurel were molded into crime fighters by the traumas of their past; they sought to do the right thing when they could have so easily fallen into despair or destruction. They understand that a second chance isn't something that should be wasted, and that the pain they're trying to put behind them is actually a strength, not a weakness, for the fight that lies ahead.
Once you give the monster an identity, it can no longer control you, but more importantly, as Oliver points out, it's a lot easier to battle a monster when you're not alone. Fighting evil can help you manage your pain and forget the past, but it will never sustain you. Teamwork. Friendship. Family. Love. These are where real second chances come from, and hopefully, now that she's a part of Team Arrow, Dinah will embrace that idea like Oliver has.
Other thoughts:
Oliver and Dinah aren't the only ones in this week's episode that find themselves with second chances. In an effort to help clear Diggle's name, Felicity meets with a young hacker, who actually turns out to be a major fan of her hacktivist work from college. This hacker not only provides Felicity with the files needed to exonerate John (Hooray!) but also shares more government documents with her that she hopes Felicity will use for good. This hacker comes from an organization called "Helix," and something tells me they're not as noble as they pretend to be. However, I'm very excited for this Felicity-centric storyline. It's been a while since we've seen her show off her hacker skills, and since she is still mourning the loss of Billy, this story serves as an incredibly interesting avenue to explore her darker side.
As I mentioned above, Dig is finally a free man thanks to Felicity, Adrian, and Oliver, and I could not be happier. There's been a serious lack of Diggle in these first two episodes of 2017, and I need more David Ramsey on my screen.
That being said, where is Willa Holland? Over the past couple of years, Thea has become one of Arrow's best character, and her absence in the past two episodes has certainly been felt.
It's revealed that Felicity's hacker name in college was "Ghost Fox Goddess." "I made a lot of bad decisions in college," she tells Rory, also mentioning her goth phase.
Big Belly Burger returns! And by far the funniest part of this episode is the increasing size of Wild Dog's burgers. He goes from a three-stack to a five-stack, and Oliver's disgust as he watches him eat is priceless.
Barry's quick appearance, as he helps convince Captain Singh that it's actually the Green Arrow on the phone, is appropriately the fastest Arrow cameo ever.
Some absolutely fantastic action sequences in tonight's episode, including Oliver and Talia's takedown of the Russian criminals. But the best action scene of the night is the most obvious choice: the helicopter scene. Not only does Oliver shoot down a helicopter with an arrow, but before he does that, he actually kills several criminals while hanging from the chopper. It was as awesome as it sounds.
I'm pretty sick at the moment, so my apologies if some of this review doesn't make a ton of sense. It might be the medicine talking.
What did everyone else think about this week's episode of Arrow? Comment below and let me know.
[Photo credit: Michael Courtney/The CW]
Arrow Season 5 Episode 11 Review: "Second Chances"
Summary
Oliver tries to recruit a new team member, while Felicity works to help clear Diggle's name in a stellar episode of Arrow.