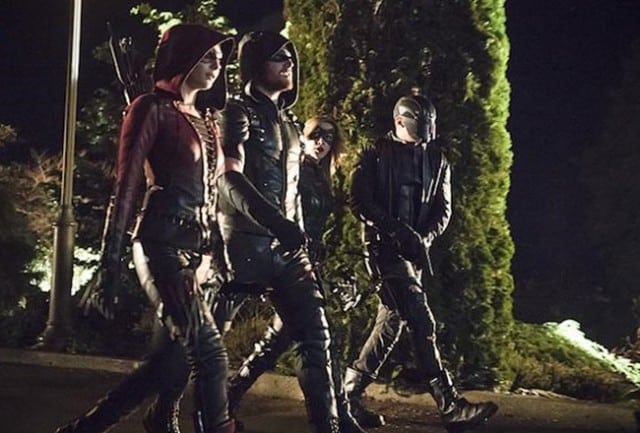 After a long hiatus, Arrow finally returned after leaving on a big cliffhanger as Team Green Arrow deals with the aftermath while also handling the return of Anarchy.
Because it was already spoiled, it wasn't too much of a surprise to see Felicity being alive, but at a cost as she is now paralyzed. It was definitely heart-breaking to see what she had to go through. Also, it definitely made it more emotional seeing how Mama Smoak was dealing with it because we're always used to see her happy. It's hard to say much about this change going forward except this, as cruel as it might sound: to really sell the point of "stakes" this season, Felicity should remain paralyzed for the rest of the series.
If not that, at least over a season or two, because if this season ends with her being able to walk again, then the show will have failed with selling the whole point of bringing back stakes. . What she went through shouldn't be fixed through simple methods as time-travel, magic or miracles. If she remains paralyzed, that will add more to her character and give her new challenges to overcome. All these characters have all lost something or gone through something horrible, to the point where it has been life-changing, except for Felicity.
Anarchy didn't impress me last fall and he didn't do it in this episode either. I get that in this world that Arrow has set up for itself since Season 1, we should be used to most of the villains we see Oliver fight being somewhat psychotic. The fight scenes towards the end were very entertaining though and while I don't dig Anarchy, I can actually accept the idea of him being a personal villain to Thea. Something about him just doesn't work for me, perhaps it's reminding me of something else, but there is always room for improvement so maybe he gets better next time we see him.
The flashbacks actually managed to get interesting for a brief second this time with what Oliver pulled at the end, but it didn't really make me more excited for the flashbacks going forward. But a man can dream, right? I will however give some love for Oliver's mystery magic tattoo that he got from Constantine as we started to see it glow. At this point it just takes up air time that could be better used on something else. But with that said on flashbacks, let's talk flash-forwards as we learn more what is coming up in 4 months from now.
Felicity will not be going to a grave anytime soon, as it's someone else who has been killed, but we don't know who it is and we don't even know for certain that the "he" is necessarily Damien. At this point, the way that she spoke to Oliver about whoever it is that Oliver needs to kill, I think the person in the grave is either Donna, Quentin or Diggle and that the murderer may be someone that we are about to get introduced to very soon. Either way, it was good to get some new information about what is coming up later this season.
Overall, this was a solid winter premiere and even though the big surprise about Felicity being paralyzed was spoiled in advanced; the flash-forwarding certainly blew me away. The second half of Season 4 is off to a great start and hopefully it will only get better from here. Speaking of things getting better; the last scene between Diggle brothers makes me hopeful that Andy will be turning to the good side sooner or later. Also, is Damien's wife by any chance Queen Bee? Something is up with her.
Arrow airs on Wednesday nights, 8/7c on The CW.
[Photo: Katie Yu/ The CW]
Arrow Season 4 Episode 10 Review:
Summary
Oliver and his team deal with the aftermath of Damien Darhk's brutal attack in the solid winter premiere of Arrow Season 4.