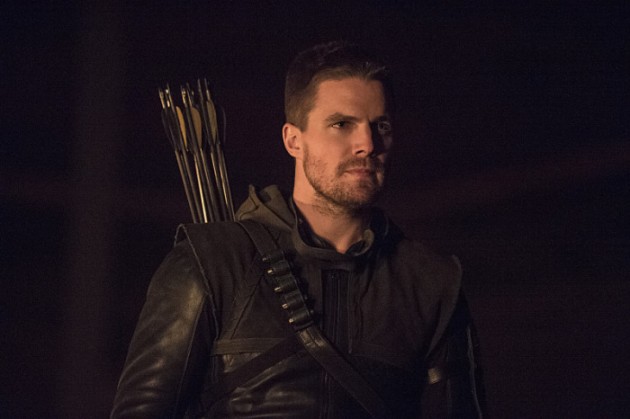 Who is Arrow's Oliver Queen? Is he the billionaire playboy so many people still see him as? Is he the boy who saw his father shoot himself so that he could spend five years in hell, fighting to survive and honor his father's memory? Is he the damaged man that returned from Lian Yu with only one goal, to destroy those who have damaged his city? Or maybe he's the loving brother and son, willing to do anything to protect his family. Maybe he's a man searching to regain his humanity, cautious to let others in and slow to trust. He might even be considered a hero by some. Perhaps he's simply the Arrow, with no room left for any of his other identities.
Oliver has carried all these identities with him throughout the seasons, at times leaning heavier on one over another. Stephen Amell has done a fantastic job of portraying the many sides of the character, both through flashbacks and in present day. Through the flashbacks, we've been able to watch Oliver change as a character as each new layer of his identity was formed. He started out as the billionaire playboy who avoided responsibility but behind that persona, he cared deeply for his family. The island changed him, hardened him, as he had to fight for his life. Yao Fei taught him that, sometimes, you must kill in order to survive yourself. And Slade Wilson showed him that sometimes you needed to leave emotions out of the equation, something that Oliver could never fully do. Now in Hong Kong we have seen him come to terms with torture, sacrificing one person to save the lives of many more. Each of these lessons have changed Oliver, seen through subtle differences in Amell's portrayal of the character. By the time he's returned to Starling City, he's no longer the same boy he was when he left. Living the way he did for five years took away a lot of his humanity, and he had to attempt to juggle being the Oliver Queen everyone thought he still was with being the vigilante, relentless and unforgiving.
When Oliver returned from the island, he had only one goal: to right the wrongs done by this father by any means possible. He was willing to sacrifice the other parts of his identity, lying to his family, pretending he was still nothing more than the irresponsible playboy, in order to accomplish this goal. And he was willing to murder. After all, the island had taught them that often times murder was the only option. He still loved his family and would do anything to protect them and the city but thought he needed to kill to do so. As he started letting people into this life and allowing them to help him in his crusade (notably all people who did not know him pre-island), he slowly began regaining more of his humanity. He didn't have to do this alone and he found that he could trust other people. John Diggle has always been somewhat of a mentor for Oliver, as he too survived a similar situation. He showed Oliver that it was okay to let other people in and that he didn't have to be completely emotionless in his crusade.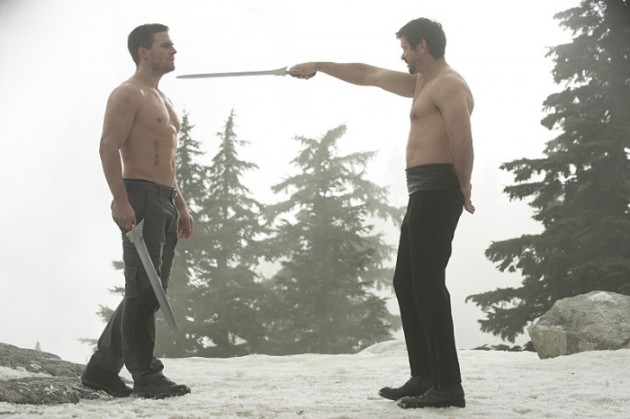 This season has seen Oliver struggle with the question of who he is and whether he can be both the Arrow and Oliver Queen. In the first episode, it seemed as though he was ready to to take another step towards becoming Oliver, finally ready to explore a relationship with Felicity. Their friendship has had a big impact on who he has become since returning from the island, as she is arguably the character who knows post-island Oliver the best. She doesn't allow him to get away with anything and is constantly pushing him to be a better person. It's Felicity who tells Oliver that he doesn't need to kill to protect the city, tells him that he can find another way, and tells him that he is a hero. But Oliver hasn't fully accepted that he deserves happiness and after a near death experience, he pushes Felicity away again, claiming that he can't be Oliver Queen while also being the Arrow. In Oliver's mind these two identities are so separate and he hasn't yet been able to reconcile the idea that he could be both.
In the mid-season finale, Oliver realizes that maybe he doesn't even know who he is. As he's preparing to fight Ra's Al Ghul, he tells Felicity he doesn't know if he's a killer but he does know two things: that he'll do anything to protect his sister and that he loves Felicity. These are emotions that only Oliver Queen could feel, not the Arrow, showing that maybe he can be both.
The fact that as he is dying, he sees his father, mother, sister, and Felicity proves that Oliver still has a lot of humanity left in him, despite everything he's been through. No matter how many people have tried to corrupt him and make him nothing more than a weapon to be controlled, a large part of who he was before the island has remained. The added layers of his identity have changed him and helped form his Arrow persona, but at the end of the day he still cares deeply for the people he loves and is willing to do anything for them, including die.
So who is Oliver Queen? Well for now, it appears as though he is dead. However, it's likely he'll return to the show, probably through the Lazarus Pit. Even more likely is that whatever inspires his return, this experience is going to have added yet another layer to his identity. He'll still be the damaged man he once was, the loving brother who will not let anything happen to his sister, the man searching to discover who he truly is. But he'll also be the man who survived death and that will no doubt change him. The theme for Arrow Season 3 has been identity, and maybe by the end of the season, both Oliver and we will have a better idea of who Oliver Queen is.
[Photos via The CW]