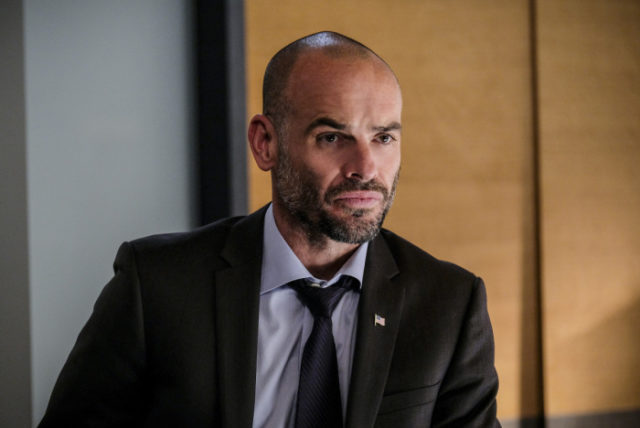 One of Oliver Queen's defining traits throughout the majority of Arrow's run has been incessant need to carry the weight of the world on his shoulders, blaming himself for everyone's mistakes when they lead to some type of bad outcome. He's beaten himself for putting those he loves in harm's way, for giving certain criminals the opportunity to terrorize Star City, and, just last season, for Laurel's death. Most recently, though, Oliver has blamed himself for the death of Star City police officer and Felicity's boyfriend, Billy Malone, who he shot and killed after being manipulated by Prometheus in this year's mid-season finale. Although Oliver didn't intentionally murder Billy, he sees it as a cut-and-dry issue: he shot the arrows, and Billy is now dead. It doesn't matter how the situation came to be; the point is that it happened.
Throughout the past couple episodes of Arrow, Oliver's grief and guilt over killing Billy hasn't been a main focal point, but it returns in "The Sin-Eater" in a major way. The ACU gets a tip (presumably from Prometheus) that the Green Arrow is the one responsible for their fellow cop's death, which not only causes Oliver to inform Captain Pike of the cover-up that Adrian established but also forces him to re-examine the night of Billy's death and acknowledge where the blame truly lies. Helping Oliver deal with that guilt is Quentin, who is attempting to atone for his own sins when he learns that Liza Warner (who escapes from prison in this episode, alongside China White and Cupid) only returned to her criminal ways after seeing that he had been working with Damien Darhk last year.
Ultimately, both Oliver and Quentin come to realize that while they may never be able to fully shred the guilt that they feel, they must also recognize that their actions were not directly responsible for the bad things that happened as a result. As Thea wisely points out to Quentin, Liza Warner was a criminal before he ever chose to work for Damien Darhk; he didn't make her become the villainous woman that she is today, and he never intended to do anything that would cause her to return to a life of crime. And with that advice from Thea, Quentin is able to help Oliver continue to move on from Billy's death, reminding him that it was only because of Prometheus's manipulation that he shot and killed him. Oliver can still feel guilt for what happened to Billy, he can still experience the pain and despair of taking the life of an innocent man, especially one that was so close to Felicity, but he cannot allow it to paralyze him, to prevent him from doing everything he possibly can to help save Star City. The only way to truly move on from your own sins is to forgive yourself and strive to do better, not because you are trying to make up for the failings of your past, but because it's the right thing to do. Near the end of "The Sin-Eater," we see both Oliver and Quentin do that when they arrive at the cemetery to take down Warner, Cupid, and China White, and it's a promising sign that both men won't allow themselves to be held back by the wrong choices they've previously made.
While Oliver and Quentin spend most of "The Sin-Eater" trying to move on from the sins of their past, an argument can be made that Thea is committing new sins in the present with how she deals with Susan Williams. After Susan asks Oliver if he's the Green Arrow, Thea turns to Felicity so that they can figure out what exactly Susan knows, and when they discover that she has mountains of evidence connecting Oliver and the Green Arrow, Thea takes it upon herself to make sure that nothing Susan ever publishes again will be creditable. How does she do that? She plants false documents on Susan's computer that make it appear that she has plagiarized all of her stories over the past year, and then she informs Susan's boss about the situation, which results not only in her getting fired but essentially the end of her journalism career. Of course, when Oliver discovers that Thea is the one behind this, he confronts her and calls out her behavior as cruel and unnecessary, claiming that her actions are reminiscent of Moira's, since she would go to the most extreme lengths possible to protect her children.
So is Oliver wrong to demonize Thea while defending Susan? Yes and no. It's clear that Thea's actions in this situation aren't entirely pure of heart; she wanted to damage Susan in a way that would be irrevocable not only because it would protect Oliver but because it would also hopefully remove her from their lives. She wanted to hurt Susan, and the fact that she didn't consult Oliver before taking action is wrong; she should have talked to him before doing what she did. Furthermore, Susan's career being ruined partially due to Oliver's Green Arrow identity serves as another reminder to him of what Prometheus has said: he ruins the lives of everyone he touches. Part of his anger towards Thea here could be because he's been trying so hard to prove Prometheus wrong throughout Season 5, and I can't say that I blame Oliver too much for wanting his sister to be a better person when he himself is trying to be one as well.
However, it's also pretty clear that Oliver isn't using his brain to its full capacity. To chastise Thea without giving any thought to Susan's actions (that she confronted him about being the Green Arrow, that she had so much evidence linking him to the Green Arrow persona, and that she had obviously been using their relationship as a way to further investigate him) is absolutely ridiculous. I understand that Oliver is trying to see the best in people this season and be more of a lighter and good presence in the world, but he is letting whatever feelings he has for Susan completely cloud his judgment here. Plus, it's disheartening to see him turn so quickly on Thea without even acknowledging the fact that she was trying to protect him. Her going as far as she does against Susan ties in thematically with with everything else going on in this episode (it is titled "The Sin-Eater"), but Oliver's lack of compassion for his own sister is disappointing and the one part of tonight's episode that I thought was a little too far-fetched.
Overall, though, despite the issues I have with Oliver's treatment of Thea, "The Sin-Eater" serves as a strong rebound for Arrow after last week's lackluster episode. The action throughout the hour is incredibly entertaining, especially the final fight at the cemetery, and most of the Oliver and Quentin material works well on a emotional level. Plus, with Oliver and Adrian's roles in the Billy Malone scandal being revealed to the public in the episode's final few moments, suggesting that Oliver's time as mayor may soon be over, "The Sin-Eater" does a very nice job of propelling this season forward in a way that I wasn't expecting and am excited to see unfold.
Other thoughts:
Some really wonderful moments between Dinah and the rest of Team Arrow in this episode. The two best ones, though, are when Felicity presents her with Laurel's mask and when Quentin gives her his blessing to take on the Black Canary mantle, telling her that Laurel wanted someone to "carry on" in her place.
I definitely missed Talia in this week's flashback scenes, although they do a solid job of tying together with the theme of the present day storyline. Plus, Anatoly does give the episode its name when he calls Oliver a "sin-eater."
Felicity's snark when she's hacking into Susan's computer is absolutely one of the best moments from this episode. I loved it.
So who do we think leaked the cover-up to the press? Was it Prometheus, or could it have been Susan trying to get back at Oliver?
And speaking of Prometheus, how awful is his mom? Seriously, Amanda Westfield could not have been worse, although I did like Oliver's small nod to Diggle's bodyguard days as they waited in the car outside her house.
What did everyone else think about this week's episode of Arrow? Comment below and let me know.
[Photo credit: Robert Falconer/The CW]
Arrow Season 5 Episode 14 Review: "The Sin-Eater"
Summary
Oliver and Quentin must deal with their past sins in order to stop three familiar foes in a solid episode of Arrow.