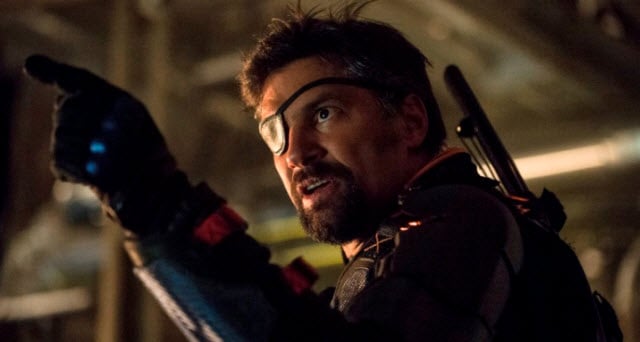 The main theme of season two for Arrow has been about going from a vigilante to a hero for Green Arrow and they have continued that whole arc throughout the season from start to end. This was basically part three of the season finale that pretty much started two weeks ago as this continued to take place during the same night.
While this aspect didn't lower the quality of the finale, it was weird that no one actually died as it seemed based on interviews and so on, that another character would die. There were times where I actually thought that perhaps Felicity or Laurel would get killed off, but that wasn't the case. Even though they left Quentin's faith on a cliffhanger, everyone was pretty much safe after this finale. The only significant death that we had in the finale was Isabel getting her neck snapped by Nyssa. Speaking of her, it was great seeing Katrina Law back as Nyssa al Ghul and they better have her in more episodes next season because I want to see more of her plus the relationship that she has with Sara.
As a big Roy Harper fan, seeing him put on that mask and starting to shoot arrows all over the place was perhaps one of the biggest geek moments in the whole finale. Some may say that it was perhaps too early for him to proto-suit up as Red Arrow or Arsenal, but the way that they have been doing Roy's arc this season was so great that it didn't bother me. The only thing that I may have to nitpick about is that we haven't seen him train archery that much, yet he still seemed to be pretty natural about it. Perhaps it's in his blood? Overall, Colton Haynes gave an outstanding
I guess this would happen at some point, but Thea's decision to leave Starling City and go with her father, was inevitable. Her final scene with Roy was heartbreaking because we all knew that Roy would have to lie to her and that would be the final straw. Since it was revealed that Malcolm was alive and was her real father, it has heavily speculated that the creation of Speedy for Thea would be through a dark saga which could actually be a very strong story for next season. Whatever they do with her, season three should be an interesting season for Willa Holland as her character will most likely go through an evolution.
The final battle between Oliver and Slade was one of the best battles of the whole season and I really dig how they did the multi-battle by showing the fight between them in the past and then cutting back to the present. As a comic fan, seeing Deathstroke going up against the Arrow was a lot of fun and it was like seeing the comic pages coming to life. Although, it would have made it even better if Slade had actually worn the helmet a bit more, but that didn't ruin those huge fight scenes at all. Stephen Amell shines in so many episodes, but this finale was really one of his greatest, especially with all the speeches he had for Slade. You could really see the theme of vigilante becoming a hero, coming full circle and that is something the writers of this show deserve a lot of praise for.
The biggest twist with "Unthinkable" was how they dealt with the next phase of the island stories. It's has pretty much been a given that at some point, Oliver did end up leaving the island, not by choice. The question though is, what did Amanda Waller need Oliver for in those flashbacks? Regardless, it will be fun to see more of Amanda because Cynthia Addai-Robin has done wonders with this character on the show.
Overall, "Unthinkable" was a very compelling season finale that lived up to its title and ended what has been a strong year for the emerald archer. It was great seeing some familiar faces like Deadshot, Lyla who is going to have a baby with Diggle so that will be fun to see develop next year. While last year's finale was a very powerful one, this had a double effect of that. It's going to be very interesting to see what happens in the summer with new casting announcements for some interesting characters. In addition (as it was announced during the Upfront), having John Barrowman as series regular for season three, should be exciting too.
Arrow will be back later this fall with its third season, on The CW.
[Photo via The CW]