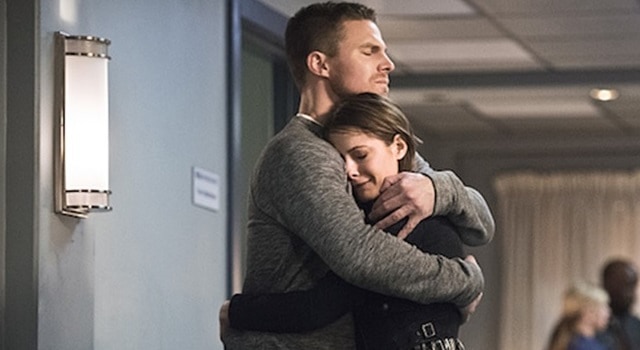 After the heartbreaking death of Laurel Lance a.k.a. the Black Canary a few weeks ago, this week's episode of Arrow picks up right where we left off as Oliver and the team deals with the loss of their fallen hero.
It's hard to really get into this because the death still feels so incredibly unacceptable that any form of tribute or honoring would be hard to pull off. I still don't get the need to title the episode "Canary Cry" when a title like that would have been more fitting if the Black Canary was crying about something or someone, like the death of someone close to her. It is understandable that this was an attempt to honor Laurel's legacy as the Black Canary, hence why we had this Evelyn Sharp character, who decided to pose as the Canary, but it simply didn't work. The problem with Evelyn's motivations as a character was that her intentions weren't to honor the Black Canary at all. She didn't steal the Canary Cry to honor her legacy, but to just get something that would help her take out Ruvé Adams. Instead, Evelyn's actions caused Ruvé to re-inforce the anti-vigilante task force so that Team Arrow is now a target to the public eye…again.
The plot shouldn't have been written in an episode where you are supposed to honor the loss of a hero. There are other ways to get the world to know that Laurel Lance was the Black Canary without having to introduce a random teenage girl who made damage even worse. It feels like a slam to the character of Laurel that someone just picks up her mantle literally the episode after she died and she hadn't even been buried yet. I liked Green Arrow's talk to Evelyn how she should try to think what the real Black Canary would have done in the big scene at the gala, but still, I would have survived without this plot. Thea pretty much summed me up at the end in the Arrow Cave what Evelyn has done to the Black Canary legacy. While the Fake Canary plot was a mess, "Canary Cry" does deal really well with the emotional states of Team Arrow, especially with Quentin as Paul Blackthorne stole the entire show.
It was the most heartbreaking thing ever having to see Quentin's pain throughout the whole episode as he pretty much represented parts of the audience that was grieving as well. From Nyssa having to deliver the bad news that they can't use the Lazarus Pit anymore to the actual funeral, Blackthorne delivered a powerful and emotional performance that just reminds us how tragic this whole situation is. Seriously, Quentin should consider just pack up and leave Star City and move to Central City instead because why stay at this point. In a universe where magic and time travel exists, this is the one time where we can't get it because the show wanted this death to be permanent as a way to bring back "stakes". Diggle's spiraling was intense to follow and also devastating as David Ramsey's performance was also powerful. Something tells me that Diggle's path for the rest of the season will not be pretty at all.
While I was a little letdown with the fact that we didn't see Oliver just breakdown and cry for the death of his long-time friend, I appreciated the way Stephen Amell delivered the emotional beats for Oliver in this episode. Even though we didn't get many tears from him, you could see at many points that Oliver was ready to fall down and just cry his eyes out. The powerful flashbacks with him and Laurel had me crying though because of what could have been. We get the exposition on how Laurel got that photo back and also a little tie-in to how Oliver went back to the island after the events of Season 1. These flashbacks also reminds me again that the only way that this show does flashbacks interesting these days is when it's not on the actual island or wherever past-Oliver was at, which says a lot. Even the flashback to Tommy's funeral where Laurel delivered a brief eulogy for him, was better than anything we have seen on the island this season.
Laurel's actual funeral was tough to watch because it made this a reality that Laurel is gone and Oliver's eulogy to her was perfection. The moment he revealed to everyone that were there that Laurel was the Black Canary and having it be on her tombstone, was all that the show had to do to honor the legacy without the Evelyn plot. We also get a visit from Barry which now doesn't make a lot of sense due to the fact that this week's episode of The Flash had him without super-speed. I suspect that this episode took place sometime during "Versus Zoom" before the big battle he had with Hunter since Zoom was the reason why he missed the funeral.
Overall, while we did get some emotionally powerful performances from Blackthrone, Amell and more as the characters were dealing with the loss of Laurel, the whole Fake Canary story plot dragged down a lot of the quality of "Canary Cry" which is really disappointing since this was after all a tribute to Laurel Lance. Hopefully there will be some more honoring moments of the character before the season is over because this wasn't enough, sadly.
Arrow airs on Wednesday nights at 8/7c on The CW.
[Photo: Dean Buscher/The CW]
Summary
Oliver Queen and his team deals with the loss of Laurel Lance a.k.a. Black Canary in this week's episode of Arrow.