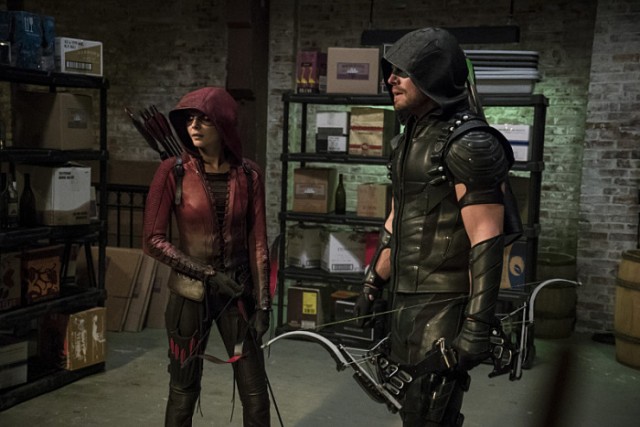 After a very solid season premiere last week, Arrow had another great episode as Oliver continued his new chapter now as the Green Arrow, while also dealing with Thea suffering the effects of the Lazarus Pit. In addition, Felicity had her first official week as the new CEO of Palmer Technologies.
It's becoming easier and easier to fall in love with the fourth season of Arrow because of how much the tone has improved. While it's still getting there, Arrow is embracing its Green Arrow roots and just the opening scene itself to more fun, lighthearted moments among the action and drama. Seeing Team Green Arrow being out there together and kicking butt is truly refreshing, and while I'm sure that at some point there will be a block on the road, it feels that the characters are learning from their mistakes, such as Diggle telling Laurel about H.I.V.E. and that Darhk's Ghosts are a part of that organization. Even though I would want to see him tell the entire team sooner rather than later, at least he has told someone.
"The Candidate" introduced us to Lonnie Machin, aka Anarky, and while he had some impressive fighting moves, I was bored by his presence as he didn't add anything refreshing. Maybe he will get better as the season goes on, but my first impression of him wasn't good. I can sort of see why Damien would have someone like him in his group, but to me, this kid just seems way too much of a wildcard.
However, he wasn't the only new DC character we got to meet in this episode of Arrow, as Curtis Holt, aka Mr. Terrific (played by Echo Kellum), made his debut and hooked me in with his first scene. Curtis is a fun character and someone that I want to see a lot of; plus, it's great to see another LGBT character be added whose sexuality was only casually referenced, which I personally appreciate a lot. His dynamic with Felicity was so great; I'm all about (as they're being referred to online) TerrificSmoak–it's already a fantastic friendship. Also, seeing Felicity in her new role brought back a lot of my positive feelings that I had about the character in the two first seasons.
While it was a lot more than I expected to see, I enjoyed Thea beginning to struggle with the Lazarus Pit effects because it would make no sense if she wasn't suffering from being resurrected. That's what the pit does to you: it changes you. Her behavior did give me a lot of Jason Todd/Red Hood vibes, but I was surprised that she wasn't told until this episode about the warning that Malcolm had given Oliver before putting her in the pit. Either way, as Thea kept getting more violent throughout "The Candidate," she eventually took Oliver's words to heart at the end of the episode and realized that she needed some help.
I did enjoy seeing Jeri Ryan as Jessica Danforth, who I honestly thought would be dead by the end of the episode. Luckily, she got to live on, but had to step down from running as mayor, which let Arrow bring in a very Green Arrow-y element from the comic books to life as Oliver decides to run in her place. While the title of this episode sort of gave it away, I still appreciate the heck out of this storyline, because this season should not only focus on Oliver balancing his Green Arrow persona, but also his Oliver Queen identity. This is one of the major reasons why I'm already impressed with Season 4 because of the new balance.
But the goodness didn't stop there as Laurel made a big decision at the end of this episode after she learned about how Thea came back from the dead: digging up Sara's grave and taking her body out so she could bring it to Nanda Parbat, which begins the setup for Sara's return as Legends of Tomorrow approaches. While it was freaky seeing Sara's dead body looking all, well, dead, the ending of "The Candidate" has me pumped for next week's episode. Some might question Laurel's decision, but can't we all relate in a way to her of just wanting her little sister back in her life, now that she knows there is a way to get her back? Sara didn't deserve to die, especially not at the hands of Malcolm who made his daughter kill her, so therefore, I think it makes 100% sense that Laurel would at least want to try and resurrect her beloved sister.
While the flashback storyline had me curious and also thrilled about the death of Oliver's horrible wig, I need to see more before getting a better idea of how to feel about it. Overall, "The Candidate" was a great follow-up episode to the strong premiere we got last week, and I'm already wanting the next episode.
Arrow airs on Wednesday nights at 8/7c on The CW.
[Photo via The CW]