Felicity Smoak is the reason why I fell in love with Arrow. Stephen Amell's abs (and face, and pretty much everything) didn't hurt either, and obviously, Diggle has been fantastic from the start, but it wasn't until Felicity showed up on the screen that I knew this was going to become one of my favorite shows. As an audience, many of us fell for Felicity Smoak just the same as the cast, creators, and other characters did. But there were a few holdouts. With a more romantic relationship developing between her and Oliver, some of the audience, the majority of whom read the comics, protested. They wanted Oliver to be with Laurel, and they have been very vocal about their dislike of Felicity coming in and ruining that plan.
The fandom is essentially divided into two sides now: those who want Oliver with Laurel and those who want him with Felicity. That doesn't necessarily mean those who want him with Laurel don't like Felicity or vise versa, but there's no way you can say that isn't a determining factor. It's been sad to see the fights among the fandom, both sides thinking they're right and refusing to acknowledge that the other side has the right to their own opinion. At the end of the day. though, these are opinions. By definition, an opinion means that no one is 'right' and no one is 'wrong.' So before I really get into my argument in defense of Felicity Smoak, I'm going to preface it by saying this is an opinion. You don't have to agree with me, and I don't have to agree with you, and that's okay. We can both still watch and enjoy the show.
To get this part out of the way, I'll start by saying that I don't dislike Laurel just because I love Felicity. In fact, I think Laurel had her best season yet this year as she gradually became the Black Canary. By no fault of her own, the character has had to suffer through some sloppy writing, and her arcs haven't always been my favorite. Her refusal to tell Lance the truth about Sara frustrated me a lot in the first half of the season, but I've never inherently disliked her. Because Laurel has been through A LOT, and yeah, sometimes she might not respond in the best ways, but I can't pretend like I would react any better if half the stuff she's been through happened to me. In the end though, I just don't think she's right for Oliver.
Their history makes it impossible for me to see them happy together in the long run. He cheated on her. A lot. And with her sister. And then 'died,' came back, was kind of a jerk about the whole thing, lied about Sara being alive, entered into a relationship with Sara, and then told Laurel she couldn't be the Black Canary. Doesn't sound like a great basis for a relationship to me. Again, it's okay if you see it differently, and I understand your desire to see these iconic characters from the comics together. But for viewers unfamiliar with the comics who are just watching the show, it doesn't make as much sense.
Enter one Felicity Smoak, ray of sunshine and happiness, a complete contrast to all the other dark, brooding characters that make up Arrow. Felicity has been through some dark times in her past, but she still carries this innate optimism and joy with her everywhere she goes. She was the first in a long time to make Oliver genuinely smile, and he quickly trusted her despite barely knowing her, something that Oliver Queen never does. As she joined the team, and inappropriate innuendo after inappropriate innuendo was uttered, we saw their friendship, and the natural trust between the two of them, grow even stronger.
What's special about Felicity, and Diggle for that matter, is that they didn't know Oliver before the island. They didn't have any kind of rocky history with him, didn't know that playboy side of him, but instead only got to know this new, more serious and arrowy side of him. There were no grudges to be held or sisters who had been slept with, just a broken man on a mission to right his father's wrongs. Along the way, Felicity and Diggle helped him become a better, slightly less broken man, one who didn't need to kill and one who could truly be a hero. At some point during this journey (in the sixth episode of Season 2, if we're asking Stephen Amell), Oliver fell in love with Felicity. She's his moral compass, the person who believes in the good in him the most and brings out that light, and he wants to become a better man, not for Laurel, but for her.
This leads us up to the most recent season of Arrow. A lot of the people complaining about Felicity this season are using the argument that her character has been completely defined by romances and that all she's done is cry all season. I'll explain later how she's done more than just date this season, but for now I want to address the rest of that argument. To start, I'll say that I don't totally love how the Oliver/Felicity relationship was handled this season. I understand what the writers were trying to do, but the execution wasn't great. The actors did everything they could with the material, but there's only so many times you can have the same conversation before it gets repetitive.
Let's recap: Oliver didn't think he could be with Felicity because he couldn't be himself and the Arrow at the same time, so Felicity went out and found someone who could be with her while also trying to do good in the city. Oliver 'died,' came back, and refused to trust Felicity and the rest of the team with his plan to take down Ra's, confiding in Malcolm Merlyn instead. Through all of this, it was clear both of them still had feelings for each other but wouldn't act on it, leading to countless angsty conversations that all came to the same conclusion. It was sad, and even necessary, for them to go through that and for Oliver to accept that he could be himself and could be happy before entering into a real relationship.
I had two major issues with how this was executed though, the first of which is Ray Palmer. If I had to pinpoint my one disappointment in Felicity's characterization this season on Arrow, it would be her entering into a relationship with him in the first place. I don't have a problem with her dating but am frustrated that it had to be with Ray. Early in the season, when Ray persistently pursued Felicity to get her to join his company, Felicity herself called him a stalker. He went on to ping her phone and track her, and even if it was just for the purpose to get her to work for him, that behavior is unacceptable. What pains me is that, even after all of that, she still entered into a relationship with him, not even addressing any of the creepy behavior. While I agree Felicity needed to date someone else for this arc to work, that someone didn't have to be creepy stalker Ray.
My other major concern with the Oliver/Felicity relationship in Arrow Season 3 has to do with Oliver's behavior in the last handful of episodes. When Oliver left to become Al Sah-Him, putting all his trust in Malcolm Merlyn instead of his team, he in a lot of ways destroyed the trust that the team had built. His reason for doing so was to keep them safe (like it always is), but like Felicity told him at the end of Season 2, she doesn't want to be safe. She wants to be with him, unsafe. Oliver often takes agency away from other characters, making decisions for them without consulting them at all, and this is exactly what he did at the end of the season.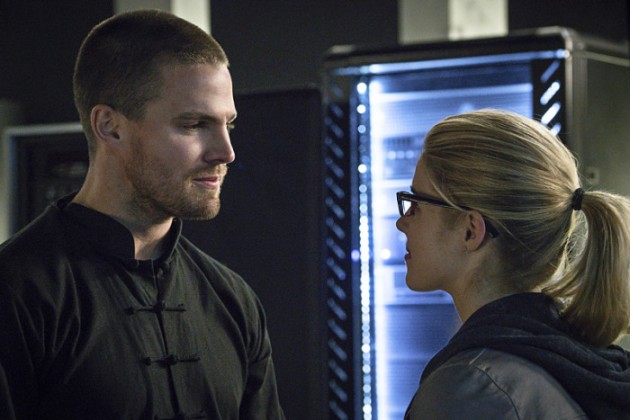 This time, though, Oliver went even a step further by teaming up with Malcolm, someone he absolutely despises. It seems so out of character for him and really hurt his arc at the end of the season. The fact that Felicity barely even has a discussion with him about this, and his suicide mission where he admitted he was expecting to die, is even more frustrating. Before driving off into the sunset together, they should have at least had some dialogue about him needing to be more open about what he's thinking. While I ship Oliver/Felicity just as much as the next person and am overjoyed to see them get together, I can't help but feel that their happy ending was a little undeserved for both of these reasons.
Despite my few issues with how those relationships were handled, I still truly believe that Felicity was a strong, realistically portrayed character this season. For those complaining about Felicity, saying that the whole season was about romance and crying for her, take a step back and realize what she had to go through over the course of the season. Between Oliver refusing to be with her, dying and coming back, Starling City being under attack once again, Sara dying, Roy leaving, and Thea being framed for murder, Felicity had a lot of good reasons to be upset. When people are upset, that usually leads to crying. And while some may not like their shows to represent real life, the fact of the matter is that in life people do cry and fall in love, and to not show that at all would be unrealistic. Felicity reacted to the situations that she was in just the same as any of us would have, and for that, I can't blame her.
Finally, I want to address those who think Felicity was only defined by her romantic relationships this season. First off, even if that was true, that's not necessarily an awful thing. A lot of us have times in our lives when we are defined by romantic relationships, and her circumstances certainly seemed to call for that. Outside of those romantic relationships, however, she also helped create the Atom suit, formed real and supportive friendships with Laurel and Caitlin, mourned Sara's death, tracked down dangerous criminals, took down the Bug-Eyed Bandit, and kicked her ex-boyfriend's butt. Just to name a few things.
So yes, Felicity did cry quite a bit but she had good reason to (and honestly, she isn't the only character on the show who has cried). And yes, Felicity did have romantic entanglements with both Ray and Oliver, but it's life, that happens sometimes. In the end, she also did a lot more, and while it may be easier to blame some of the problems from this season on her and her relationship with Oliver, there was really a lot more at play than just that. Felicity Smoak is still a strong character and an essential part to the show, just like Diggle, Oliver, and yes, even Laurel, are.
[Photos via The CW]