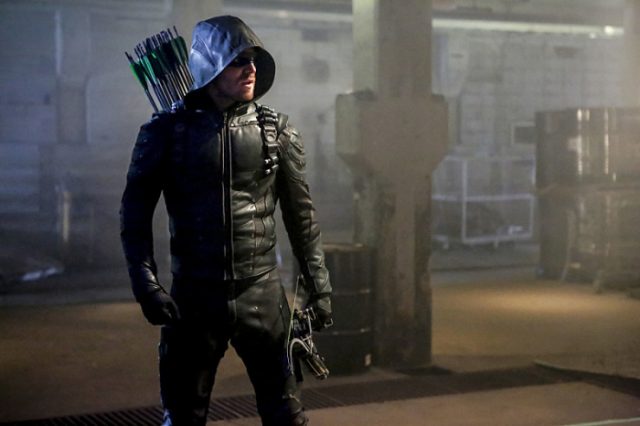 Could the Green Arrow be killing again? It certainly appears to be a real possibility from the footage inside this brand new Arrow Season 5 trailer. The two-minute-plus video, which debuted on Stephen Amell's Facebook page this afternoon, features some scenes we've seen before, such as Oliver recruiting the new Team Arrow and his interactions with the Bratva. However, there's so much more to unpack from this Arrow Season 5 trailer than any of the others that have come before it.
First of all, is Oliver back to killing again? As I mentioned in the paragraph above, it very much seems like he is, as he disagrees with Thea on how reverting back to his murderous ways from Season 1 will dishonor Laurel's legacy.
"The dead don't want anything," Oliver tells Thea, before we get a montage of action-packed clips featuring Oliver taking down villains in the most vicious ways possible before he gets shot himself.
In addition to all that, we also get a glimpse of Felicity kissing a new guy, some new shots of Diggle back out in the field with the military, and a better look than ever at Season 5's mysterious big bad, Prometheus. In fact, Prometheus seems to be so evil that he overpowers Season 5's other main villain, Tobias Church (played by The Walking Dead alum, Chad L. Coleman).
"The Green Arrow is mine," Prometheus growls, as he pushes Church against ground.
Arrow Season 5 premieres one week from today on Wednesday, Oct. 5, at 8 p.m. on The CW. Check out the brand new trailer below, along with The CW's official description of the Season 5 premiere, "Legacy."
NEW BEGINNINGS – After Laurel's (Katie Cassidy) death and the departures of both Diggle (David Ramsey) and Thea (Willa Holland) from Team Arrow, Oliver (Stephen Amell) takes to the streets solo to protect Star City's citizens as the Green Arrow. With Felicity (Emily Bett Rickards) guiding him from the bunker, Oliver is forced to deal with a city that has become overrun with both criminals and a slew of new (and painfully inexperienced) vigilantes. Watching Oliver try to balance his jobs as both the mayor and also the protector of Star City, Felicity suggests he form a new team, but Oliver resists. However, when a deadly new criminal, Tobias Church (guest star Chad L. Coleman), enters the picture, Oliver realizes the best thing for the city might be a new team of superheroes. Meanwhile, the flashbacks take us to Russia where Oliver faces off against the Bratva. James Bamford directed the episode with story by Greg Berlanti and teleplay by Marc Guggenheim & Wendy Mericle (#501). Original airdate 10/5/2016.
[Photo credit: Bettina Strauss/The CW]