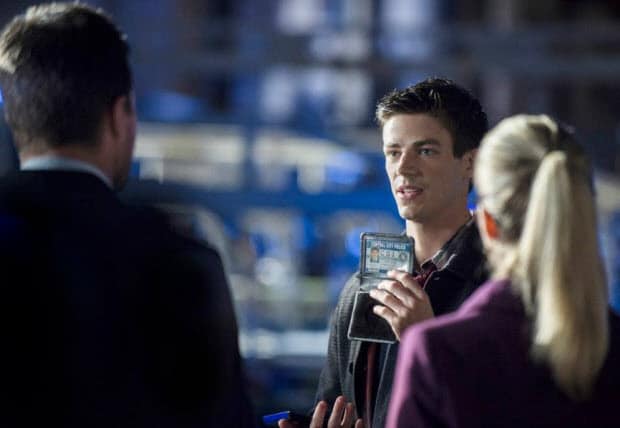 The first episode to feature DC Comics' Barry Allen (aka The Flash one day in the Arrow universe) has been one of the most anticipated episodes of the second season. Did Grant Gustin and his interpretation of Dr. Allen, based on a script by DC Comics' Geoff Johns and Arrow executive producers Andrew Kreisberg and Greg Berlanti live up to the hype? It sure did, and even went beyond expectations.
Arrow has been a strong and fun season so far, but the introduction of Barry made the season even more awesome then it already was. The show has introduced so many different DC characters throughout these two seasons and Barry Allen was definitely one of the strongest. Gustin did a magnificent job of bringing life to this big character and the wait was worth it. There were a lot of Easter Eggs from The Flash mythology that will set up the spin-off just perfectly, especially with the case of the death of Barry's mother.
All the fun and subtle lines about him being slow and late is definitely an allusion to what is to come. In addition, the lightning when Barry was near all those chemicals. His fanboy behavior regarding the vigilante was also another highlight of the episode because he got to represent the audience in a way. One of the best things with this episode was definitely the fantastic chemistry between Gustin and Emily Bett Rickards as Barry and Felicity was a very fun dynamic to watch, especially their dance scene. The composer Blake Neely made an excellent score to Barry in terms of character theme and hopefully this means that Neely will be the composer for The Flash as well. Amell and Gustin definitely shared a great dynamic as well, and it will be interesting to see more of that next week.
The biggest surprise was that due to Oliver's condition at the end of the episode, they decided to bring Barry in. It will be intriguing to see how Barry will fix it and what their relationship will be like after that event. To sum up, Grant Gustin completely nailed the role of Barry and there is a strong chance that his Flash will be just as good.
Susanna Thompson has always been a strong force of the show and that final scene between her and John Barrowman where Moira basically threated Malcolm was one of her best scenes in the entire series. One felt so sorry for her with anyone barely showing up at her party and it will be interesting to see where they will go with her this season. It will be interesting to see what connection she may have with Ra's al Ghul, League of Assassins or Nanda Parbat.
The B-story of the episode with Roy, Thea and Sin was sadly not that interesting (it was however nice to see Sin again), it was good, but not anything that stood out. It did however lead to the powerful and shocking scene between Arrow and Roy where he decided to shoot Roy in the leg. That felt like an overreaction, but it makes a bit of sense because Oliver doesn't want him to get in trouble so by shooting him in the leg, he won't be able to get into the mess that Oliver is dealing with.
Cyrus Gold (known as Solomon Grundy in the comics) being the first superhuman case for Oliver to deal with was really cool and while it was tough to see Oliver get beaten, the action scenes that James Bamford did for this episode was phenomenal. Kevin Alejandro's Brother Blood continues to get more intriguing as the season progresses and one has to wonder how close Oliver is from finding out Sebastian Blood's secret.
The island scenes definitely had a huge development with Slade getting injected by the serum and it seems that this is what will make him Deathstroke. Manu Bennett's scene before getting injected was really compelling and one of his best scenes throughout the series. It will be interesting to see what happens next with him.
Overall, "The Scientist" was one of the best episodes of the season with Gustin's Barry having a fantastic introduction. Johns, Kreisberg and Berlanti did a fine job with this episode that was a very comic book-y episode while still being an episode that fits with the tone of the show. It will be fascinating to see what the mid-season finale will feature with the second part of Barry's introduction and more.
Arrow airs Wednesday nights, 8/7c on The CW.
[Photo via Cate Cameron/CW]