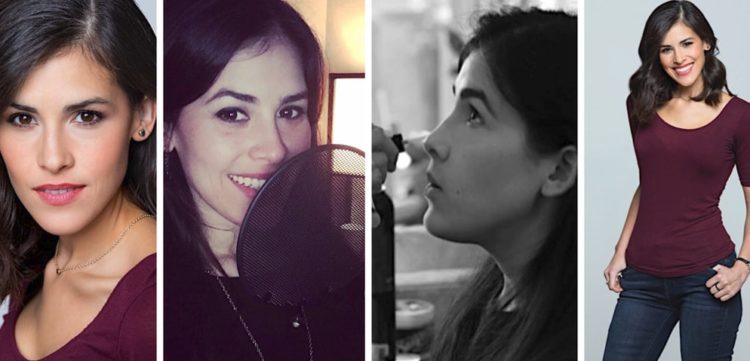 It's kind of interesting to wonder just how someone gets into voice acting but a lot of voice actors would probably tell you that they either fell into it or it was something that they wanted to do for some time. Jeannie Tirado is one of those that has been quite adept at voice acting for a while and she has the resume to prove it. While some voice actors might be live actors as well and have a sporadic list of voices that they've done, a lot of voice actors have a resume that reads for a very long ways from beginning to end. Jeannie is one of those folks that takes on multiple roles within a year and produces a flawless to nearly flawless performance every time. By now she's got the kind of experience and know-how to get whatever job she really wants but it seems that she's stuck very closely with anime for a while now. Considering that anime has gone a long way and climbed to new heights around the world in what seems like a very short time it's very easy to think that it might be one of the most secure positions for any voice actor that might be wanting regular work.
Plus at the conventions that are held around the world voice actors are highly prized by many fans when it comes to getting autographs, pictures, and even a few minutes to pick their brain so to speak over what their motivations are when it comes to their work and how they came to find themselves in such a job. At this point in her career it seems fair to say that Jeannie has had to answer a lot of questions both about the shows she's voiced for and her career. One has to wonder if she's knowledgeable about the shows she voices for or if she simply speaks the parts as they're written, since it's very likely that fans would ask her dozens of questions about various shows. The one that thing that fans don't always seem to take into account however is that the actors don't always know everything about the shows they're voicing for. It's a job, just like anything else, and they're there to read, not learn the ins and outs of the show and its entire history.
Some actors do know exactly what's going on in the shows they voice for and others are there to get paid for doing a job to the best of their ability. The big difference can't really be heard in their voice however since professionals like Jeannie tend to research at least enough to make their voice fit with the character and appease the fans so that there aren't too many complaints. In reality not a lot of people worry too much about the voices so long as they sound right and are complimentary to the show. The story and the action usually become the biggest parts of the show and the actors are therefore kind of left to just do their part and make it work.
There isn't a lot of information on Jeannie other than the many credits she holds from the jobs she's done, and in this manner it seems that she might be kind of a private person that likes to step behind the scenes and do her work. Some people are introverted and some just enjoy their job enough to take a back seat to what people see while contributing in the way they know how. Her voice has been heard in numerous shows and several animated movies and has been fully enjoyed by the fans, but of the woman there is little that can be found on the internet, though it seems that there might be more information if one knows where to look. For instance, she was heavily into choir in high school and relocated to Dallas, Texas in order to begin her voice acting career.
She's proven to be a very dedicated actress and has shown a great propensity for taking on roles that have added to her repertoire and have included some of the more powerful figures in anime. To say that she's just done a few voices would be a serious insult to her career since she's taken on many upon many roles that have been in some way tailored for her it seems like, providing her with the chance and the opportunity to increase her skill set and build her reputation. So many voice actors try and actually do manage to build up a library of voices to pick and choose from but only so many of them are successful at what they love to do. Jeannie has managed to build a career on her voice in a way that a lot of people can't fully understand but can very easily appreciate.