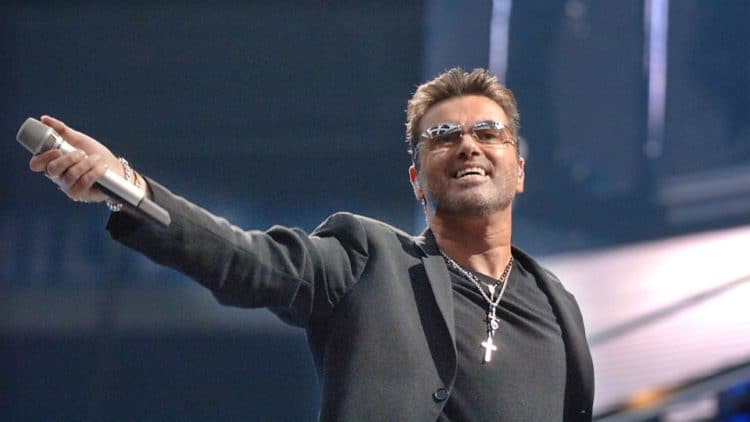 2016 has been a tumultuous year in general, but it's been heartbreaking for the music world – especially if you loved the 1980's. Now Variety and other news sources have confirmed that we've lost another great singer way too soon. George Michael, the British soul & r&b singer and former member of the 1980's pop duo Wham!, died peacefully in his sleep on Christmas day.
Memories of George Michael: The 1980's
George Michael was a part of my early teenager soundtrack. Our little junior high dances had us dancing to Wham!'s "Wake Me Up Before You Go-Go" along with "Modern Love" by David Bowie. Me and my young geeky crowd watched the cooler and older girls and boys slow dance to 'Purple Rain" by Prince. 2016 has taken them all to that eternal record label in the sky.
I loved Bowie and Prince's music and their socially rebellious attitudes, but it was George Michael pasted on my wall next to Rob Lowe.
http://gty.im/689418879
Michael's mournfully crooning "I'm never going to dance again" made many a young girl swoon. His voice was smooth and husky and it conveyed the kind of angst that spoke to my teenage girl's soul.
After Wham! split up, Michael released his first solo album, Faith. The music on the album left no doubt about his talent:
In addition to playing a large number of instruments on the album, he wrote and produced every track on the recording, except for one, which he co-wrote.[23]
At this point I was old enough to have heard the rumors that he might be gay – and (as many did) suspected there was something to it. That didn't matter in the least to me. Judging by its success I'd say it didn't faze a lot of people. Whomever he was singing "Faith" or "Father Figure" to in his mind, his voice was still sexy. A controversial song from the album, "I Want Your Sex" preached love and commitment could be hot, a message this Catholic girl definitely took to heart. I absolutely adored him.
George Michael After the 1980's: More Music – and Freedom
Coming Out of the Closet
After the success of his first solo album, Michael was struggling with having to hide his sexuality, and had issues with drug use, and depression. In this 2007 UK Independent interview he talks about his choice to hide that he was gay.
…Understand how much I love my family and that Aids was the predominant feature of being gay in the 1980s and early 90s as far as any parent was concerned… My mother was still alive and every single day would have been a nightmare for her thinking what I might have been subjected to.
Career-wise, Michael wanted to be known more for his music and not his attractiveness to teenage girls. His second solo album : Listen Without Prejudice Vol. 1 contained the somber U.S. number 1 hit, "Praying for Time" and the 1990 hit "Freedom." That song dealt directly with some of Michael's issues – and hinted at the rest. The music video is famous for the fact that he's not in it. Instead it features supermodels lip-syncing to his song.
[youtube https://www.youtube.com/watch?v=diYAc7gB-0A]
It wasn't until 1998 and an arrest for lewd conduct in a public restroom that he came out as a gay man. ( According to the CDC, drug use, depression, and risky behaviors are all more likely to occur when an LGBT person is closeted.)
George Michael: A British Superstar and World Icon
In the U.S. it seemed like Michael disappeared from the music scene for a while. He was supposed to release his third album soon after his second. Due to issues he had with Sony Music it didn't happen. This didn't stop him from making music. He toured worldwide doing a variety of covers, including this 1991 recording of him with Sir Elton John singing John's "Don't Let the Sun Go Down On Me."
[youtube https://www.youtube.com/watch?v=RsKqMNDoR4o]
"Don't Let the Sun Go Down On Me" was a number one hit in both the U.S. and U.K. – but then in the U.S. we don't hear much about him until his 1996 single, "Jesus to a Child."
However, in Britain and the rest of Europe there's no real break in his music career. He got very involved in raising money to fight Aids, including donating songs of his to a 1992 British Aids awareness charity album. One of those songs, called "Too Funky" hit the British top 10. Also in 1992 he and five other singers were featured at the Freddy Mercury tribute concert in London. A year later an EP album with his performances was put out. On it he sings with Queen and Lisa Stansfield. That album went to number one in the U.K..
In 1996 he released his third full album, "Older." It had 6 top five hits in the U.K. over the next two years, but only the first single, "Jesus to a Child" and "Fast Love" hit the U.S. top ten charts. The album as a whole didn't stay on the charts long at all in America, but in England his talent did not go unnoticed.
In 1996, Michael was voted Best British Male, at the MTV Europe Music Awards and the Brit Awards;[69][70] and at the British Academy's Ivor Novello Awards, he was awarded the prestigious title of 'Songwriter of The Year' for the third time.[6]
He's been touring and performing steadily and successfully in England and Europe ever since and has sold over 100 million albums. His last album, Symphonica was released in March 2014. It had some new music of his, plus covers of classics like, "The First Time I Ever Saw Your Face" and "Brother Can You Spare a Dime." Symphonica debuted at number one on the British album charts. The pop star kid with soulful voice, had evolved into real soul and r&b singer.
The Wrap Up: A Final Goodbye
According to this Hollywood Report update the death of George Michael is said to be heart failure. This is his manager's official statement:
It is with great sadness that we can confirm our beloved son, brother and friend George passed away peacefully at home over the Christmas period," his rep said in a statement to the BBC. "The family would ask that their privacy be respected at this difficult and emotional time. There will be no further comment at this stage.
George Michael was very concerned with human rights issues and social justice – issues he wrote about in his number one hit, "Praying for Time." It's even more relevant today than when he wrote it. When I think about England's Brexit and the U.S. election of Donald Trump, heart failure makes painfully poetic sense. Maybe this year just had too much heartbreak.
[youtube https://www.youtube.com/watch?v=goroyZbVdlo]
Tell us what's wrong with this post? How could we improve it? :)
Let us improve this post!