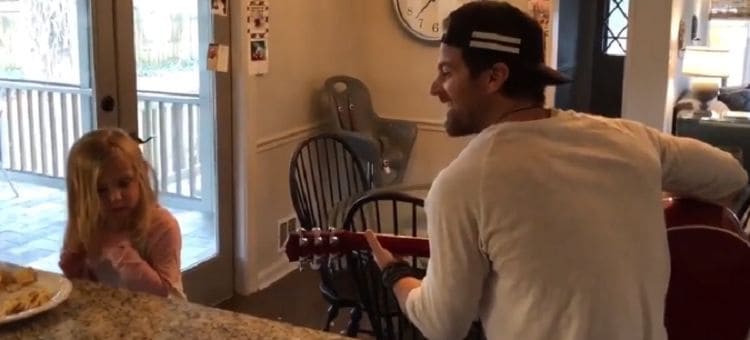 Kip Moore seems like he's had the average existence when it comes to being a musician, he's become popular, had to struggle, and yet as a great number of loyal fans that are willing bolster his numbers and keep him in the loop. These days the life of a musician is bound to be harder to maintain since there are literally so many of them out there that you could start listing them today and not be done for the next month even if you continue to list them on a daily basis. That makes it more than a little difficult to really get around to seeing just how great a lot of them are, but thank to technology and the idea of trending it's become a little easier to finally focus on those that might have something to offer and who can really amaze an audience with their talent. In that light Kip might actually be able to push forward and make a great career as he continues to move forward.
Here are a few things about Kip you might not have known.
10. He spent 8 years in Nashville before signing a record deal.
If there's ever anyone out there that thinks that an artist can just begin to write music, sing, play an instrument, and then get discovered without that much difficulty it might be time to realize that it tends to take a while to really gain the kind of notice that makes a person into a star. Kip had to take the time and make the effort just like anyone else to become the star he is now.
9. His father passed away shortly before his debut album released.
This was no doubt a very sad time since despite being followed by a triumph it's likely that he would want his father to see something like this. Something like this would likely push a lot of people to continue succeeding since the loss of a family member is, however it might sound, a great motivation that can keep a lot of people moving forward so as to distance themselves or deal with the pain.
8. He's been nominated for several awards but hasn't won yet.
He's been noticed, that much is obvious, and he's been highly regarded by those that tend to make or break those that are continually striving for recogntion and and the chance to say that they've reached the top at least once. Hopefully this keeps him hungry enough to keep coming back.
7. Kip is in his late 30s at this time.
For musicians it would seem that age is less of a factor than it would be for actors since unless their voice starts giving out they can continue on for a good long while on the mic and still get people to love them in a big way.
6. He's been in the business for a little over a decade.
Kip has been doing his thing now for a while and it might seem as though he hasn't done much in comparison to a lot of people but he's been holding it steady and making his way forward a little at a time sometimes as he's continued to keep his career on a pretty decent course.
5. His following on social media is pretty substantial.
He does have a lot of loyal followers that can be seen on his social media accounts, and it would seem that a lot of people are more than willing to pack into his concerts and show their appreciation on a regular basis. It's been keeping his career going thus far.
4. He's pretty dedicated to his fans.
One great thing to see with any performer is an appreciation that they show to their fans since quite honestly without the fans the passion they have for their act might remain, but there would be no one willing to spend money to see them and thus make them famous. Too many performers seem to forget this as time goes by, they need the fans a lot more than the fans need them, since there's always bound to be a new performer making their way up.
3. His net worth is around $4 million.
His career is going pretty well if he can boast this number, and while it's likely that such numbers can fluctuate from time to time it's still easy to see that he's been maintaining a pretty impressive career.
2. He worked as a manager at Abercrombie & Fitch for a while.
Kip did have to survive for a while when he was waiting to make it big after all, and there are a lot worse places to make a living when you're young and still trying to make something happen.
1. Kip moved to Hawaii for a while and got into backpacking and surfing.
At least you can say that he got to have a lot of fun before getting serious with his career.
So far in his career it would seem that he's doing just fine.
Tell us what's wrong with this post? How could we improve it? :)
Let us improve this post!