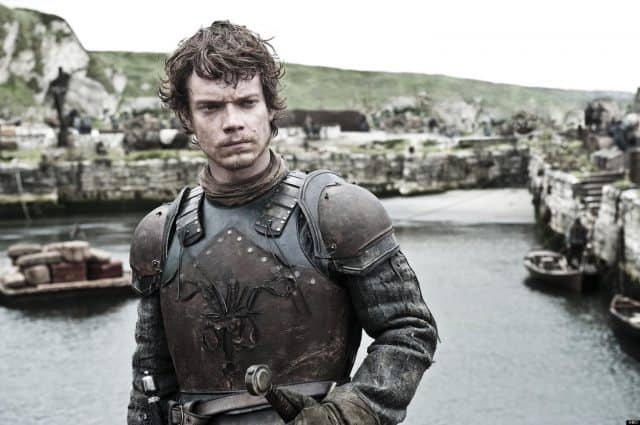 Like many cast members of Game of Thrones, Alfie Allen is another actor who is benefiting from his time on the show. While Maisie Williams seems to be the front runner for "chance to be most successful after the show is over" Alfie Allen just added his name to the mix. The latest on Alfie Allen from The Hollywood Reporter, is that he has joined the cast of Shane Black's The Predator. He'll portray an ex-Marine, who will team-up with a handful of other outsiders to stop the highly-trained alien killers.
Allen joins a cast headlined by Boyd Holbrook (Logan), who will lead the team of ex-Marines. The supporting players consist of Trevante Rhodes (Moonlight), Keegan-Michael Key (Keanu), Olivia Munn (X-Men: Apocalypse), Sterling K. Brown (Black Panther), Jacob Tremblay (Room), and Thomas Jane (The Punisher). Black, who starred in the original, is directing the latest installment with a script he co-wrote with Fred Dekker (Edge).
So what else about Alfie Allen do we need to know? Here are five things that might surprise you about the actor.
400K
He's not quite there yet but Allen's got a serious following on Instagram. It's currently sitting at 386,000 followers but you can be sure as soon as GOT premieres in July the number is going to be above that. Allen's got a solid page, updates it regularly and is a big fan of the selfie. Actually selfies with other GOT actors.
12 Years Old
That's how old Alfie was when he got his first part on television. Allen's first professional appearance was in a one-off Channel 4 comedy, You Are Here in 1998, co-written by Matt Lucas and David Walliams. The same year, Allen and his sister Lily appeared in the 1998 film, Elizabeth, which was produced by their mother.
Jon Snow
That's the role that Alfie Allen originally auditioned for on Game of Thrones but he ultimately landed the part of Theon Greyjoy. Can you imagine if he had been Jon Snow? What a bizarro universe that would be.
His worst day on the set of GOT
Alfie Allen says that the show's infamous rape scene of Sansa Stark was his worst day on the set of the hit HBO show. The harrowing scene, in which Allen's character, Theon Greyjoy (aka Reek) is forced to watch as the sadistic Ramsay Bolton rapes his new wife on their wedding night, left the British actor shaken to the point where he is still reluctant to speak of it. "I don't really want to talk about it all that much – but the Season 5 scene that was the wedding night between Ramsay and Sansa – was a horrible day to shoot," Allen says, while heaping praise on his co-star Sophie Turner, who plays Sansa.
Lilly Allen is his Sister
You probably knew that already but just in case you didn't. They are only 1 year apart. Alfie's the younger one.
Tell us what's wrong with this post? How could we improve it? :)
Let us improve this post!