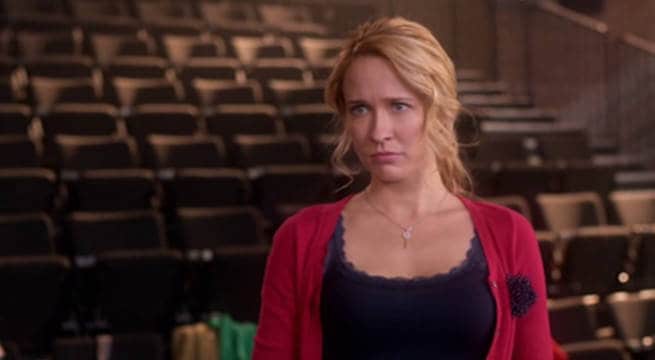 It's possible you know Anna Camp best from True Blood or Pitch Perfect since quite honestly those are two of the biggest roles on her resume and the manner in which a lot of fans happen to know of her. It's fair to say that she's a bigger name than some and deserves a great deal of recognition, but she's also got a lot going on besides show business as well it would seem, as she's a very busy woman and tends to spend her time between several different activities. In terms of her popularity Anna has a great deal of pull in the business it would seem and has been able to direct her own career as much as possible throughout the years while trying to keep herself on a steady course and taking the kind of roles she wants while possibly avoiding some that she doesn't. An actor's life is bound up in a lot of different ways to stay relevant but so far Anna has navigated a pretty successful course.
Here are a few things about Anna you might not have known.
10. She's a Democratic party volunteer.
A lot of Hollywood tends to want to talk about politics but there are actually some that are able to get in there and walk the walk instead of just talking about it that often. To be fair a lot of actors do try to contribute to their political affiliations but apart from signing a check a lot of them don't do all that much. Anna is all about that life.
9. It sounds like she started acting in the second grade.
It's definitely amazing to see that kind of passion last for so long since honestly a lot of kids tend to change their mind over what they want to do at least half a dozen times before they hit their teens. Anna has stayed the course for a long time though, deciding that she wanted to stay firm on her decision to get into acting.
8. She's been married a couple of times.
Marriages in Hollywood don't seem to last all that long sometimes, and in many cases a lot of actors have been married multiple times. Things do tend to happen sometimes so it's hard to say who's at fault, if anyone, but the turnover rate for marriages in show business is sometimes kind of a hard thing to fathom.
7. She does boast a pretty hefty following on social media.
Enough people know about her and want to follow her career that it's been noted on social media and it would seem that she's more than willing to spend some time online to respond to her fans and update them on how things are going in her career and life.
6. She's interested in doing a Pitch Perfect 4.
It's uncertain if this would ever happen since the Bella's seem to have parted ways in the third movie and are on to their own lives. Maybe if it was a new generation that came together and benefited from a few cameos of the old squad it might work. But at this time it doesn't seem like it's anything more than a desire of hers.
5. She's definitely a dog lover.
There's a definite difference between dog and cat lovers, but of course there are also people that are more inclusive and love both. It's uncertain of whether she's one or the other or doesn't really care, but the amount of pictures of her dog on Instagram seem to indicate that she might favor those of the canine persuasion.
4. Anna does like to travel.
Having the kind of career and the funds that she has access to makes this a joy and a definite constant since she seems to enjoy packing up now and again and making her way to different locations either for work or vacation, or both.
3. She has a net worth of $3 million.
That's a good chunk of change to be worth and it would seem that she's acquired most of this through her acting. If she has some other source of income we haven't been able to find it, though it's very likely that she might have something else going on the side apart from acting.
2. She's been in the business for a while now.
Anna isn't a newbie to show business but she's been a little more low-key than others in her roles it would seem, perhaps the other activities she participates in restrict her time a bit, or maybe she's just very selective about what she takes on.
1. She's currently in her 30s.
She's in that wonderful gap where you're not old but you're not all that young either and can benefit from experience as well as the relative youth that you still have. Some people don't begin to age for years after their 30s, but it's still wise to take advantage of these years.
So far she's been doing quite well in her career.