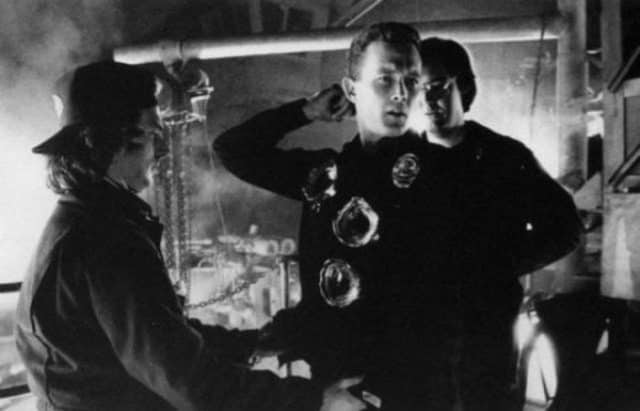 You've seen Robert Patrick as the villainous T-1000 in Terminator 2, but you might not know that in 1984 he was a hero for a day. You might want to read the story to figure out just why, it's pretty interesting. Back when he still hadn't entered show business Patrick was a house painter, which doesn't usually pull down nearly the kind of money he does now but is honest work and gets a person by throughout the year. In any case, he was around Lake Erie when he was in a boating accident that year and rather than needing to be rescued he nearly drowned after swimming for close to three hours to try and help those that were stranded at the accident site. If that can't be called heroic then what can? Risking your life for others so that they can get away from a dangerous site is definitely a definition of courage.
This was before he even got his break as the bad guy in the second Terminator movie too. It was however the same year that the first Terminator came out, which is kind of an oddity but doesn't mean too much unless people try to read too much into it. But barring that, he was cast into bit parts here and there until he got his big break in Cameron's widely acclaimed T2: Judgement Day. At that point not a lot of people had seen him or even knew about him as of yet, so to many he was a relative newcomer. But the performance he put in was so great that people couldn't deny that he was someone that was on his way. When he started showing up in other movies and TV shows he became even more well known and started gaining a fan base that was solidified by his role as the murderous T-1000.
For all intents and purposes Robert Patrick is a nice, humble man that simply looks tough but is the kind of guy you could talk to without feeling as though he was looking down on you. He's been in a large number of movies and TV roles since then, and has almost always had that tough veneer going for him whether he's been an antagonist or a protagonist. He even showed up in Wayne's World 2 as the same cop from T2 for a brief moment as a kind of parody. He also took over on the X-Files for a while to pick up where Mulder left off and became a well-liked character there as well. One of the best movies he's been a part of in recent years was a movie called Trouble With the Curve, a film starring Clint Eastwood, Amy Adams, John Goodman, Matthew Lillard, and Justin Timberlake. He plays the GM for the Atlanta Braves.
He's not a bad guy in the film but he is the guy that has to make the hard decisions. Robert Patrick is the kind of guy that looks tough but if you get to know him could be a good friend.