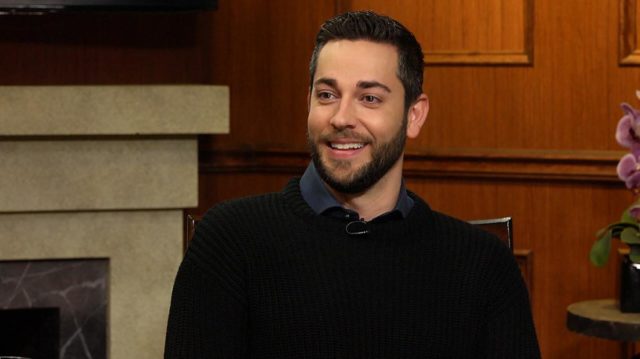 Zachary Levi is an actor and singer who was born in Lake Charles, Louisiana, on September 29, 1980. He began his career as an entertainer in 2001 and has since established a successful career which has involved in him performing in or providing voices for many films. He is best-known as the voice of Flynn Rider in the animated films 'Tangled' and 'Tangled Ever After'. He also returned to provide the voice of this character for the television series which is based on the film and is aired on the Disney Channel. Here are five more things you might not know about Zachary Levi.
1. He Was Married to Missy Peregrym
Zachary Levi had a very brief marriage to Missy Peregrym. She is an actress and former fashion model who is best-known for playing Officer Andy McNally in 'Rookie Blue'. This was a series aired on both Global Television and ABC. She played the role between 2010 and 2015 and was nominated for a Canadian Screen Award for her performance in this series in 2016. Levi and Peregrym were married in Hawaii in June 2014 but were separated by the December of the same year. They were officially divorced by April 2015.
2. He Has Won Awards
Zachary Levi has already received nominations during his career. When he played the lead role of Georg Nowack in the Broadway revival of 'She loves me in 2016, he was nominated for a Tony Award. He has also been nominated for awards for his roles in television and film. For his role in the television series 'Chuck', he has won three awards. In 2009, he won the Ewwy Award for Best Leading Actor in a Comedy Series. The following year, he won the Teen Choice Award for Choice TV Actor: Action. His most recent award was in 2011 when, along with Yvonne Strahovski, he won the TV Guide Award for Favorite Couple Who Have.
3. He Has Many Hobbies
Despite having a busy professional life, Zachary Levi still finds time to enjoy many hobbies. He is a car and motorcycle enthusiast. One of his most prized possessions is a 2009 Nissan GT-R. Another way he likes to spend his time is gaming. He has loved playing video games ever since he first played Super Mario Brothers.
4. He Has Performed at Two Awards Ceremonies
Zachary Levi has used his acting talents to perform at two awards ceremonies. In 2011, he performed at the 83rd Academy Awards alongside Mandy Moore. Together, they sang 'I See the Light' from Tangled. He then performed at the 70th Tony Awards in 2016. He sang the title song from 'She Loves Me'. Levi has also sung on many television programs since childhood.
5. He is Set to Play Shazam
In October 2017, it was announced that Zachary Levi had been cast to play the role of William 'Billy' Batson/ Shazam in the upcoming film 'Shazam'. This film is part of the DC Extended Universe. The character Shazam was formerly known as Captain Marvel. Dwayne Johnson will play Shazam's nemesis anti-hero Black Adam while David S. Sandberg will direct the movie.
Tell us what's wrong with this post? How could we improve it? :)
Let us improve this post!