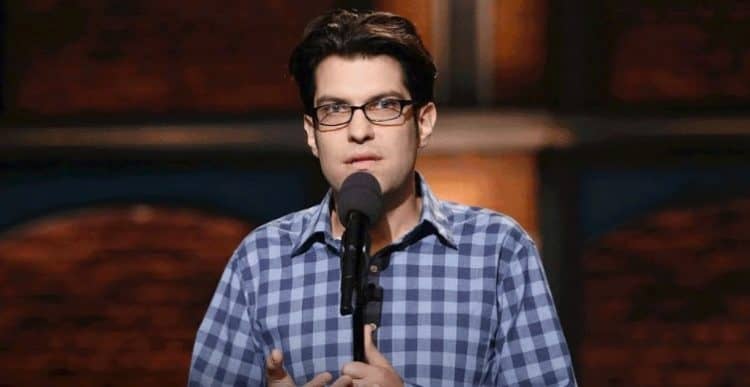 Dan Mintz is a guy that you might not think is funny if you just talk to him, or listen to him, or don't know what he's all about and how he performs his act. In fact it might be that you'd wonder just why he's considered to be funny at all until you listen to his whole set and realize that the guy is actually pretty talented but doesn't manage to show a whole lot of emotion while he's on stage. Of course that's just another part of his act and it's what makes him so skilled at what he does. While other guys are jumping around the stage and acting as animated as they possibly can he stands there and delivers each joke in a way that makes you actually want to listen just to hear what's going to come out next. It might not be everyone's piece of cake when it comes to his act but it's still something that requires enough skill to be impressed by.
Here are a few things you might not have known about him.
10. He graduated from Harvard.
Not all comedians come from the hard places in life and have to scratch their way to the top. There are more of them that are well-educated and come from much more privileged areas of life than you might think. It does give a person a leg up when it comes to being noticed.
9. He wrote for the Harvard Lampoon.
Just because you go to a well-renowned school doesn't mean you can't have a sense of humor and be someone that's just out and out hilarious. His skills as a writer helped him to get noticed just as much as his comedy routines.
8. He's a stand-up comic.
Some people might not fully understand his act right away but the point is that it's his and this is the way he does it. He gets plenty of laughs and while he's not exactly the archetype for a comedian he still knows enough about what he's doing to stand up there and continue to deliver.
7. His first writing job was for Crank Yankers.
This had to be one of the dumbest shows to ever hit Comedy Central's lineup and that's saying a lot really. But it was because it was so brainless that people liked it and for a while it was a big hit. There's some allure to making prank phone calls that people just love for some reason.
6. His career started in 2002.
So his debut on TV didn't come until 2011 but his career started almost a decade earlier as he took to the mic and started making people laugh in the way he knew how, by paying his dues and starting at the bottom just like everyone.
5. He has a couple of voice roles on Bob's Burgers.
The main role he's known for is the daughter, Tina, which might seem kind of odd but worked for him all the same. He's not the first guy to voice a female role after all and if you listen to Tina's voice he didn't modulate his tone much. But it still worked.
4. He had a voice role on Adventure Time.
Some characters you can't help but shake your head at as you wonder what people were thinking when they made them up. But honestly this show had such a great following that it didn't matter how out there the characters were. In fact a lot of people liked this quality.
3. He married a fellow comedian.
Around the same time that his TV career was getting underway Mintz married comedian Margie Kment. One kind of has to wonder if they play jokes off of each other in order to see if they're worth bringing to the stage or if their stage life is absent once they're at home. It's fun to just wonder at least.
2. He has a very deadpan delivery.
This is his performance, and for a lot of people it might be enough to make them change the channel since it is kind of hard to get into a guy that's so deadpan that you can't really tell if he's scared stiff or if he's just that emotionless. But it is a skill all the same to be able to stand up on the stage and look not at the audience or the camera and just focus straight ahead while delivering jokes. Most people can't do this whether they're comedians or not since the natural inclination is to stare at the camera or at someone in the audience. Deadpan humor is kind of odd in a way but it is a skill nonetheless.
1. He's appeared on the Conan O'Brien Show.
It'd be interesting to know what the audience of the show felt about Mintz at that point but if they were laughing he at least managed to get their attention.
The guy is funny, you just have to listen to him carefully and wait for the punch line.