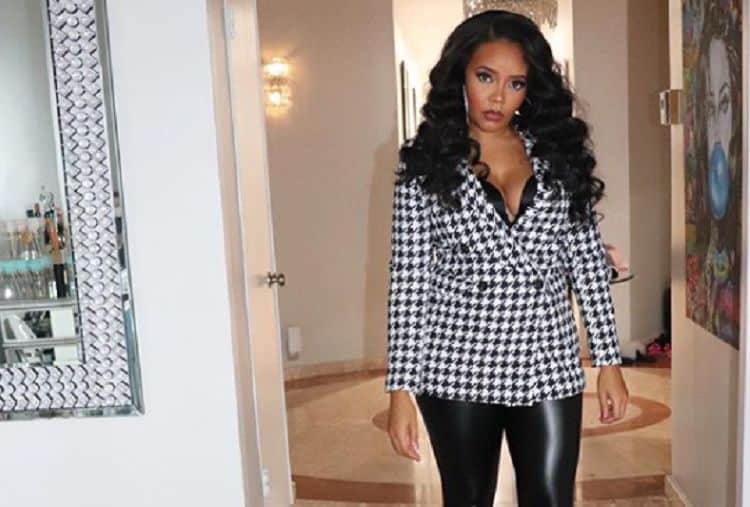 In the world of reality TV Angela Simmons is truly an OG. She rose to stardom in 2005 as a cast member on her family's reality show, Run's House. During her time on the series, fans got to watch Angela and her siblings grow up and create their own paths. By the time the show ended in 2009, Angela was a business woman and she had built a large fanbase. In the years since, she has continued to stay in the spotlight and she eventually became a social media influencer. Although her rise to fame hasn't been without its ups and downs, Angela has always maintained a positive attitude and and a willingness to work hard. Keep reading for 10 things you didn't know about Angela Simmons.
1. She Collaborated With PETA
Several years ago Angela began to follow a vegetarian diet and she decided to team up with PETA to spread awareness about animal cruelty. In an ad for the organization Angela said, "I really want people to know what happens to animals … Animals have feelings, and I think it's important we take action."
2. Her Former Fiance Passed Away
For many years, Angela was known for upholding Christian values and abstaining from sex before marriage, so when she got pregnant in 2016, lots of people couldn't believe it. Angela and her child's father, Sutton Tennyson, quickly followed up with an engagement. Unfortunately, the couple's relationship didn't work out but they remained friends and co-parents. Sadly, Sutton died unexpectedly in November 2018 when he was shot more than a dozen times.
3. She Is A Survivor Of Domestic Violence
Despite being a reality TV star, Angela has always been a relatively private person. In 2020, however, she decided to open up about the fact that she was a victim of domestic violence in the past. Angela described the situation as one of "the worst" times in her life.
4. She Is In A Relationship
Since Sutton's passing, Angela has made it clear that she's been focusing on running her business and taking care of her son, but sometimes love comes around when you least expect it and it's impossible to ignore. In August 2020, Angela revealed that she is dating professional boxer, Daniel Jacobs and the couple appears to still be going strong.
5. She Loves To Box
The fact that Angela is dating a boxer is ironic because she's a boxer herself. While she's not a professional and has never competed in a match, boxing has been one of Angela's favorite ways to workout for years. She may not look like the fighting type, but she can definitely throw a punch.
6. She Has Acting Experience
Angela Simmons has been on TV for years, but most people know her from her appearance on reality shows. What many don't now is that she also has some acting experience. She had a role in the 2015 film Supermodel and she also appeared in her own short film, Angela Simmons Presents: Pressure Makes Diamonds.
7. She Has Been Stalked
Living in the spotlight definitely has its perks, but one of the downsides is that it comes with an inherent invasion of privacy. Angela has dealt with this first hand due to a fan who ultimately turned into a stalker. Angela's issues with her stalker were documented during a season of her reality show, Growing Up Hip Hop. Luckily for Angela, it doesn't appear that her stalker has ever been violent or aggressive towards her; however, the fact that he has done anything to make her feel uncomfortable is not okay.
8. She Started A Beauty Brand
In 2007, Angela got her introduction to the life of an entrepreneur when she and her older sister, Vanessa, started a shoe like called Pastry Kicks. She has since gone on to embark on several other business ventures including her new skincare line called Simmons Beauty which she has been heavily promoting on social media.
9. Bow Wow Wrote A Song About Her
Angela Simmons and Bow Wow dated briefly in 2012. In the years since, they have periodically been linked together and many fans have hoped they'd rekindle their romance. In the summer of 2020, Bow Wow told Angela that he wrote a song about her, however, it doesn't look like the track has been released.
10. She Has Three Sisters
Angela having an older sister named Vanessa is probably common knowledge at this point, however, what has been kept a little more under wraps is the fact that Angela also has two other siblings. Angela's mother, Valerie Vaughn, has two daughters relationships she had after her divorce from Rev Run.
Tell us what's wrong with this post? How could we improve it? :)
Let us improve this post!