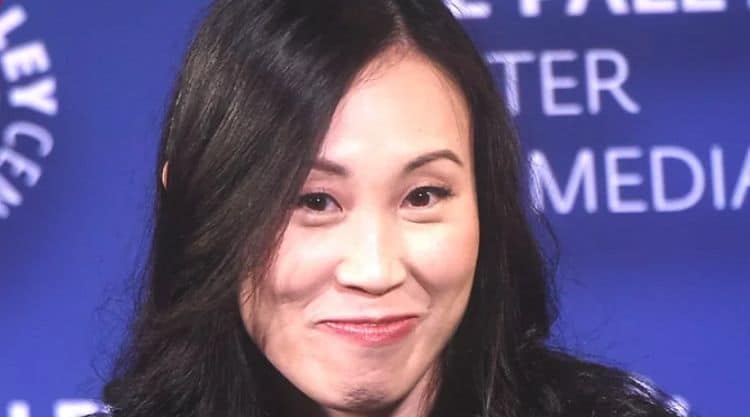 Angela Kang's face probably isn't one you recognize, but there's a good chance you're very familiar with her work. As the writer and producer of The Walking Dead, Angela is responsible for one of the most successful TV shows of the last decade. Her creativity and hard work have resulted in a world of zombies that has become a major part of countless people's lives. Although the series is now in its final season, Angela hasn't taken her foot off the gas and she promises to continue delivering great episodes. Although she doesn't currently have any other projects in the works, we hope to see more from Angela in the future. Keep reading to learn 10 things you didn't know about Angela Kang.
1. She's From California
Angela was born and raised in California to parents who immigrated to the United States from Korea. There isn't much information about her upbringing or her parents, but we do know that she comes from a tight family. We also know that she is very proud of her roots. From what we can tell, she still lives in California.
2. She Has A Master's Degree
Education has always been important to Angela. After high school, she enrolled at Occidental College where she studied English and theater. Not long after getting her bachelor's degree, she decided to further her education. She went to graduate school at the University of Southern California where she earned an MFA in screenwriting.
3. She Isn't Afraid To Speak Her Mind
Lots of people in the entertainment industry shy away from certain topics because they're afraid of possibly offending people. However, Angela has never let that hold her back from speak out about the things she believes in. She has been very vocal about racism and she has no problem educating her followers.
4. She Doesn't Have Any Acting Experience
Since Angela has spent so much time in the entertainment industry, many people would probably assume that she's given acting a try at least once. Surprisingly, though, she hasn't gotten in front of the camera at all. She doesn't have any acting credits and there's nothing to suggest that she has plans to change that.
5. She Is A Private Person
The entertainment industry isn't the only place where Angela prefers to stay behind the scenes. Even in her real life, she isn't the type of person who constantly likes to be the center of attention. Over the years, she has remained fairly private when it comes to her personal life.
6. The Walking Dead Is The First Show She Produced
Due to the success of The Walking Dead, it's easy to think that Angela had a lot of experiencing coming into this project. But that isn't entirely true. The Walking Dead is the first and only show she's ever produced, and she also only written for one other TV series.
7. She's A Mother
Despite the fact that she likes to stay low-key when it comes to her personal life, we do know that Angela is a very proud mother. She has one child, a son named Ethan Charles. He actually appeared in an episode of The Walking Dead in which he played Glenn and Maggie's son in the 7th season premiere.
8. She Likes Poetry
Although screenwriting is what Angela is best known for, she also enjoys other styles of creative writing. After finishing college, she wrote and published several short stories and poems. Although it doesn't appear that she writes short stories or poems anymore, she still enjoys reading them. Occasionally, she'll share a photo of a poem she's reading on social media.
9. She Likes To Keep The Future Of The Walking Dead Under Wraps
Now that The Walking Dead is in its last season, there are a lot of people who are anxious to know how things are going to pan out. Most notably, people want to know if longtime character Rick Grimes will somehow reappear in the final season. Angela, however, has made it very clear that she has no intention of sharing any information about the future of the show. Anyone who wants to know will have to tune in and see how things pan out.
10. She Loves Fan Art
As a creator, Angela understands the importance of having a large and dedicated fan base and she is thankful for all of the people who have supported the show over the years. She especially loves all of the fan art they've created and she has an entire highlight section on her Instagram profile dedicated to it.