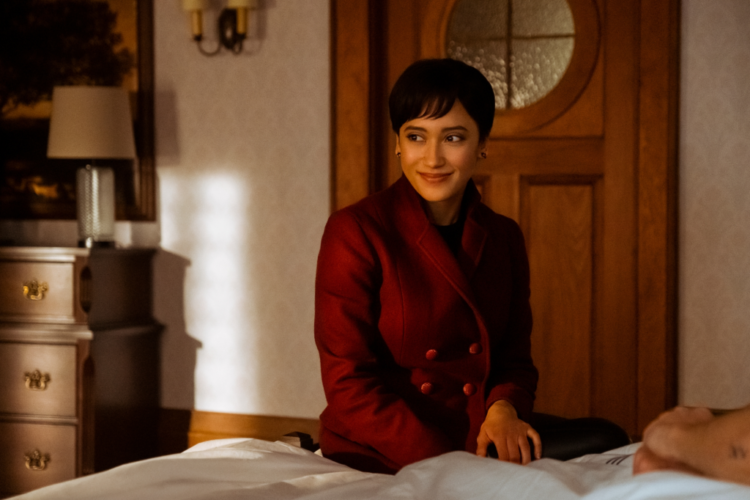 Andy Allo is an incredibly talented performer. While she isn't a household name just yet, her career has really started to gain traction over the last couple of years. Many people will recognize her from her role in the TV series Upload. Andy has also appeared in several episodes of Chicago Fire. Those who have been following Andy's career will be happy to know that she also has two projects in the works that should be released within the next year or so. There's no doubt that Andy is already on the path to stardom, and it's going to be exciting to follow along with her journey. Keep reading to learn 10 things you didn't know about Andy Allo.
1. She's Originally From Cameroon
Andy was born in Cameroon where she spent the first several years of her life. However, when she was around seven years old she relocated to the United States where she settled in California with her older sister. Andy is very grateful to have experienced life in both countries.
2. She Likes Being Outside
There's something about the beauty of nature that nothing else can quite compare to and this is something that Andy really understands. When she gets the chance to take a break from work, she enjoys exploring the outdoors. She likes to do things like go swimming and hiking.
3. She's Also a Musician
At this point in her career, Andy is most widely known for her work as an actress. However, she actually started her journey as a musician. She started playing the piano when she was about seven years old and that eventually evolved into a career. She has released five albums with the most recent being in 2017. It's unclear if she has plans to release another album in the future.
4. She Likes Giving Back to Others
Performing is what Andy loves to do, but that isn't the only thing she wants to use her platform for. She also wants to make a positive difference in the world and she enjoys being able to help others. It'll be interesting to see what kinds of charity organizations she aligns herself with as her career continues to grow.
5. She's Passionate About Human Rights
Standing firm on the things you believe in isn't always easy. However, Andy is the kind of person who refuses to stay silent when it comes to issues that are important to her. Andy is a strong supporter of human rights especially causes such as women's rights and fighting against racism.
6. She's Worked with Prince
Andy's work as a musician has opened the door to lots of cool opportunities. One of those opportunities allowed her to work with one of the music industry's most legendary artists, Prince. She told The Orange County Register, "I was on stage with Prince in front of 50,000 people and you just have to go out and let it flow. It's very much like that in an audition or on a set – there are fewer people but the same pressure and you still have to just go do it."
7. She Has an Account on Cameo
Andy is very thankful to all of the people who have shown her love and support over the course of her career. She looks forward to returning that energy and Cameo is a great way for her to do that. Through the platform, she sells personalized video shoutouts. She is currently charging $99 per video and can have orders fulfilled within 24 hours.
8. She's a Screenwriter
As a creative person, it does without saying that self-expression is very important to Andy. In addition to her work as an actress and a musician, she has also developed an interest in screenwriting. Although her IMDB page doesn't list any screenwriting credits at the moment, we know that won't be the case forever.
9. Family Is Important to Her
Andy has chosen to keep the details of her personal life out of the spotlight. However, a father's day post on her Instagram profile shows that she is a family-oriented person who really values her relationships with her loved ones. We also know that she is the youngest of five.
10. She Likes Fashion
From what we can tell, Andy doesn't have a background in the fashion or modeling industries, but she definitely looks like she could. Andy has a great eye for fashion and it's a great way for her to share a piece of her personality with the world. No matter what the occasion is, you can trust that Andy is going to show up looking stunning.