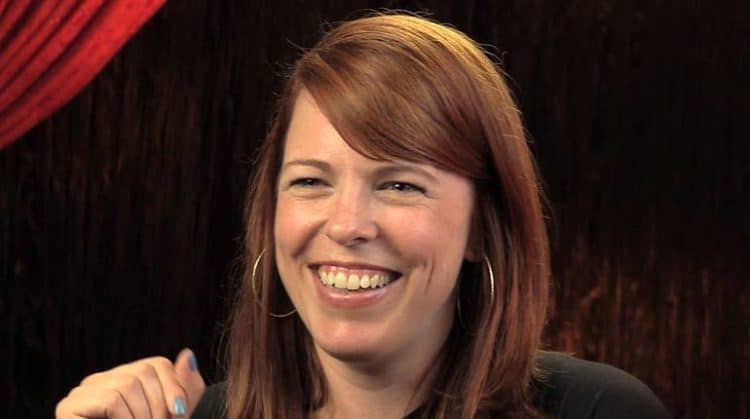 Well, the people behind all things television have managed to come up with just about every idea under the sun when it comes to reality shows. We have reality shows about housewives, reality shows about super-rich twenty-somethings, unmarried men and women trying to find their perfect match, rock stars trying to find any match that will sleep with them, and rap artists who thrive on drama and baby mamas fighting with each other during their public performances. Most of these we could all do without, but there are a few reality shows out there that get turned on and tuned in when they are passed during a session of channel surfing.
One such show is Syfy's supernatural investigative reality series, 'Ghost Hunters', which features a team of paranormal investigators traveling around to different places investigating the paranormal. Amy Bruni is a paranormal researcher who also starred in 'Ghost Hunters' with Adam Berry; she is also a producer, and considers herself an actress. Bruni has also starred in shows like 'Kindred Spirits' (which she also produced), and 'Paranormal Lockdown'. Besides having a deep, vested interest in all things relating to the paranormal, Bruni has dedicated much of her professional career to proving (or disproving) the existence of ghosts and other paranormal phenomena.
But we want to know more about her; after all, her interest in such things is obvious. We want to know about her life, how she got into her field, how she got into television, and other such facts. So, we decided to dive in by devoting one of our '10 Things' lists to Amy in an effort to learn more. Below is the list we came up with to share with you. If you have an interest in the spookier things in life, and if you have ever enjoyed Amy on one of the television shows she has been in, then this is the list for you.
Here are 10 things you didn't know Amy Bruni
1. Younger Years
Amy was born on July 10, 1975 in Sacramento, California, where she was raised by her parents in a house that was haunted. Amy is a Cancer, born in the Year of the Rabbit. As a child, she and her father, an amateur paranormal investigator, would investigate different sites that were supposedly haunted in efforts to see if they could find any legitimate proof of the haunting. Since her family openly embraced their own haunted house, as well as other paranormal ideas, she did as well, and knew from a young age that she had a deep rooted interest in such. She was also very young when she began to pursue her dream of becoming an expert paranormal researcher.
2. Zodiac and Star Sign Traits
Born on July 10, Amy is a Cancer. According to Compatible Astrology, Cancer women are said to be exciting and passionate, and they have a high level of emotional potency. They also exude an air of vulnerability which others find to be very feminine and extremely sexy. When it comes to their love relationships, they are intensely caring, and they show a lot of sympathy to their lover's needs. When the Cancer woman is in love, she is usually willing to go to any lengths to please her partner. Amy was also born in 1975, the Year of the Rabbit. 'Rabbits' can be very soft and gentle, and they seem to have complete control over themselves. They relate well to other people in their lives, and it takes quite a bit to push them over the edge emotionally; they tend to avoid drama at all costs.
3. Education/Professional Training
While Amy has proven herself fairly generous with personal information about her life, there are many aspects that she has chosen not to share, for one reason or another. Her educational background is one such area. While we are sure that she has had some formal training for her position as Paranormal Researcher, which she is paid for, this is simply not something she has divulged. We do know that she has read about her professional topic of focus extensively for many years, and has also gained immeasurable experience, both on television and in the field, when it comes to paranormal investigation and research. These things are in addition to all she learned working investigations with her father from childhood.
4. Her Very First Ghost
According to Affair Post, Amy didn't just live blindly in a haunted house, simply believing it was haunted; she has had a legitimate 'first ghost' experience. When she and her family lived in their haunted house in Alameda, California, Amy came face to face with a ghost wearing all green; she was six at the time. Later, the ghost was deduced to be that of the family's landlord's son, who died during World War II. It's very likely that this initial experience not only whet her appetite to chase her paranormal dreams, but helped her to curb any fears she may have had regarding the paranormal.
5. Before Fame
Prior to getting her foot into the door of show business, Amy worked for two years or so in the health insurance industry, though it isn't clear what position she held. She ended up quitting that business when she got a job as a paranormal investigator, which she considered a dream job. Early on in the field Amy mostly traveled the United States and conducted investigations in a variety of places, but soon enough she joined forces with a Sacramento-based investigation team, and then The Atlantic Paranormal Society right after that. The founders of The Atlantic Paranormal Society, Grant Wilson and Jason Haws, had her on their television series, 'Ghost Hunters' for a total of nearly 120 episodes that came out between 2008 and 2014. She also joined forces with that duo as a producer of 'Beyond Reality Radio'. All of this led up to her garnering recognition of her own in cooperation with Adam Berry from 'Ghost Hunters. To date, their reality series 'Kindred Spirits' ran two seasons on TLC, with a third season in progress. Amy has also worn the hat of executive producer for the show.
6. Personal Life
While she is certainly discreet when it comes to her family, Amy is a married woman with one daughter, Charlottle. Her husband is supposedly named 'Jimmy', according to some sources, but Hollywood Mask states that he is mostly referred to as 'Mr. X', and his real name remains under wraps. One exception was a remark Amy made on Twitter which revealed that he has served in the military in the past. Their little girl, Charlotte, is seven years of age.
7. Net Worth
Amy is a busy girl, much busier these days than in her humble beginnings. Between producing and starring in the television shows she is credited with and the other investigative efforts she is involved in, like her spooky travel agency (mentioned below) she has managed to make a pretty decent living to contribute to her household. The Washington Note estimates Bruni's net worth the be approximately $800,000.
8. Social Media
It seems that Amy is active on social media, and often talks about the paranormal and her involvement at any given time, as well as pics and posts of other life occurrences. Twitter seems to be her favorite platform, by all appearances, and she has just over 213k followers; she can be found on that site at @amybruni. On Instagram she boasts over 115k followers, and can be found at the same, @amybruni. Her Facebook page is titled after her name, and she has a web site that is officially hers.
9. Traveling 'Paranormal'
Amy actually took a hiatus from television after working with Wilson and Haws for seven years to focus on her family life. During that time period she started her own business, 'Strange Escapes', a travel company specializing in locations that have eerie, haunted backgrounds. The business keeps her traveling as she is always on the lookout for new destinations, so she certainly keeps busy with one thing or another.
10. Her Other Interests
When she isn't completely consumed with all things 'work', there are some other things Amy enjoys putting her focus on. A good glass of wine is always a go-to for her, no matter when it may offer itself up or what it may be. Browsing antique stores is another way she loves to pass the time, and she likes really digging into what they have to offer as she looks for paranormal-related items. Relaxing on the beach is also a great way to enjoy life for Bruni.
It seems like only yesterday that we first viewed Amy Bruni on 'Ghost Hunters', but it has been literally years since that day. My, how the time flies. We're pretty sure she feels the same way, as busy as she is, but it is likely all very worth it. With pretty much everything a woman could ask for, from the family to the career, and all the way to working in an area of deep interest and affection, Amy likely isn't complaining. We hope that her future is full of satisfaction and contentment, both personally and professionally. Thanks for the years you've spent hunting for us.