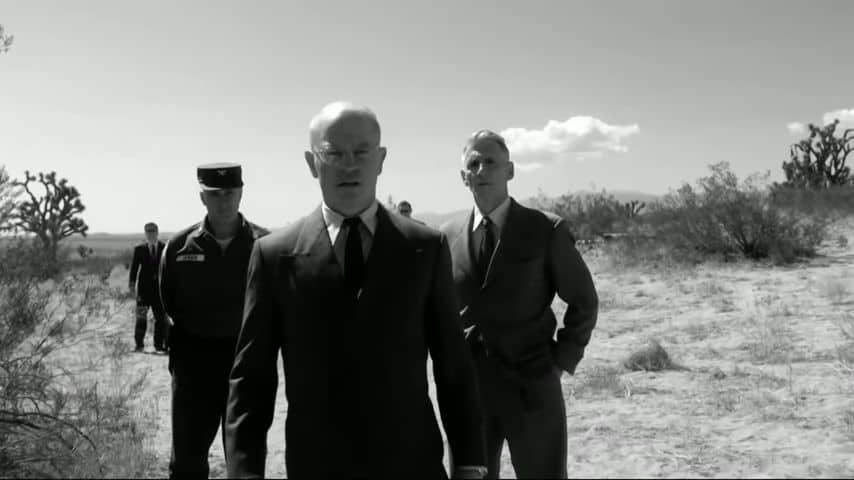 Well…this was definitely a switch from Provincetown as American Horror Story heads out to New Mexico where the opening scene shows a quaint setting in which an American housewife is getting dinner ready while her little boy pedals around in his toy car outside. When the electricity begins to go haywire and the record she's playing skips, and then reverses, it's fair to say that something might be amiss. When the world around her starts to tremble and she notices that her little boy is missing it's even more apparent that things aren't right. But, oh yes, spoilers, when she's inexplicably pulled to the ceiling by some mysterious force, and her boy appears to tell her not to be afraid right before his eyes roll up to the whites, well, it's time to be terrified. As if that weren't enough to make it clear that things are about to get very strange and possibly very bad, once her husband arrives home he walks into something he has no idea is about to burst his head like a melon, and for no apparent reason. It feels safe to assume that these aliens don't come in peace.
It is kind of nice to see Neal McDonough playing Dwight Eisenhower since the guy is a great actor that's proven that he can be more than the menacing type as he's shown in the past. But it would appear that along with the appearance of a UFO, a pregnant Amelia Earhart, and the same possessed housewife that starts mysteriously causing men's heads to explode shortly after an alien autopsy gone wrong, that Ike is in over his head. It would also be fair to assume that since the story makes a huge jump into the modern era that the alien problem somehow 'went away' meaning that the knowledge of it was buried and could possibly explain why technology made such a huge leap forward in the decades that came after. That is, after all, one of the themes that have been established at this point.
Another is that the generation reaching adulthood at this time is fully capable of the kind of cringe-inducing behavior that makes some people from previous generations laugh and most of us shake our heads to think that as far as technology and humanity have come, those that were raised with such things are now lamenting them in some fashion. It should be a moment that makes a lot of people proud when Kendall, one of the college-educated foursome that are all from obviously privileged and very well-to-do homes, mentions that her friends are addicted to their phones and need some time away from them. It's true, addiction to technology is kind of a pain in the rear, but the way the show goes about it feels a bit preachy, not to mention that yet another generation feels that they know everything about everything. But the first episode of the second half of AHS: Double Feature is playing out as one might expect, as provoking a response has been a part of AHS's M.O. for a while now, and the end of this first episode is definitely bound to get a rise out of some folks.
When the four friends, Kendall, Cal, Jamie, and Troy, go camping, it's announced first that Troy has come out as homosexual and that he and Cal have been dating and are completely candid about the things they do. Meh, oh well, that's not such a big deal but it definitely feels a little forced all the same. But moving on, when the quartet ends up camping out in the desert at a rather fancy campsite they end up having a good time without their technology, exploring their feelings, and generally just enjoying life. When they take a wrong turn supposedly one day on their way to a lake, or pond, they end up coming across what looks like a massacre, but on a PG-scale considering that the cows and bulls they see cut literally in half aren't lying in pools of blood. Even more disturbing is the fact that when Kendall touches one of them (yeah, dumb 'educated', horror-grade material) it begins to moo, sending the four students running as they quickly pack up and leave the campsite.
Things aren't quite that simple however since while on the road, as night falls over them, the car is stopped as a bright light shines into the car, and only seconds later it's revealed that Troy, who can't operate any technology on a certain day thanks to his religion, is now driving the car instead of Cal, and Kendall has been placed in Jamie's seat, while Jamie almost gets run over by Troy as she's found wandering along the road. So far this show is starting off in a very strange manner, but as it leans toward an ending we find out that all four share another side effect of the strange occurrence, they're all pregnant. Yes, even the men. Get yourself straightened out, this half of the season is bound to draw a few comments.