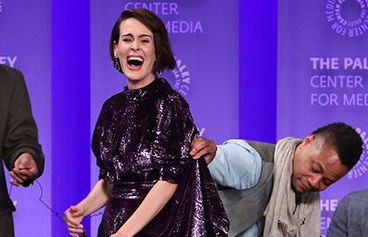 Cast of American Horror Story: Roanoke was on hand at PaleyFest this weekend to talk about the show and answer numerous questions from fans. However, their time spent on the panel was overshadowed when Cuba Gooding Jr. pulled up Sarah Paulson's dress.
The co-stars were doing a panel discussion in L.A. when Sarah turned to greet Kathy Bates, and Cuba took the opportunity to hike up her dress … seemingly to playfully check out her legs. You can see Sarah appeared to take it as a joke. Sarah and Cuba are pretty close — they already worked together on 'People vs. O.J.' — but some fans in the audience reacted on social media … calling him so pretty profound expletives, and said he shouldn't be allowed around Sarah. Others described Kathy as being visibly appalled. Everything continued smoothly onstage though.
You can check out the video below and you'll get a sense of the mixed reactions in the crowd. Some people sounded like an emergency evacuation was taking place and some reacted humorously. My guess is that some people in the audience probably knew they were friends and some didn't. Do you think that Cuba Gooding Jr. stepped over the line? Personally I think that's up to Sarah Paulson to decide and from the looks of it, she wasn't offended in the least bit.
Here's the clip: