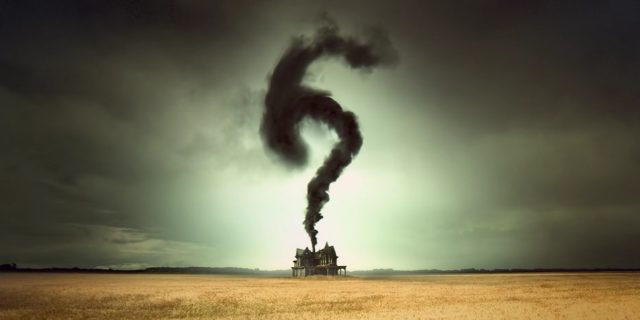 American Horror Story: Cult is set to be released on September 5 of 2017. As a result, it should come as no surprise to learn that a regular succession of clues, pictures, and other items of note have been released for the purpose of keeping its fans interested in what is coming up in the not so distant future. In particular, it is interesting to note that American Horror Story: Cult has had a poster released, which makes for a striking image that provides us with some insight into what we can expect from the upcoming season.
For those who have not seen it, the poster shows a woman in what looks a lot like clown face-paint with an exposed skull showing a bee hive in the shape of her brain. The exact meaning of the clown face-paint remains unknown at this point in time, but some of the pictures shown feature entire crowds of clowns, which suggests that the cult at the center of the upcoming season will have a clown theme to it. Something that is strengthened by the statement that Twisty the Clown from American Horror Story: Freak Show will be making a return to the series. As for the bee hive in the shape of a brain, that is a much easier image to interpret. After all, neither cults nor social insects are famous for their free-thinking. Furthermore, while a bee hive comes with certain connotations of sweetness because of the honey stored up in them, it should be noted that cults are famous for using a combination of affection and attention to sink their hooks into vulnerable individuals.
Whether these predictions will turn out to be true remains to be seen. However, the poster suggests that American Horror Story: Cult will have plenty of scares for its fans. After all, both the fear of bees and the fear of clowns are relatively common, meaning that a combination of the two should be nothing less than the stuff of nightmares.
What Do We Know about American Horror Story: Cult?
With that said, it is interesting to note that we know more about American Horror Story: Cult than the information that has been revealed through the poster. For example, we know that the plot will feature the 2016 U.S. Presidential election, though it won't be partisan in its politics. Furthermore, we know that both Hilary Clinton and Donald Trump will be showing up in the series in some manner, though they won't be played by actors. As a result, one cannot help but wonder how the cult will connect to the U.S. Presidential election, though we know that it will do so in some manner.
Besides this, it is interesting to note that there are other bits and pieces of information that might prove interesting. For example, while there is a crossover season between Coven and Murder House that is scheduled at some point, Cult won't be that crossover season, meaning that interested individuals have something else to look forward. Furthermore, Evan Peters and Sarah Paulson will be having important roles in the plot as lovers, though neither Kathy Bates nor Lady Gaga will be showing up this season for their own reasons. Regardless, more information is bound to come out as the premiere approaches, so interested individuals should keep a watchful eye out for American Horror Story: Cult.