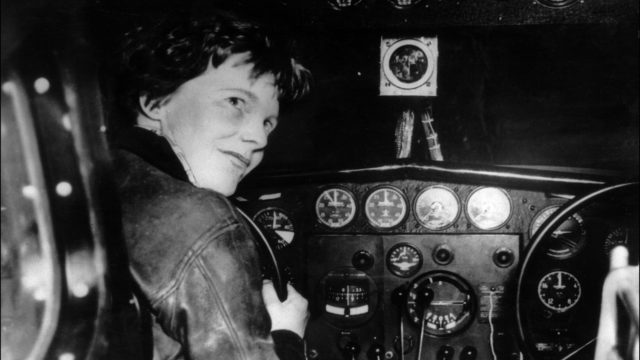 With all of the recent hoopla surrounding Amelia Earhart and new theories about what really happened to her and her navigator, Fred Noonan, the film biz is ripe and ready for an Amelia Earhart feature film. An 80-year-old photo has been found that seems to show both Earhart and Noonan on a dock in the Marshall Islands in 1937. According to researchers, Earhart may have been a Japanese hostage since, at the time of her disappearance, there was quite a Japanese military presence in that area. It is speculated that maybe the pair survived their crash-landing near the Marshall Islands like the local islanders report that they did. In fact, those events were memorialized by the Republic of the Marshall Islands 1987 postage stamps. The stamps were released as a commemoration of the 50th anniversary of Earhart's last flight. Islanders believe that Earhart was taken to Saipan and that she passed away there in Japanese custody.
There's plenty of controversy surrounding whether the photo actually depicts the two aviators but, hey, controversy makes for great movie scripts. So, taking a bit of dramatic license here and there, a feature film script could be on the horizon and Amelia could be coming to the big screen sometime soon. The storyline would revolve around the crash and the subsequent capture of Earhart and Noonan by the Japanese. This could open the film up to a "Great Escape" feel as the film follows the pair in their battle to get away from their captors. A love story between Earhart and her navigator would develop throughout the unfolding of the plot. The underlying story would be about Shawn Henry's quest to find out what really became of the two missing aviators. So, of course, casting would be an important issue with this film, so here are my recommendations:
Scarlett Johansson as Amelia Earhart
Besides the fact that she's an excellent actress, she's also done 15 films that have generated $4,522,062,354 worldwide in aggregate box office revenue. There's never been another beautiful actress who kicked so much bad-guy-ass since Sigourney Weaver in the "Aliens" franchise. Well-known for her lead roles in "The Avengers" movies, "Lucy", "Iron Man 2", "Captain America: Civil War", and much more, this 2006 and 2013 Esquire "Sexiest Woman Alive" has got it going on. She'd be perfect as Earhart.
Bradley Cooper as Navigator Fred Noonan
Cooper is not just a handsome hunk but also a consummate actor as he has proven to the world in
his leading roles in 17 films, which have generated $2,631,021,497 worldwide in aggregate box office revenues. He's well-known for his roles in the "Hangover" films, "Guardians of the Galaxy", "Silver Linings Playbook", and "American Sniper", making the 42-year old actor a box office megastar. He would be the optimum choice as Fred Noonan.
Liam Neeson as Shawn Henry-Former Executive Assistant Director of the FBI
Liam Neeson is one of those actors whose films are always major hits and he's well-known for starring in 38 films that generated $5,264,950,681 in worldwide aggregate box office revenues. At 65, the charismatic Neeson seems ageless in hits like the series of "Taken" films, "The Dark Knight Rises", "Schindler's List", "A Walk Among the Tombstones", and too many more to list. He would be perfect as the hard-hitting relentless former FBI agent.
Director- James Cameron
No matter how great the cast is, they need an even greater director, so James Cameron would definitely fit the bill. The 62-year-old director is one of the biggest in the biz and his net worth shows it at $1.79 billion in 2016. And, he's definitely earned it with such blockbusters as "Avatar", "Aliens", "The Abyss", "True Lies", "The Terminator" film series, and of course the unforgettable "Titanic". He's also currently the third-highest-grossing director in the world with box office revenues of $6.139 billion. Nobody could turn the Earhart film into a major event like James Cameron.
Tell us what's wrong with this post? How could we improve it? :)
Let us improve this post!