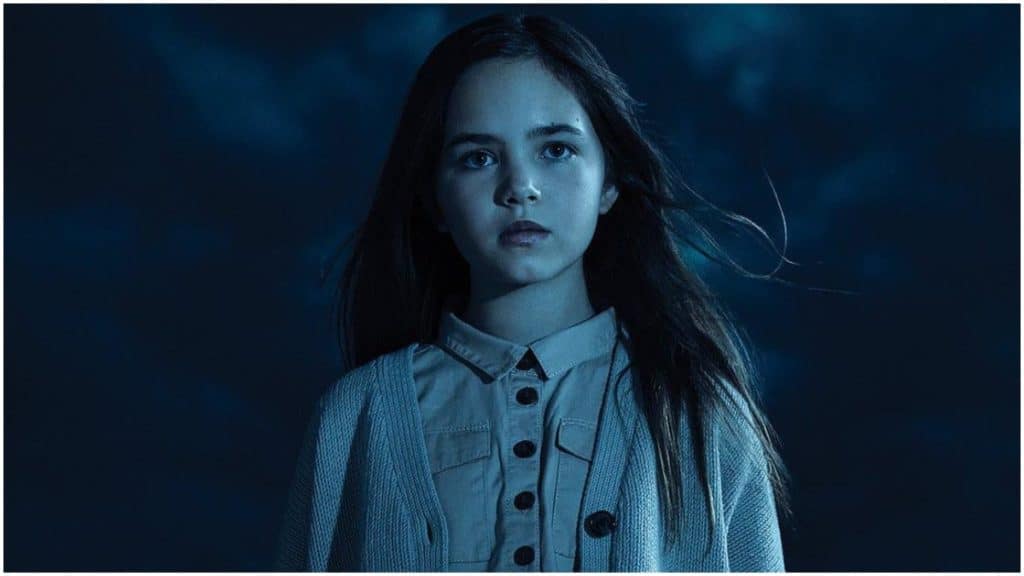 If you haven't watched episode 3 of American Horror Story: Red Tide, then you might want to catch up since there are spoilers coming. How many of us have thought that doing something just once would be a good idea only to realize that there's no possible way to do it 'just once'? Human beings are, like it or not, creatures of habit, and breaking a habit is a difficult thing to do, especially when it comes to having a very serious biological response to the habit. In episode 2 the result of Alma taking one of the pills that had been created by an of yet unseen chemist, who is revealed in Thirst and is played by Angelica Ross, is seen when Doris finds Alma snacking on a dead bunny in the graveyard. As one might expect, Alma's mother is so horrified that she rushes the girl home and proceeds to clean her off in a rough and unforgiving manner that has Alma and Harry protesting the rough treatment. Even worse, when the cops show up, Doris starts to have contractions brought on by stress as she's quickly taken to the hospital. Strangely enough, that's the calm point of this episode.
With Doris laid up in the hospital and Harry and Alma struggling to deal with this sudden addiction, the dominos continue to fall as Harry's agent, Ursula makes a surprise visit and shows just how utterly ruthless she is as she goes traipsing about town looking for the reason behind Harry's suddenly inspired writing. One can only hope and pray that the manner in which Ursula acts and reacts to the town and how she's portrayed in this episode is not the standard for agents across the world since otherwise it might be a little terrifying to become a writer and have to deal with such an individual. But as Harry struggles to feed his own addiction as well as Alma's he falls into a trap laid by a couple of junkies that are intent on creating a snuff film using him as the main attraction.
Upon freeing himself from his bonds he shows them both that they picked the wrong target, but on another occasion while out with Belle and Austin he slips up by taking a thermos full of blood home with him, making it clear that something is amiss. When it's revealed that he's feeding his daughter, Belle and Austin agree that Harry has to go, as does his daughter, and even Doris. Meanwhile, after a chance meeting with Mickey, Ursula grudgingly takes his hand-written manuscripts and continues to discover that something is happening in Provincetown that she could possibly make millions off of as she seeks out the pills and the Chemist with Mickey's assistance. When she finds the Chemist, she confronts the woman and pitches an idea to her that many might jump on. But unfortunately, the Chemist doesn't appear ready to mainstream her business since she makes it clear to Austin and Belle that she doesn't do business with strangers, and that the mess that's been created needs to be sorted out. She even goes so far as to state that yes, Doris needs to be taken care of as well.
Meanwhile, during another foray to find sustenance for his daughter and himself, Harry leaves Alma with Ursula, who ends up taking a rest when the cops show up again. The issue of dismembered bodies and corpses being found in a popular hook-up spot beneath a pier has been leaving the cops stymied as to what's going on, but it's easy to think that they've been putting the pieces together, no pun intended, and might realize that things started getting bad once Harry and his family showed up. Plus, the continued rise of dead junkies being found is also suspicious, though since Mickey and Harry both took the pills, they've been making the mistake of feeding on people within Provincetown's borders, which is a no-no in any killer's handbook unless precautions are taken to dispose of any evidence. It might sound morbid and disturbing, but after watching so many police procedurals and serial killer movies and shows, it's kind of common sense to think that if there's anything left to trace back to an individual then it only takes a moderately intelligent cop to make the connection.
The thing is, Chief Burleson is a very intelligent individual, but sadly she doesn't have the whole picture since when she visits Alma she has no idea what's about to happen as Alma first lets her in, and then, when the moment is right, slits the Chief's throat with a knife hidden in her cupped hand. And if that's not disturbing enough, by the time Harry returns, Alma and Ursula are sitting at the counter, while Chief Burleson's body bleeds out on the living room end table. Oh yeah, AHS is in fine form once again.