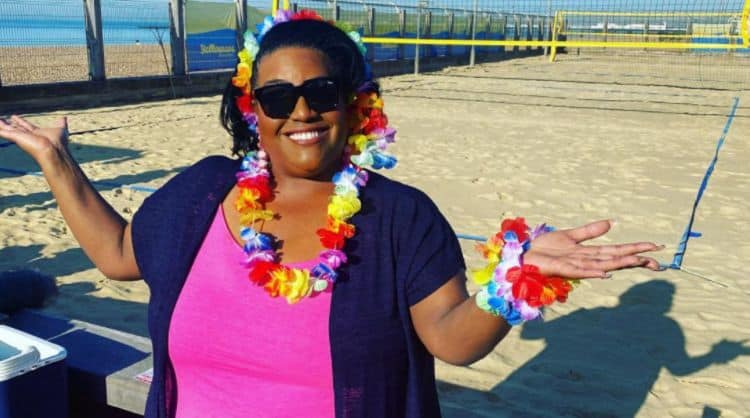 There is nothing about Alison Hammond that people do not love. She is vivacious, hilarious, and she's so down-to-earth that everyone imagines they're her best friend anytime they see her on television. Her career began on reality television, but it's turned into so much more. She's got a lot going on in her life, and she's looking to make sure her fans are able to keep up with her. It's time to get to know Alison Hammond as a person rather than just the woman we all love to see on television.
1. She is English
Alison Hammond was born and raised in England. She was born on February 5, 1975, in Kingstanding, which is located in Birmingham, which is in England. She spent virtually her entire life there, even attending drama workshops there when she was growing up.
2. Her Mother is Jamaican
Her own mother hailed straight from Jamaica. She was an immigrant who raised her three kids in England, though we don't know what made her choose to leave the island for a much different climate. It couldn't have been an easy move – and it certainly was not a local move – but she did it, and she is happy for it.
3. She Almost Always Participated in Drama
Not the kind of drama we all find tedious, though; we mean actual drama like acting. She was only 11 when she began to take part in drama workshops. Central Television hosted these workshops near her home while she was growing up, and she took every possible opportunity to partake.
4. She Began on Reality Television
When Alison Hammond began her career, it was on reality television. The year was 2002, and she took part in "Big Brother," but did not last long. She was the second elimination. She had a few small roles in different shows beforehand, but this one would make her famous.
5. She's a Mom
Alison Hammond is a very proud mother. She has a son, and she keeps him as private as possible. She likes to make sure he can live his life as normally as possible with a famous mother, so she doesn't share too much of his life with the world. What we do know about him, though, is that he is the light of her life.
6. She's Got Some Fans Mad At Her
On April 9, 2021, Prince Philip, husband to Queen Elizabeth, passed away peacefully at home after many long months of public health updates over his failing health. When "This Morning," was interrupted to break the news, she came back onto the show and made a comment that upset many. "We were expecting him to die," was her comment, and fans are calling her insensitive and rude. While we agree she could have used a better term with that one, it's exactly what the rest of the world was thinking when the news broke. Even I said to my husband when I read the news on my phone that day, "I've been expecting to see this article for weeks now," because we all knew that his health was failing and his days were numbered. It's not that she wanted him to die. She simply knew that this was news the world was waiting to hear – not for happiness but just because it was expected with his health issues.
7. She Works on Balancing Her Life
When people ask her why she's not a full-time anchor on her show, she's very clear that she tries to remain balanced. She has a teenage son at home, and she knows he's growing up too fast and that he will not always need her as he does now. She tries to spend as much time with him as possible, and she works tirelessly to keep her personal life and her work life as balanced as possible.
8. She's Funny
Fans call her a national treasure on a regular basis, and she had something to say about that. When an interviewer asked her how she feels when she hears people call her a national treasure, she laughed it off and made the best joke. "I totally agree with them. I'm 100% behind these people. I am national and I am a treasure," she laughed.
9. She'd Like to Adopt
Alison Hammond loves being a mother. She loves it so much so that she has plans to adopt a baby. While we don't know where she is in the process or if she's working on it actively at the moment, we do know that her teenage son is on board with her decision and welcomes the idea of a new sibling at home.
10. She's Very Private
Alison Hammond is always herself, but she's also not sharing anything with the world she doesn't feel that they need to know. She is very public, but she does keep a few things to herself, and we love that about her.
Tell us what's wrong with this post? How could we improve it? :)
Let us improve this post!