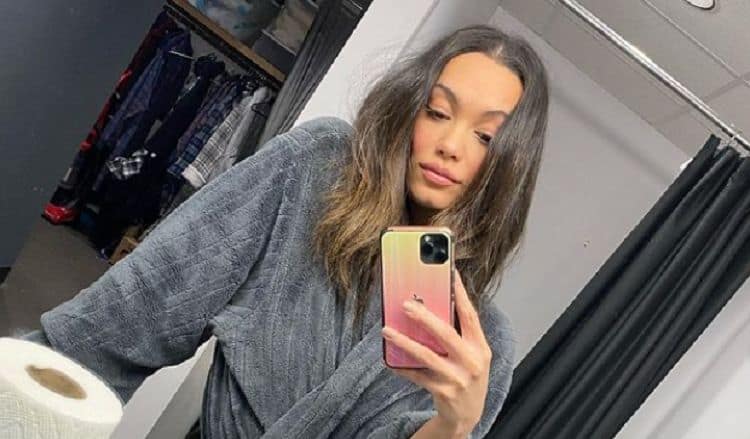 You may not know Alexis Guabe by name, but if you're a fan of the TV show Card Sharks, you've definitely seen her face. The opportunities she's had over the last couple of years have put her in front of a large audience. Alexis was a model on the show from 2019 to 2020 and during that time she turned a lot of heads. As a natural in front of the camera, Alexis always had a way of commanding attention. After seeing her on their screens, there are a lot of people who would love to know more about Alexis and they will be happy to know there's so much more to her than just a pretty face. Keep reading to learn 10 things you didn't know about Alexis Guabe.
1. Card Sharks Is Her Only TV Experience
Alexis looked so at ease during her time on camera that most people probably assumed she's been in the entertainment industry for years. That isn't the case, though. At the moment, Card Sharks is the only TV show she's ever been on. She also doesn't have any acting experience. We didn't find anything to suggest that Alexis wants to become an actress, but it could end up being a very natural transition for her.
2. She's Signed To A Modeling Agency
Being a model on Card Sharks isn't the first time Alexis has gotten a modeling opportunity. She's actually been modeling professionally for the last several years and she's currently signed to Select Model. It's unclear which brands she's worked with so far.
3. She Studied At Bowling Green
Whoever said you can't have beauty and brains has clearly never met Alexis. She attended Bowling Green State University where she earned a bachelor's degree in apparel merchandising and product development. According to her LinkedIn profile, she completed her degree program in just two years.
4. She Used To Work In Retail
We don't have a lot of information on Alexis' journey to becoming a professional model, but we do know that she spend a few years working in retail before starting her career. After graduating from college, Alexis went on to work Charlotte Russe and then at a store named The Buckle.
5. She Was In A Video Game
Alexis is still relatively early on in her career, but she's already gotten some very cool opportunities. One of them was a chance to be part of the Mortal Kombat video game franchise. She was the face model for the character Jade in the 2019 game Mortal Kombat 11.
6. Family Is Important To Her
For the most part, Alexis appears to be a very private person. For example, we weren't able to locate any information on where she was born and raised. However, one thing she has been pretty open about is her love for her family. She has really close relationships with her loves ones and she loves spending as much time with them as she can. It's unclear whether she has any siblings.
7. She Has Spoken Out Against Racism
Alexis hasn't hesitated to use her platform to take a stand on the things that are really important to her. She has posted about the fight to end racism and she has also shared helpful resources on the topic. Alexis is also passionate about people exercising their right to vote.
8. She's In A Relationship
Alexis' DMs are probably flooded on a daily basis by people who want to shoot their shot. Unfortunately for them, they don't stand a chance. Alexis is in a committed relationship with a man named Jacob Petway. He does not appear to work in the entertainment industry. We aren't sure exactly how long the couple has been together, but they seem to be doing well.
9. She Likes To Travel
Alexis is a very adventurous person and she isn't afraid to step out and try new things. She loves traveling and she has gotten the chance to visit lots of beautiful places all over the world. Some of the countries she's been to are Japan, Thailand, and Mexico. She'll probably be adding even more stamps to her passport in the years to come.
10. She Likes To Exercise
Being camera ready at all times is a big part of Alexis' job. As a result, she likes to keep herself in tip-top shape. Alexis hasn't shared the details of her workout routine, but it's clear that she's a very active person. Exercise is part of her regular routine and it's also a great way for her to let go of stress and tension.