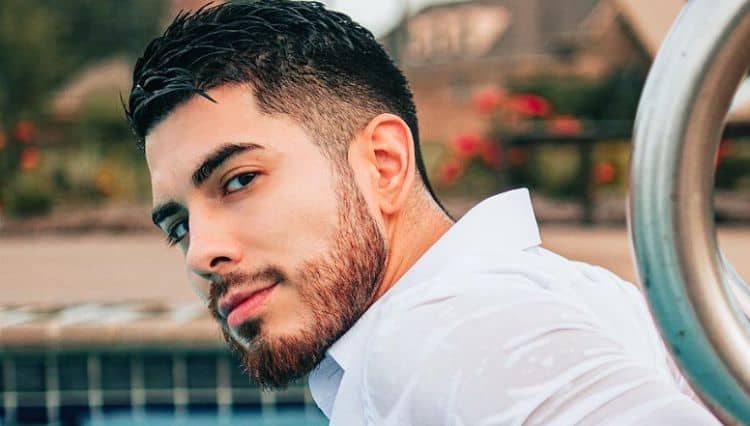 Alec Garza probably never imagined that he would be part of the reality TV world, but that's exactly where his journey for love has taken him. Alec is a cast member on the upcoming 19th season of The Bachelorette, and he's ready to find the woman of his dreams. Hopefully, that is what he will find with either Rachel Recchia or Gabby Windey. Alec has lots of things to offer and his bio states that he " is looking for a passionate woman who can match his drive for success and hustle alongside him to the very end". We're going to have to wait and see how things play out for him, but viewers are excited to be long for the ride. Here are 10 things you didn't know about Alec Garza.
1. He's From Houston
From entertainment to food, Houston, TX is a city with lots to offer. Not only does it attract tourists, but there are lots of people who relocate there from other parts of the country. Alec is originally from the Houston area and it appears that he still lives there today.
2. He's a Photographer
They say that a picture is worth a thousand words, but it's worth much more than that to Alec. He is a professional photographer who owns his own business called AJG Works. According to the business' website, "AJG Works has captured the best day of over 100 couples lives. We pride ourselves for being professional, passionate, and prepared at each wedding we shoot. We love using our cameras to bring to life your love story in a way no one else can!"
3. He Has a YouTube Channel
Alec loves creating content for the internet and he has a YouTube channel where he posts a wide variety of videos. Although his channel has fewer than 1,000 subscribers, his videos have gotten more than 313,000 views. When people have a history of trying to get popular online, some people see that as a red flag for shows like The Bachelorette because it can sometimes look like they're using the show as an opportunity to build their audience.
4. He Likes to Stay Active
Taking pictures isn't the only thing that Alec is passionate about, he is also very serious about keeping himself in good shape. Not only is exercise a part of his daily routine, but he also wants to help other people reach their fitness goals. In fact, he is in the process of becoming a certified fitness trainer.
5. He's Done Some Modeling
Not only does Alec love being behind the camera, but he also knows how to do his thing in front of it as a model. While it appears that Alex has done some modeling in the past, we weren't able to find any detail on whether he's ever worked with any major brands.
6. He's Well-Traveled
While it appears that Alec has lived in the Houston area for his entire life, that doesn't mean that he hasn't gotten to experience other places. He loves to travel and he has gotten to visit destinations across the United States and other parts of the world. Some of the countries he's been to include Mexico and Indonesia.
7. He's Active on TikTok
Over the last few years, TikTok has become one of the hottest social media platforms in the world. It's also much easier to generate a buzz on TikTok than it is on Instagram or Facebook. Alec has amassed a decent TikTok following of more than 22,000 people and his content has gotten nearly 250,000 likes.
8. He Enjoys Spending Time Outdoors
Spending time outside is a big part of the culture in Texas, and it's something that Alec enjoys. He has lots of appreciation for all of the beauty that nature has to offer and he enjoys doing things like hiking and swimming. Plus, being outside also provides him with lots of beautiful photo ops.
9. He Used to Be a DJ
Even before Alec became a professional photographer, he's always loved to express his creative side. According to his bio for The Bachelorette, Alec used to be a DJ at a local skating rink. Unfortunately, we weren't able to find any specific details on what kinds of music Alec likes.
10. He Loves Movies
If you thought that Alec's creatives passions stopped with photographs and music, you might want to think again. His Instagram bio notes that he is a "film enthusiast". With so many different interests, I don't think Alec is going to have any problem striking up conversations on the show.